The Moravian University Top 10 for 2022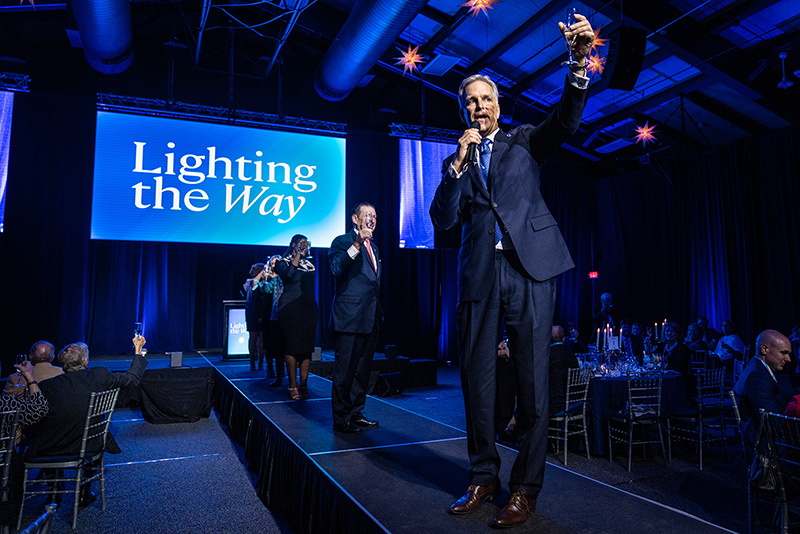 It's been a very good year. Students are back in the classroom and maskless, we hosted rock-star speakers, honors were awarded, and we made significant moves forward in our transformation to university. Let's look back at the top 10 moments of 2022.
#1. Lighting the Way made its public debut.
Moravian's comprehensive campaign to support our students, their future, and the next generation was celebrated at a sparkling, star-studded event held on Friday evening, October 14. Plans were revealed for the transformation of the Haupert Union Building, which will centralize student co-curricular activities and provide space for meaningful interaction among students, faculty, staff, and alumni.
#2. Top scholars from around the world came to campus.
Deepak Chopra, described by Time magazine as "one of the top 100 heroes and icons of the century," came to Moravian on April 5th to speak about Rabindranath Tagore and his relevance in today's world. The speaking engagement was the fourth in the Rabindranath Tagore Distinguished Lecture Series.
In November, Moravian hosted the symposium Race, Slavery, and Land: Moravian Legacies in a Global Context, 1722–2022, which brought leading historians, anthropologists, and political scientists from around the world to campus to explore and examine the history of the Moravian community with regard to attitudes and actions that are antithetical to the core values of the Moravian faith.
#3. We applauded yet another Fulbright Scholar.
Joel Soto '22, who earned a degree in English and a certificate in secondary education, was awarded a Fulbright Scholarship. At the end of the summer, he headed to Colombia for a 10-month teaching assistantship.
#4. The Moravian University Big Band released its first CD.
The Big Band produced the CD University City, featuring jazz standards and a new composition—the album's title track—by faculty member Tony Gairo. To promote the CD, the band performed at the True Blue Jazz Festival and Rehoboth Beach Jazz Festival in Delaware. They capped off their season with a performance featuring guest artist Alex Meixner on November 18 in Foy Hall. You can get the whole story in the spring 2023 issue of Moravian University Magazine.
#5. The university framework is further defined.
Two schools have been formed within Moravian University. The School of Behavioral and Community Health welcomes its first dean, Freda Ginsberg, and Laquita C. Blockson will lead the School of Business and Economics as its dean.
#6. Moravian is recognized as a university of the year for 2022 by PNGAS.
Every year, the Pennsylvania National Guard Associations (PNGAS) recognizes individuals and institutions that support and promote the Pennsylvania National Guard. Moravian was among only 10 colleges and universities to earn this award.
#7. Moravian's softball coach scores more than 900 wins and is headed to the hall of fame.
John Byrne '82 retired in May with a 923-257 overall record. For his outstanding performance as a coach, he will be inducted into the National Fastpitch Coaches Association Hall of Fame in 2023.
#8. A St. Luke's Psychiatric Associates office opened on Campus.
The longtime partnership between St. Luke's University Health Network and Moravian University has launched another innovative initiative. The outpatient psychiatric facility will be staffed with two full-time psychotherapists, who will provide services to children and adults in the general community. In addition, they will offer mentorship and internships to Moravian students pursuing a master of arts degree in clinical counseling.
#9. Moravian University officially opened a location in Lancaster.
With the combination of the Moravian Theological Seminary and the Lancaster Theological Seminary (LTS), the university has opened an office on the LTS campus to expand degree and program offerings to the Lancaster community.
#10. Kiwibots camp to campus.
Walk across campus, and you're likely to encounter a two-foot-high robot skimming along the sidewalk on its way to deliver a meal to a hungry student who is too engaged in studying (so they say) to break for the Star or DeLight's Café. And not to worry about crashing into a Kiwibot, they politely stop and wait for you to pass before proceeding on their way.