Kiwibot food delivery robots arrive at Moravian University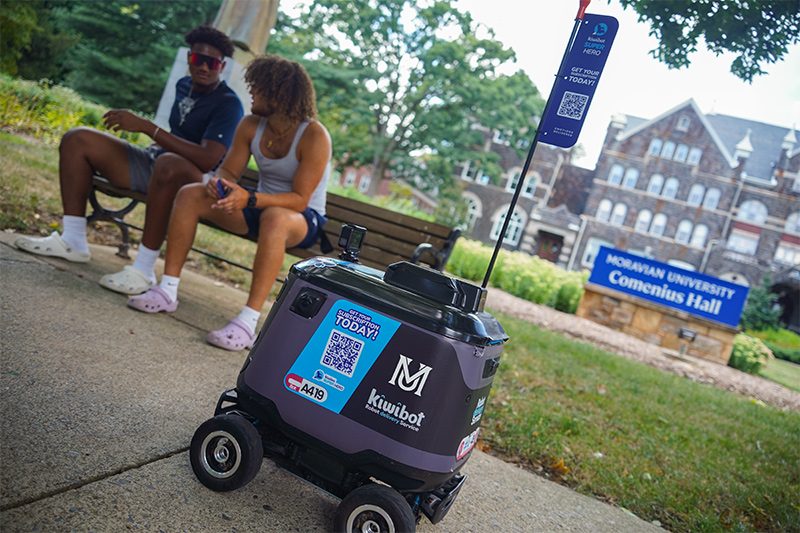 Delivery robots work with Sodexo to roam the Main Street campus for food deliveries to students
BETHLEHEM, PA, August 30, 2022: Today, Moravian University announced it's launching a partnership with Kiwibot, a robotic sidewalk delivery startup, to provide an affordable on-campus food delivery service for students on its Main Street campus.
"Moravian and our students are a pretty tech-savvy group, so this partnership with Kiwibot to provide robotic food delivery should be a big hit on campus," said David Brandes, chief information officer at Moravian University. "We're excited about the launch and we think students will enjoy seeing the robots whizzing around to deliver them food quickly, but with some unique style." By using this new service, Moravian University students will be able to enjoy their food delivery with zero carbon emissions, helping them reduce their carbon footprints and encouraging delivery services to be as sustainable as possible.
"Moravian Dining is thrilled to welcome Kiwibot delivery to our campus. Anytime we can adopt technology to make dining on our campus easier, more convenient, and more fun for our students, it's a win!" said Kristin Piazza, general manager of Sodexo at Moravian University.
Through Sodexo's new mobile application, Everyday, students can place an order with their chosen restaurant and a robot will pick up the food and deliver it to the selected drop-off location on the Main Street campus.
Users receive a unique link to track the order, students can follow the robot's location in real-time, and finally, open the lid and enjoy their meal. The Kiwibot delivery robots will operate 8 hours a day, 5 days a week, and there will be 15 robots operating at Moravian University.
To ensure safe operations on campus, Kiwibot relies on advanced technology and a semi-autonomous driving system. The robots create a virtual visualization of the world in real-time, using high-tech sensors, reflective flags, night lights, and a range lidar. Human supervisors are on watch if additional assistance is needed, and an on-site team will be ready for immediate support.
"Kiwibots will bring joy to everyone on campus: This service allows students, faculty, and staff to not only invest their time more productively but also to merge into robotics," said John Tarin, head of global operations at Kiwibot.
Moravian University students can get started by downloading the Everyday App from the App Store or the Play Store.
Media contact(s):
Moravian University
Michael Corr
Assistant Vice President of Marketing and Communications
corrm@moravian.edu
610.861.1365
Kiwibot
Maria Jose Guzman
Public Relations Analyst
maria.guzman@kiwibot.com
+57 316 4217856
About Moravian University
Moravian University is the nation's sixth-oldest university, located in Bethlehem, Pennsylvania, and offers undergraduate and graduate degrees that blend liberal arts with professional programs. For more than 275 years, the Moravian University degree has been preparing students for reflective lives, fulfilling careers, and transformative leadership in a world of change. Moravian University is a member of The New American Colleges and Universities (NAC&U), a national consortium of selective, small to mid-size independent colleges and universities dedicated to the purposeful integration of liberal education, professional studies, and civic engagement. Visit moravian.edu to learn more about how the Moravian University focus on education for all prepares its students for life-long success.
###