The Moravian University Jazz Ensemble Releases new CD titled: "Universe City"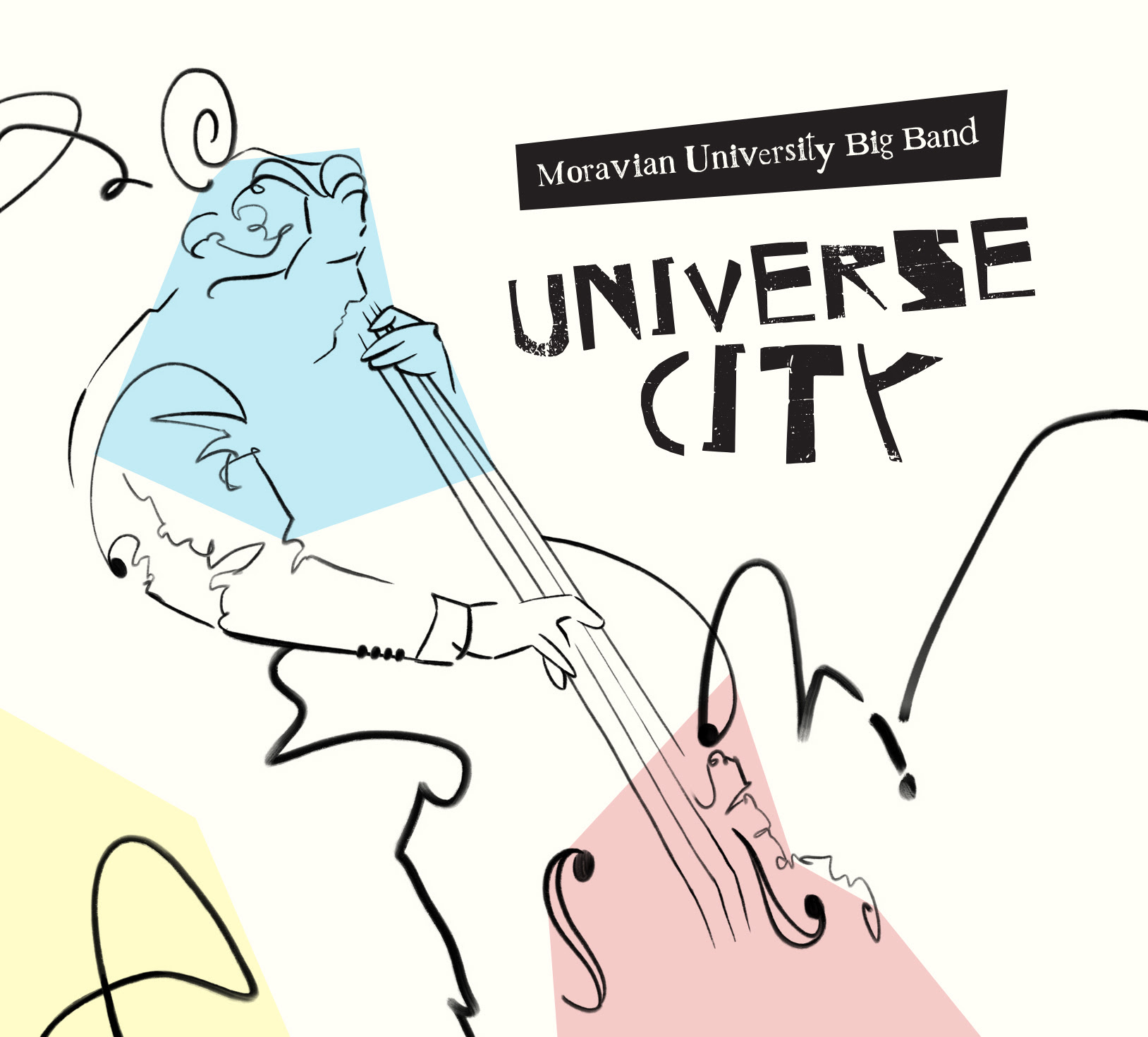 Moravian University Jazz Ensemble to Embark on CD Release Tour/Performances
BETHLEHEM, PA, October 11, 2022: Today, Moravian University announced that the Moravian University Jazz Ensemble is releasing a new CD recorded in spring of 2022 titled "Universe City." The collection of tracks will become available October 14, 2022. The CD consists of jazz standards and features a new composition by Moravian faculty member, Tony Gairo. Gairo's composition, "Universe City," was commissioned by the Moravian University Music Department to commemorate the institution's new status as a university.
"This is possibly the best Moravian jazz ensemble I've ever heard and worked with in my 30-plus years teaching here," said Dr. Neil Wetzel, professor of music and chair of the music department at Moravian University. "I knew that this ensemble needed to go into the recording studio and chronicle their talents and abilities.
The ensemble, under the direction of Dr. Wetzel, presents a variety of selections and features several Moravian University students on vocal and instrumental solos.
CD Release Performances
The jazz ensemble will be traveling to Rehoboth Beach, Delaware, on October 14-16 for a series of performances promoting the new release during the True Blue Jazz Festival and the Rehoboth Beach Jazz Festival. The trip is co-sponsored by All Saints' Episcopal Church (18 Olive Ave, Rehoboth Beach, DE 19971) where the ensemble will perform on Saturday, October 15 at 3:00 pm and on Sunday, October 16 at 11:00 am at St. George's Chapel (20271 Beaver Dam Road—RT. 23—Harbeson, DE 19951). Members of the ensemble will also perform in a Jazz Vespers service at both All Saints' Episcopal (Saturday at 5:00 pm) and St. George's (Sunday at 9:30 am).
On Friday, November 18 at 7:30 pm the ensemble will be performing in Moravian's Foy Hall (342 Main Street, Bethlehem, PA), with special guest artist Alex Meixner. Meixner is a renowned multi-instrumentalist and blends jazz, polka, and pop music elements in his shows. He was born and spent much of his early life in the Lehigh Valley.
The new CD will be available for purchase at the November concert, as well as the performances in Delaware.
Event contact:
Moravian University
Dr. Neil Wetzel
Professor of Music and Chair of the Music Department
music@moravian.edu
610.861.1621
610.861.1650 (Dept. phone)
Media contact:
Moravian University
Michael Corr
Assistant Vice President of Marketing and Communications
corrm@moravian.edu
610.861.1365
About Moravian University
Moravian University is the nation's sixth-oldest university, located in Bethlehem, Pennsylvania, and offers undergraduate and graduate degrees that blend liberal arts with professional programs. For more than 275 years, the Moravian University degree has been preparing students for reflective lives, fulfilling careers, and transformative leadership in a world of change. Moravian University is a member of The New American Colleges and Universities (NAC&U), a national consortium of selective, small to mid-size independent colleges and universities dedicated to the purposeful integration of liberal education, professional studies, and civic engagement. Visit moravian.edu to learn more about how the Moravian University focus on education for all prepares its students for life-long success.
###