An Interview with Renzo Faggioli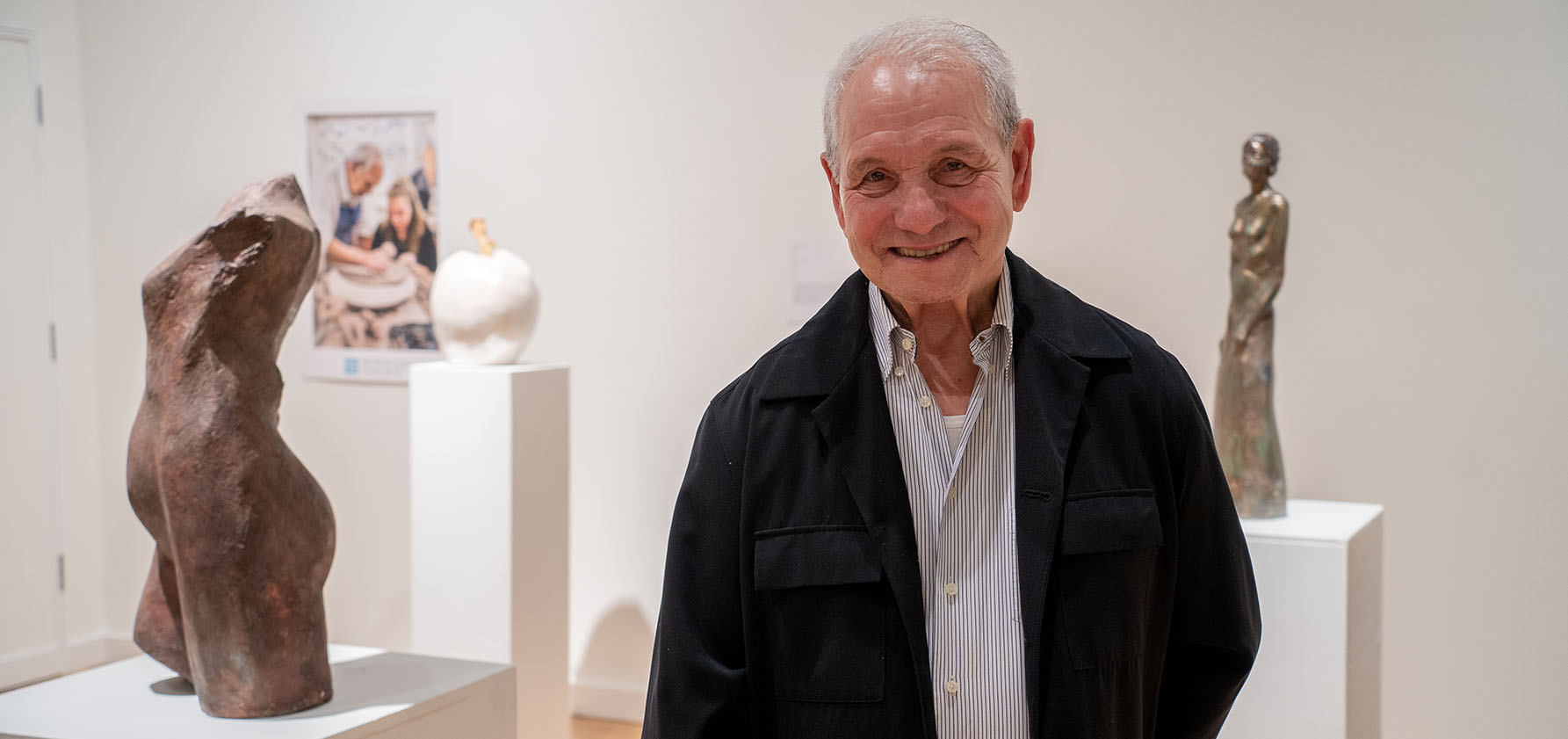 Renzo Faggioli, ceramist-in-residence, has been a member of the Moravian University art faculty since the 1970s. After studying at the State Scuola Ceramica Della Robbia in Florence, he pursued advanced study in the United States and completed his studies at Alfred University, New York, and Carnegie-Mellon, Pittsburgh, Pennsylvania. His work has been shown at many major exhibitions and shows throughout the eastern United States and Europe. In April,2004, he received the Allentown Arts Ovation Award for the Visual Arts. He also teaches ceramics at The Baum School of Art. Inside Moravian asked Faggioli about his life and work as he prepares to retire from Moravian University this year.
What subject do you most enjoy sculpting? Is there a common theme you express in your work?
My main inspiration has always been nature. Back in Florence when I was a young student, I also went to architecture school. I very much enjoyed working with geometric lines. I worked with figures, animals, birds—but there was always a line of geometry that came through for me. And then I made a lot of large clay fruits like apples, pears, and cherries.
I treat the form as an aspect of beauty—I like to make things pretty, done well. I know art goes in other directions too—not everything is pretty. A lot of the arts is expressing ideas even if they are not always pleasant to look at, and they're equally valuable, because not everything in life is beautiful. Some people go in that direction as professional artists, and I never did that. I like to make things that are pleasing to look at.
What is it about working with clay that draws you to it, that is satisfying?
 A lot of pieces start out on the wheel. Some people say to me, "Don't you tire of making things on the wheel?" and I say, "No, are you tired of breathing?" It's a part of my life. It's always been this way, and I still enjoy putting a lump of clay on the wheel and making something. It's fascinating to shape the clay on the wheel while it's spinning. That's something I started doing in Italy when I was young.
What was life like in Italy?
I was born in Florence and lived there until my late 20s. We were very close to Pisa and to Vinci. I used to ride my bike around Vinci. I also used to sail out on the water, being pushed by the wind. I did a lot of outdoor life. Every year in the summer I still spend a couple months in Italy, and my wife and I had a house there. A lot of family is still in the area. Every year we get together with all the cousins – about 25-30 of them – and we get this big dinner, and we count each other and ask, "Who's missing?"
What is your favorite part of Italy?
Italy is very inspiring no matter where you go. Being from around Florence, which was the town of Renaissance, so much knowledge came out of there. In the center of Florence there's the Palazzo Vecchio—the city hall—and there's a huge room in there where they show the maps. They'd already figured out the mapped world in the 13th century!
When I go there, I forget all about Moravian, because I'm there. When I'm here, I forget all about Italy, because I'm here—full time, 100%. That's the only way you can travel and go places—if you disconnect yourself from where you come from and connect yourself to where you go.
Why did you decide to come to the United States, and why stay?
I was really excited to find out a lot of different techniques and aspects of making clay pieces that I was never exposed to in Italy. After a few months that I was here, I still couldn't speak the language too well, and I missed so much from the country I came from. I wanted to go back, but I couldn't dare to go back, because I knew there was a lot more to gain from here.
During your tenure at Moravian, what has been particularly memorable or special?
Being here for so many years, I have a very good memory about people I've connected with—teachers as well as students. And I'm very grateful that happened.
My theory over these years: a teacher in school gives. I give all the knowledge that I have, but I also like to have something in return. You'd be surprised how much I've learned from students over the years because they have fresh, innovative ideas. And they might not be on a professional level as far as putting those ideas together in the right way, but I am. So I get a great deal from the students, and I transfer knowledge to them.
What would you most like to be remembered for during your time at Moravian?
I hope over all these years I've been here that I have made a little bit of difference to some people, not only as an artist but because I come from another culture.