Amy McHenry, Business Manager, Provost's Office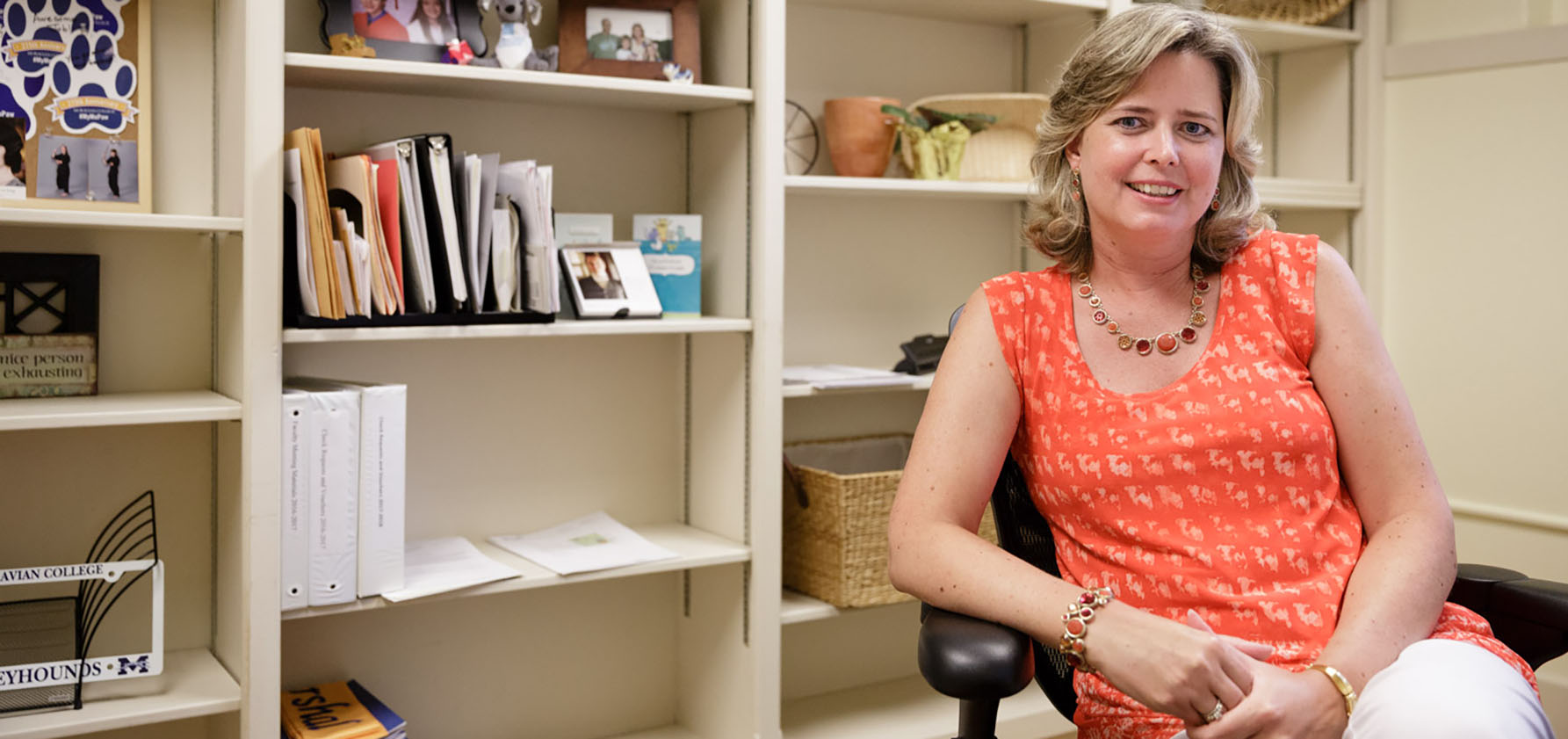 I grew up in the small town of Jenkintown, outside of Philadelphia. I attended the public schools, and there were only 34 in my high school graduating class! Who would have thought that my little hometown would be the setting for the memoir-based national sitcom The Goldbergs? It's been surreal watching it and reliving my childhood. The characters on the show have real-life counterparts, and I went to school with most of them!
What do you enjoy most about what you do?
As the business manager in the provost's office, I support the provost, vice provost, and faculty in a number of ways. I like that my tasks are varied and completely dependent on the time of the year. For example, in the summer, I focus on updating faculty data, wrapping up the fiscal year's budget, and facilitating the tenure and promotion process. During the spring term, it's mostly about organizing baccalaureate and commencement.
You are an important point person in organizing commencement activities, what's that like?
Exhausting and exciting! It takes a lot of behind-the-scenes work from multiple departments to coordinate a successful event for a couple thousand guests. There are many wonderful and dedicated people that pull together and make this happen. For all the hard work, hearing Pomp and Circumstance and watching the graduates process onto the field gives me goosebumps every year.
Share something about yourself that people may not know.
I spent parts of my childhood living in the Lake District in northern England where I attended school in a two-room schoolhouse. My father studied the poet, William Wordsworth, who had lived there, so my family went over with him for months at a time. It was like stepping back in time—no fridge, no washing machine, primarily fireplace heating. That experience made me appreciate the hard-working agricultural villagers and natural rugged beauty of the area and led to my love of travel and all British things. I'm quite the Anglophile now.
What is your favorite thing to do with your free time and why?
I love to spend time with friends and family, especially my 22-year-old twin children, Meghan and Michael. Now that they are living on their own, I cherish our time together. Our family likes doing active things like hiking or traveling together, and we really enjoy each other's company.
What book, film, song, or piece of art do you find enduring, unforgettable?
I've been in book clubs much of my adult life so picking just one book is hard! An old favorite is The Death and Life of Charlie St. Cloud by Ben Sherwood because of its affirmative portrayal of a limitless afterlife and how our departed loved ones can continue to positively impact our journey through life.
I can never resist a good ________.
Period-piece drama, especially if it's British. Downton Abbey, The Tudors, The Last Kingdom, Game of Thrones—I love them all!
What is the best advice you have ever received?
Never turn down an invitation. You never know where it might lead you.
Share something that makes you happy.
Warm relaxing summer days, fresh-baked chocolate chip cookies, dancing around my kitchen to 80's music, picking flowers from my garden, seeing my loved ones happy.