Juliana Rosario, Class of 2024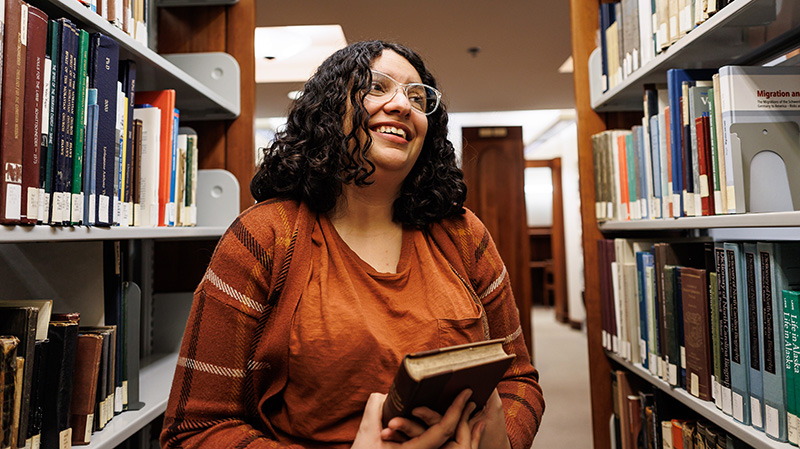 I have grown up in four different towns: Allentown, Emmaus, Fountain Hill, and Bethlehem. Each location has had a special place in my heart, but I have lived in Bethlehem for the past 10 years, and it really is home to me. Bethlehem influenced my fascination with history and had a hand in my coming to Moravian University.
You are pursuing a major in history and a minor in global religions. What drew you to these academic pursuits?
From mid–high school, I knew I wanted to study history because of my interest in it since I was a child. I enjoy examining primary sources from the time periods that I study and thinking on the subjects and the people who lived during those periods.
In a time when young people are encouraged to pursue STEM or business degrees rather than the humanities, how did you choose to major in history? And what did your parents think?
As cliché as it sounds, I have always been raised to believe that one should follow their heart, and mine was never with STEM subjects. They are noble pursuits of study, but I always found it hard to connect with them or to understand them. I guess I felt more connected to history due to its being fundamental to life as a human being.
I am the third daughter out of four young women and a first-generation college student, so my parents were very supportive of my choosing what I wanted to study. They believe in the benefits of pursuing a college education no matter what the course of study may be and have been strong supporters of me during my college years and prior.
What is your opinion on the place of the humanities in a college education?
I think they are important, as we are human beings who live on planet Earth. Without the humanities, we would know little to nothing about the different people we are existing with as well as ourselves.
What activities are you involved in?
I have been a part of the Moravian University phonathon team since my freshman year. We call alumni and ask them about their experiences at Moravian, as well as for support of our annual fund. That job has been very rewarding in the connections I've made with alumni. I am also happy to say I am serving on the Senior Class Gift Committee this year.
Tell us about one of the best experiences you've had at Moravian University.
I feel that I've had a pretty average experience as a commuter who only comes to campus for class and work, but my best experiences have had to be working for the phonathon team in Memorial Hall. We have formed a bit of a family that always knows how to lift your spirits and make you laugh.
What have you discovered about yourself since you've been at Moravian?
I have discovered that I can really push myself in areas I would not have been able to prior to attending Moravian, especially with the pandemic. Although I am still struggling with public speaking, I feel that I have improved. My required internship at Historic Bethlehem Museums & Sites for my degree warranted doing a lot of hands-on activities I never would have imagined I would have the opportunity or determination to do.
Share something about yourself that may surprise people.
Outside of working for Moravian's phonathon team, I work as a visitor services assistant at the National Museum of Industrial History on the south side of Bethlehem.
What is your favorite thing to do when you're not studying, and why?
When I'm not studying or worrying that I should be studying, my favorite thing to do is play video games like Sky: Children of the Light or Animal Crossing: New Horizons.
What book, film, song, or piece of art do you find unforgettable?
I find the song "I Wish It Would Rain Down" by Phil Collins unforgettable. I am a huge fan of his.