The Rev. Diane A. Bogues, Senior Director of Joint Seminary Enrollment and Financial Aid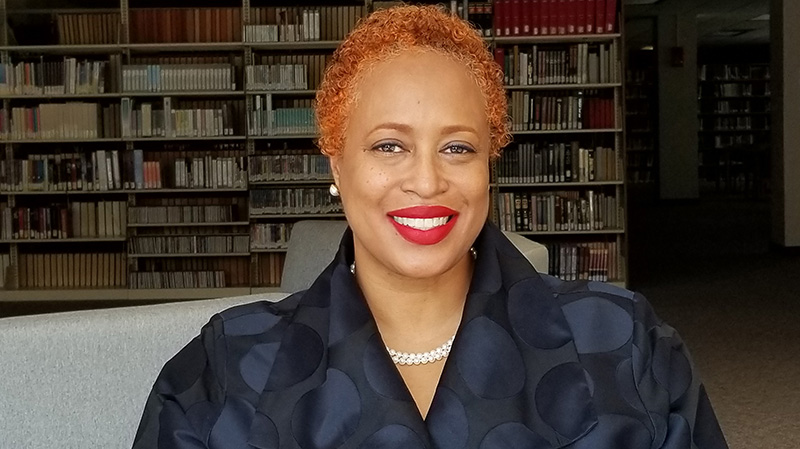 I was born in Spanish Town, Jamaica, and grew up on the South Side of Chicago. Chicago is one of the greatest cities of the world, filled with beauty, culture, diversity, rich history, and scrumptious food.
What is your role at the college, and what drew you to this profession? What do you enjoy most about what you do?
As senior director of joint seminary enrollment and financial aid, I serve both the Moravian Theological Seminary and Lancaster Theological Seminary. I lead the recruitment, admissions, enrollment, retention efforts, and financial aid. I had a list of things I love and a prayer of what I desired, and God addressed it all in this position. I am overjoyed by strategically and creatively meeting challenges while doing what I love most—working with students.
I enjoy meeting with prospective and current students from all walks of life as they answer their call to ministry in the church, academy, and society and journeying with them on their path of vocational discernment. It is a privilege and joy to be invited into such a sacred space in their lives.
Of your accomplishments thus far in that role, which is most meaningful to you?
Developing a dream team with amazing and gifted colleagues who bring their best to each task and will lead, follow, support, teach, and share as we all do the work we are called to do.
Share something about yourself that people may not know.
I am the only one in my family without a Jamaican accent.
What is your favorite thing to do with your free time?
can't pick just one. My favorite things are to travel, see blue water, drive convertibles, go to the movies/concerts/theater, find new restaurants, shop, spend time with friends, and be in church. I love fashion and all things image.
What book, film, song, or piece of art has so touched you that you find it enduring and unforgettable?
Books, songs, films, and art that demonstrate the Pygmalion effect or ugly-duckling-to-swan motif, recognizing that greatness, dreams, beauty, or agency was already inside of a person regardless of what circumstances or outward appearances seem to be. An example is the musical My Fair Lady.
Who inspires you and why?
My wise and loving parents (recently deceased). Their courage to move and explore a new world and take advantage of great opportunities throughout their lives. They had a remarkable faith, and strong work and life ethic. They took what little they had and opened the world to me so that I could learn, grow, and thrive with generosity, love, and excellence.
What is the best advice you have ever received?
To love God with all my heart, mind, soul, and strength. Then love yourself and love others.
Share something that makes you happy.
Seeing God's beautiful and new landscapes and soundscapes in nature daily. They are never the same.