Erik McGaughey '91, CEO Meals on Wheels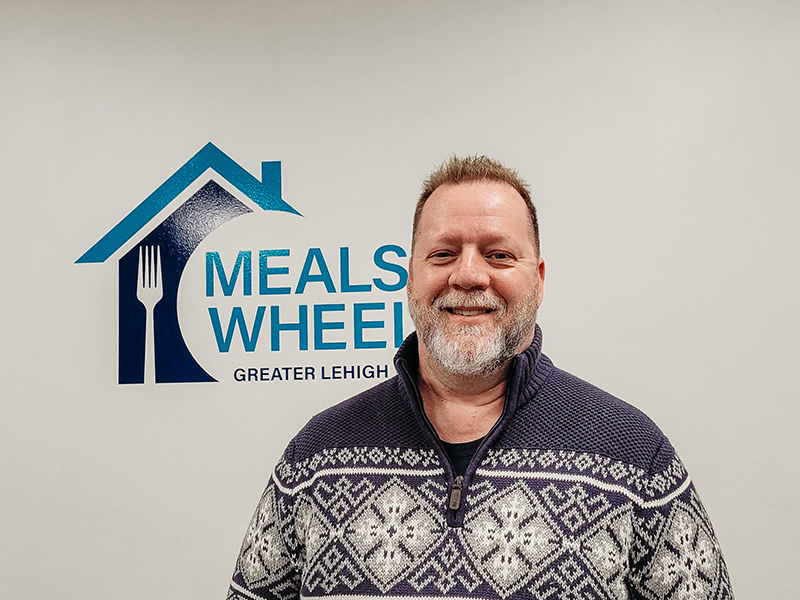 As CEO of Meals on Wheels of the Greater Lehigh Valley, Erik McGaughey '91 leads a dedicated team of employees and volunteers who prepare and deliver fresh and healthy meals to more than 1,000 home-bound seniors and adults with disabilities. They also conduct wellness checks and offer other services and resources to those they assist. We asked McGaughey for his insights on this important work.
You joined Meals on Wheels in 2022. What drew you to the job?
A critical part of Meals on Wheels' mission is to battle social isolation. For many of the people we serve, we are the only face or voice they may see or hear in a day. On some level, due to the pandemic, I could understand the impact of isolation. So I believe deeply in the mission. I was also drawn to Meals on Wheels' comprehensive approach—battling isolation on multiple fronts. For example, if a homebound senior has a pet, we know how important that companionship is. So we offer dog and cat food at no cost, as well.
How would you describe your management style?
I am a servant leader. I love talking to the team and getting to know them as people. The more I know about them, the more I can do to make their work environment conducive to their strengths.
Was that approach influenced by anyone at Moravian University?
I was influenced by many people at Moravian. If I had to single out one of them, it would be Dr. Robert Burcaw, professor of English. He was a relationship builder. During my time at Moravian, I felt he knew me, cared about me, and wanted the best for me. It is an example I follow to this day.
What has been the most challenging part of your job?
Finding ways to let the broader community know we provide so much more than a meal.
What is your biggest takeaway from your first year as CEO?
There are amazing people who share their time and talent to support other people. We have more than 30 employees and over 900 volunteers. They are a constant reminder that there is good happening in the world.
What ingredients go into the recipe for an ideal volunteer?
Compassion, concern, flexibility, and focus on others.
Many of the people you interact with are older adults. Finish this thought. Seniors are….
…a treasure we don't always see. Seniors bring so much history, insight, perspective, and knowledge to the table. Between the seniors that volunteer with us and the ones we serve, I have seen such appreciation for simple things like a story, handshake, or warm meal.
— Greg Forbes Siegman