Moravian University wins a 2023 EDIIE Award for Outreach, Marketing and Recruitment from Diversity Abroad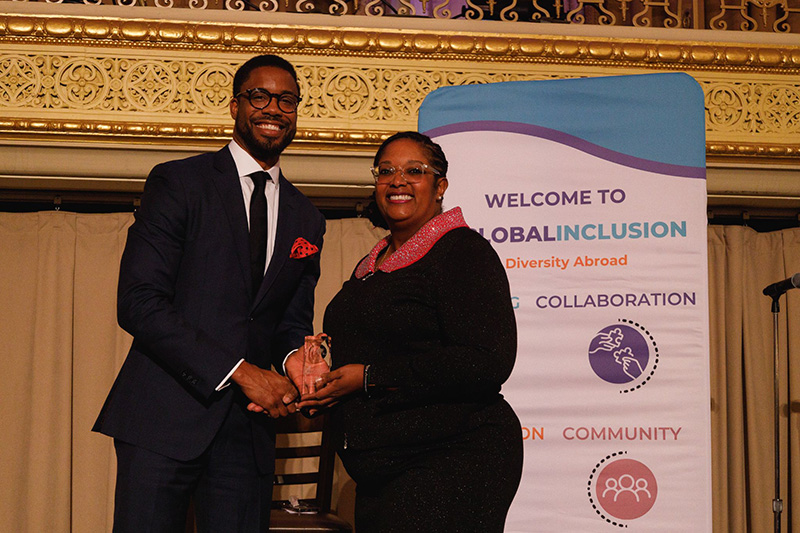 BETHLEHEM, PA, November 16, 2023: Today, Moravian University and the Center for Global Education announced that it has been named a recipient of a 2023 Excellence in Diversity & Inclusion in International Education (EDIIE) Award for Outreach, Marketing and Recruitment at Diversity Abroad's annual conference, Global Inclusion.
"At Moravian University, our commitment to creating equitable access to the benefits of global education is at the core of our identity." Dr. Anize Appel, executive director, Center for Global Education and associate dean, Study Abroad at Moravian University. "Our Study Abroad program, which removes barriers and provides $2,600 that students may apply to any of the short-term faculty/staff-led travel programs, is a testament to our commitment to diversity and inclusion."
In their announcement of the awards on the gala's website, Diversity Abroad said the finalists have "demonstrated a commitment to advancing diversity and inclusive excellence within international education."
Photos from the awards ceremony can be found here: Global Inclusion Gala 2023
Media contacts:
Moravian University
Michael Corr
Assistant Vice President of Marketing and Communications
corrm@moravian.edu
610.861.1365
About Moravian University
Moravian University is the nation's sixth-oldest university, located in Bethlehem, Pennsylvania, and offers undergraduate and graduate degrees that blend liberal arts with professional programs. For more than 275 years, the Moravian University degree has been preparing students for reflective lives, fulfilling careers, and transformative leadership in a world of change. Moravian University is a member of The New American Colleges and Universities (NAC&U), a national consortium of selective, small to midsize independent colleges and universities dedicated to the purposeful integration of liberal education, professional studies, and civic engagement. Visit moravian.edu to learn more about how the Moravian University focus on education for all prepares its students for life-long success.
#