U.S. News & World Report ranks Moravian University #39 among the Best Regional Universities in the North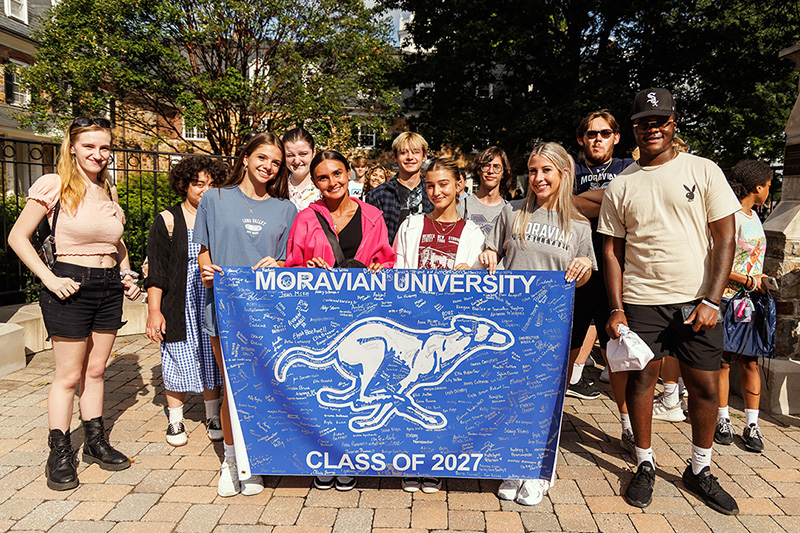 Moravian also ranked among Best Value Schools, Best Colleges for Veterans, and Best Colleges for Social Mobility among Regional Universities.
BETHLEHEM, PA, September 21, 2023: Today, Moravian University announced that U.S. News & World Report has included the Bethlehem school in its 2023–2024 rankings for Best Regional Universities-North (#39), Best Value Schools (#29), Best Colleges for Veterans (#39), Best Undergraduate Teaching (#31) and among the Top Performers for Social Mobility (#91).
"The students, faculty, and staff at Moravian continue to do amazing things, and when we get recognition like this, it helps create even more opportunities for our students and alumni," said Bryon Grigsby, president of Moravian University. "Moravian just welcomed the largest class in our history, and we hope to keep building on that momentum. These rankings are just one more way to tell our story."
The U.S. News & World Report rankings are the latest accolades that have been announced by national publications that examine and review higher education institutions across the country.
Some of the other recently announced rankings for Moravian University include:
The Best 389 Colleges: 2024 Edition, Princeton Review
#268 in the 2023 Best Bang for the Buck rankings: Northeast, Washington Monthly
#248 in the 2023 Master's University Rankings, Washington Monthly
Best Colleges in America 2023, MONEY Magazine
2024 Best Colleges for Nursing (#14) in Pennsylvania, Niche
2024 Best College Locations (#27) in Pennsylvania, Niche
Media contact:
Moravian University
Michael Corr
Assistant Vice President of Marketing and Communications
corrm@moravian.edu
610.861.1365
About Moravian University
Moravian University is the nation's sixth-oldest university, located in Bethlehem, Pennsylvania, and offers undergraduate and graduate degrees that blend liberal arts with professional programs. For more than 275 years, the Moravian University degree has been preparing students for reflective lives, fulfilling careers, and transformative leadership in a world of change. Moravian University is a member of The New American Colleges and Universities (NAC&U), a national consortium of selective, small to mid-size independent colleges and universities dedicated to the purposeful integration of liberal education, professional studies, and civic engagement. Visit moravian.edu to learn more about how the Moravian University focus on education for all prepares its students for life-long success.
###