Joselyn Salazar '23 Awarded Fulbright Scholarship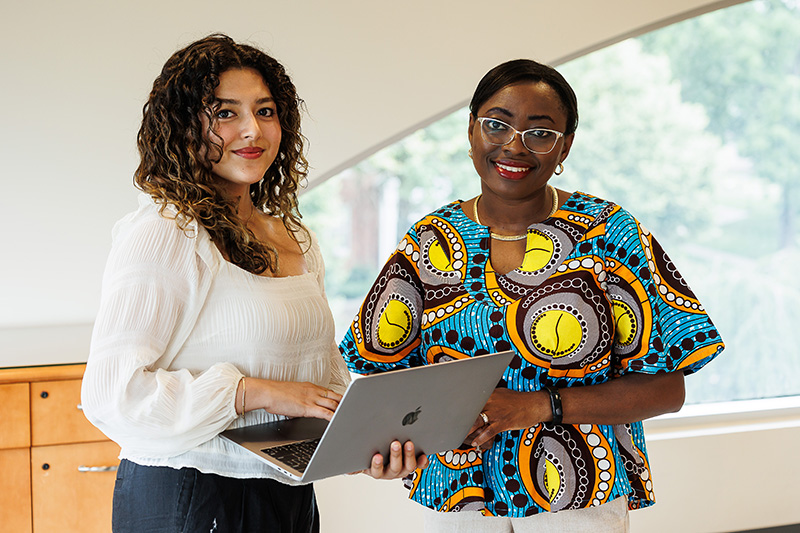 Joselyn Salazar '23, who graduated with a major in political science and a self-designed minor in Latin American Studies, was awarded a Fulbright Teaching Assistantship for the 2023–2024 academic year at the primary school CEIP La Jurada in Tenerife in the Canary Islands. It's the perfect next step in Salazar's plan to get a master's degree and eventually work in diplomacy.
Recipients of Fulbright awards are selected in an open, merit-based competition that considers leadership potential, academic achievement, and record of service. Their careers are enriched by joining a network of thousands of accomplished Fulbright alumni, many of whom are leaders in their fields. Notable Fulbright alumni include 62 Nobel Prize laureates, 89 Pulitzer Prize recipients, 78 MacArthur Fellows, and 41 who have served as a head of state or government. Since 1946, the Fulbright Program has provided more than 400,000 participants from over 160 countries the opportunity to study, teach and conduct research, exchange ideas, and contribute to finding solutions to shared international concerns.
Fulbright teaching assistants serve as cultural ambassadors. "I will be teaching the children about US culture and my life in the United States," Salazar explains. And to her job teaching English, she brings a personal perspective that she will use to advantage.
Salazar was born in Ecuador and came to live in the United States at age 11. English is her second language. "I feel that will give me a stronger connection with the children who are trying to learn a second or third language," she says. "The children in my school come from more than 20 different nationalities. I look forward to hearing from them how their backgrounds affect their experience living in Spain."
The Fulbright Program requires teaching assistants to develop a project for their students. Salazar's vision unites culture, connection, and a piece of her undergraduate learning. "In a few courses taught by Dr. Aguilar [history professor], we discussed the meanings of food, what we grow, what we eat, how we eat, and what all of it means for different cultures. My school in the Canary Islands has a little garden, and I will ask the students to grow herbs or vegetables that their families have grown. Since we are an international school, this will be a valuable way for all of us to learn about each other and our cultural backgrounds."
Salazar first learned about Moravian when an admissions counselor spoke at her high school during her junior year. "I've always wanted to be a global citizen. I was very interested in study abroad, and that was one of the things that sold me on the university," she says.
Ironically, Salazar did not study abroad during her time at Moravian. What she did do was take a wide range of electives throughout her freshman and sophomore years. "Having the opportunity to explore a variety of subjects exposed me to different viewpoints," she says. "It reinforced my desire to be an active participant in the global community. I believe my liberal arts education was the best preparation for the Fulbright Scholarship."
When Salazar returns from the Canary Islands, enriched with educational and cultural experiences, she plans to apply to scholarships for graduate programs abroad. And someday, her dream job? Working for the United States Department of State—sponsor of the Fulbright Program.