Genesis Hernandez Has an Enlightening Internship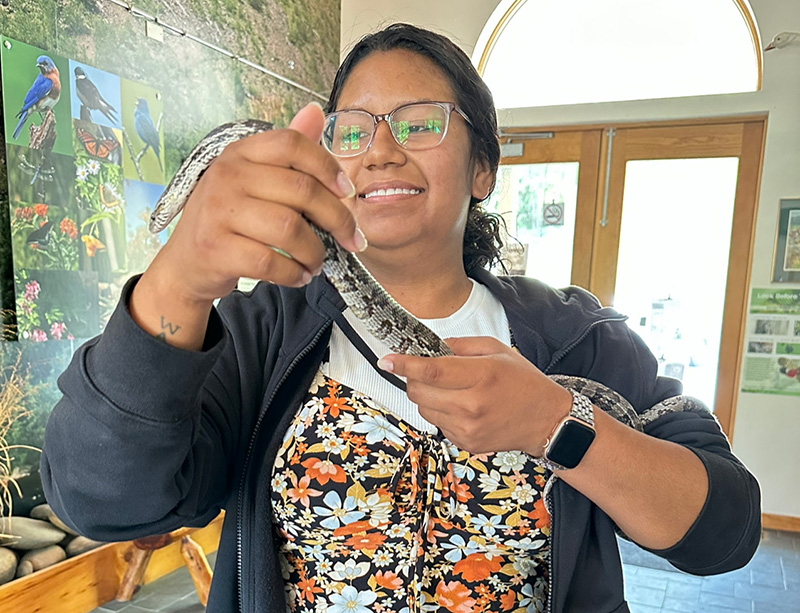 Biology student Genesis Hernandez '26 was never particularly interested in environmental science. But when Kara Mosovsky, associate professor of biology, reached out to students about internship opportunities for the summer of 2023, Hernandez decided to apply to Lehigh Gap Nature Center's Color of Nature Leadership Program. "I knew it was a paid internship, and I thought it would be a good idea to try something new," she says. The Lehigh Gap Nature Center (LGNC), a local nonprofit conservation organization, gave her that opportunity.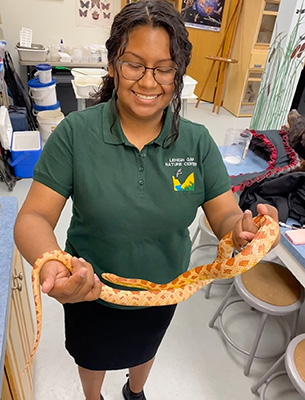 Much of her role as an intern reflected the LGNC's mission, which is to protect wildlife and enhance the habitats of the refuge—400 acres of a restored Superfund site at the base of the Kittatinny Ridge. The Color of Nature Leadership Program at LGNC employs, trains, and mentors residents of Allentown and Bethlehem to inspire environmental stewardship. Hernandez helped create educational programs for kids and introduced them to plants and animals native to Pennsylvania.
A typical day involved driving to a Lehigh Valley park or school with other summer interns to give a presentation, including a show-and-tell, to local kids. "We would pack a box full of 'mysterious items,' like deer skulls, turtle shells, snake skins, and even live Madagascar cockroaches. Then we would teach the kids about predators and prey, reptiles and insects." The kids were wide-eyed and curious. "We would show them a deer skull, and they'd be like, 'Wow, are you SURE that's a deer?!'"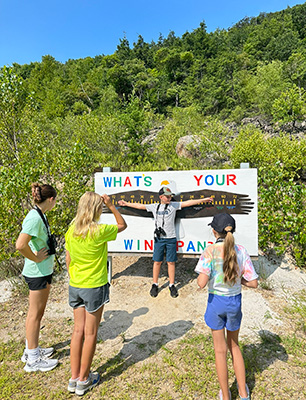 At the end of the day, the interns would return to the office at LGNC and reflect on what the kids had learned and areas the team could improve.
In addition to working with kids, Hernandez collaborated with Promise Neighborhoods of the Lehigh Valley and the Department of Conservation and Natural Resources of Pennsylvania. Together with these two organizations, Hernandez and the other interns did micro-invertebrate river quality assessments and other activities related to conservation.
After the three months she spent at LGNC, Hernandez says she's more conscious of the beauty of the outdoors and the impact her actions have on the world around her. She intends to continue working with the Color of Nature program next year and is looking into other volunteer opportunities in conservation.
Gaining a new appreciation for the environment was just one of the rewards of the internship. As a result of her experience, Hernandez has decided to shift her intended focus of study from general dentistry to pediatric dentistry so she can work with children full-time someday. "I've always loved kids," Hernandez says. "But this was the first time I worked with them so closely. I appreciated seeing how much they enjoyed learning about nature."
Born and raised in Nicaragua, Hernandez moved to the United States at age 13. She received the Bethlehem Area School District Superintendent's Scholarship to attend Moravian University, where the opportunities she takes open her to discovering her brilliance.
—Elizabeth Shimer Bowers