Nine Moravian University Students Selected for Prestigious United Nations-Backed Millennium Fellowship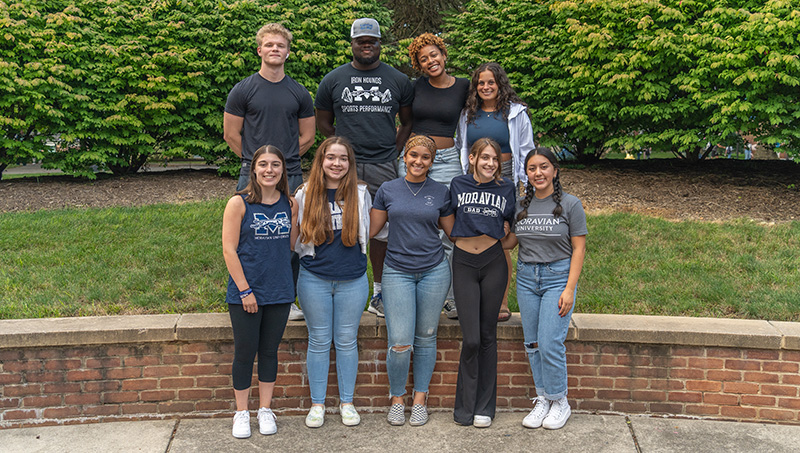 Students will work together throughout the semester to address issues such as sustainability, gender equality, and hunger
BETHLEHEM, PA, September 12, 2023: Today, Moravian University announced that nine students have been selected for the Millennium Fellowship Class of 2023. The fellowship is a semester-long program, supported by the United Nations Academic Impact and Millennium Campus Network, to advance undergraduate leadership worldwide in the UN Sustainable Development Goals.
This year, of the 44,000+ applicants from 3,000+ campuses, 268 campuses (just 9%) in 38 nations have been selected to host 4,000+ Millennium Fellows of the Class of 2023.
"The entire Moravian University community is extremely proud of the nine students selected for this very prestigious fellowship," said Bryon Grigsby, president of Moravian University. "To be selected from the large number of worldwide applicants is a testament to the hard work and dedication of the students, not to mention the long list of faculty and family supporters."
The Moravian University students selected to the Millennium Fellowship Class of 2023 are:
Jayden Brennan
Arly Hernandez
Melanie Johnson (student campus director)
Hunter Morris
Logan Palau
Gillian Schonenberg
Prince Sokpo
Za-nya Wright
Isabella Ziccardi (student campus director)
The topics the Moravian University student leaders proposed in the application for the Millennium Fellowship included Sustainability and the HUB (specifically how Moravian can have the least impact on the environment during the planned demolition of the Haupert Union Building on Moravian's Main Street campus in 2024), gender equality, zero hunger, and peace, justice, and strong institutions.
To learn more about the Moravian University Millennium Fellowship Class of 2023, please contact Moravian University Provost and Vice President for Academic Affairs Carol Traupman-Carr (traupman-carrc@moravian.edu).
To learn more about this prestigious fellowship, please visit the Millennium Fellowship website.
Media contact:
Moravian University
Michael Corr
Assistant Vice President of Marketing and Communications
corrm@moravian.edu
610.861.1365
About Moravian University
Moravian University is the nation's sixth-oldest university, located in Bethlehem, Pennsylvania, and offers undergraduate and graduate degrees that blend liberal arts with professional programs. For more than 275 years, the Moravian University degree has been preparing students for reflective lives, fulfilling careers, and transformative leadership in a world of change. Moravian University is a member of The New American Colleges and Universities (NAC&U), a national consortium of selective, small to midsize independent colleges and universities dedicated to the purposeful integration of liberal education, professional studies, and civic engagement. Visit moravian.edu to learn more about how the Moravian University focus on education for all prepares its students for lifelong success.
###