Moravian Band Steels the Show at Musikfest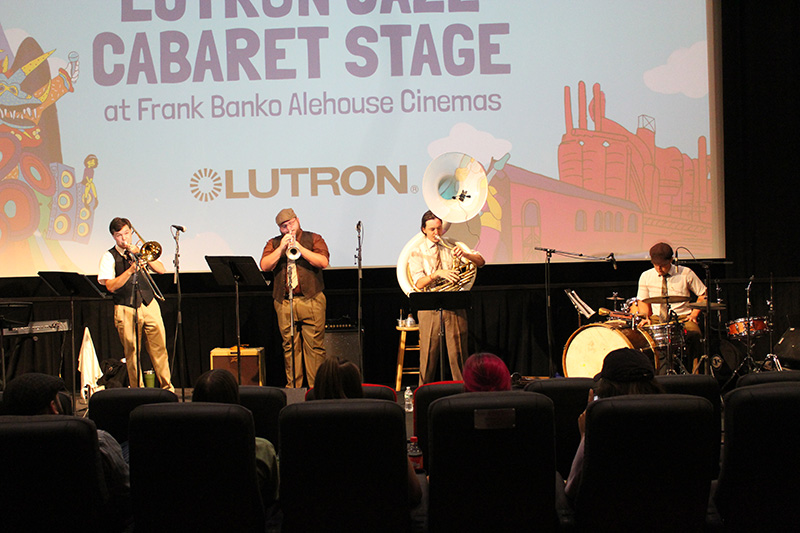 When the Steel City Hot Four walked onstage at Musikfest on August 8, it was only the third time they had ever performed as a group. But as evidenced by the captive audience, there is something about this Moravian Dixieland band that was just meant to be. "We couldn't have asked for a better show," says band member Mitchell Hourt '24. "People were clapping and singing along, and (by Musikfest standards) every seat was filled."
The band's stellar performance is a particularly impressive feat considering the nature of the style of music the foursome plays. "It's difficult to play and authentically recreate the Dixieland style because it relies heavily on improv," Hourt says. "The trumpet player is the only one with the sheet music, and the rest of us make it up as we go."
The Steel City Hot Four formed back in May 2023 and consists of Hourt on trombone, Ben Sanchez '22 on drums and washboard, Jesse Leahey '23 on sousaphone, and Spencer Guido '24 on trumpet. All four band members are or were music performance or music education majors, and they all plan to make music a part of their careers and their after-work lives.
"Playing Musikfest was exciting, and since we'd been working with this performance in mind, it was very fulfilling to complete," Sanchez says.
"It was spectacular, and the audience had lots of Moravian alums, Moravian students, family and friends, and people we didn't know," Hourt adds.
Now that the Steel City Hot Four have gotten a taste of the sweet music they play together, they are ready to take their band to the next level. "I'm hoping to start gigging with this group on a regular basis because the music is just too fun to play," Sanchez says. The band also enjoys keeping alive what is a more than century-old art form. "Jazz has been called America's contribution to the world of art, and Dixieland jazz is really where it all started," Hourt says. "Plus, it's fun music. It's happy music." —Elizabeth Shimer Bowers