Moravian University announces the passing of Donald Spieth, long-time artist-in-residence and conductor of the Moravian University Orchestra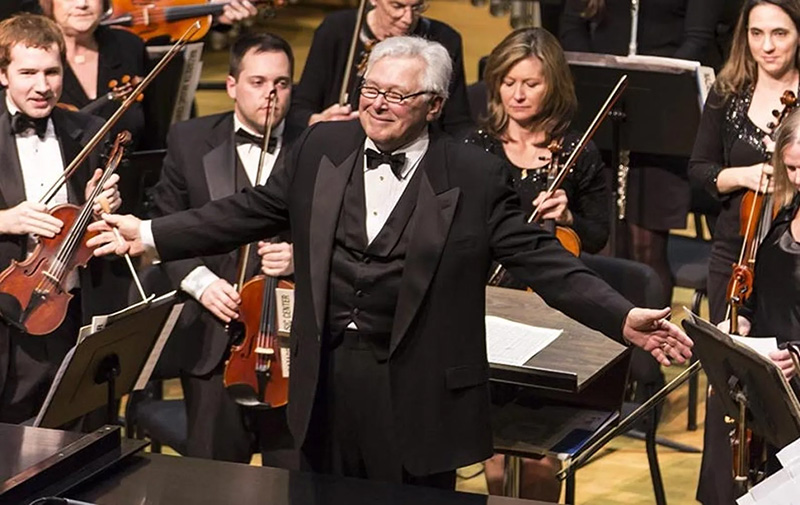 Spieth known for being a caring educator and his commitment to students
BETHLEHEM, PA, September 5, 2023: Today, Moravian University announced that Maestro Donald Spieth, artist-in-residence in music and conductor of the Moravian University Orchestra, passed away at his home on September 1, 2023. Maestro Spieth came to Bethlehem in 1967 as a National Teaching Fellow at Moravian University and founded the Moravian University Orchestra that same year. He became a fixture in the greater musical community of the Lehigh Valley.
"Maestro Spieth was an educator in the truest sense of the word, known to colleagues and students for his choice of repertory, his expressivity, efficiency, and patience with differing levels of ability," said Bryon Grigsby, president of Moravian University. "Moravian, and our students, have been extremely fortunate to have a man of his talent and generous spirit as a member of the music department. He will be missed."

Spieth has led highly acclaimed New York performances as Music Director of the Lehigh Valley Chamber Orchestra at Carnegie Hall and Lincoln Center. A review in The New York Times once said, "The Orchestra, led by Donald Spieth, played energetically, precisely and sweetly." Maestro Spieth has collaborated with celebrated artists from Emanuel Ax and Joshua Bell to Sarah Chang and Lang Lang, among many others.

"Don has always been a humble and modest man and has never spoken or behaved with pomposity or self-importance—common traits among orchestral conductors at his level," said Larry Lipkis, composer-in-residence and professor of music at Moravian University. "Yet this modesty belied his world-class talent as a conductor and educator."

"Don was a wonderful teacher and mentor," said Carol Traupman-Carr, '86, provost at Moravian University, a former violinist in the college orchestra under Spieth, and his former work-study student. "Perhaps no single person elevated the level of orchestral ensembles in the Lehigh Valley more than Don Spieth. The impact he has had on the Moravian and Lehigh Valley musical communities cannot be overstated."

Spieth earned undergraduate and graduate degrees from the University of Iowa, and studied conducting at The Juilliard School.

Donald Spieth is survived by his wife of 23 years, Llyena Boylan, sons Shawn (Christine, Moravian College, '84) and Stow (Tina Guerrieri), grandchildren Jordan (Annie), Ellie, and Steven (Maeve), great-grandson (Sammy), great granddaughter Scout, stepdaughter Alexis Boylan (Micki McElya) and stepson Gabriel Boylan (Christine Smallwood).

Services will be held at the Central Moravian Church in Bethlehem, PA on Saturday, September 16 at 1:00 p.m. in the Sanctuary.
Media contact:
Moravian University
Michael Corr
Assistant Vice President of Marketing and Communications
corrm@moravian.edu
610.861.1365
About Moravian University
Moravian University is the nation's sixth-oldest university, located in Bethlehem, Pennsylvania, and offers undergraduate and graduate degrees that blend liberal arts with professional programs. For more than 275 years, the Moravian University degree has been preparing students for reflective lives, fulfilling careers, and transformative leadership in a world of change. Moravian University is a member of The New American Colleges and Universities (NAC&U), a national consortium of selective, small to midsize independent colleges and universities dedicated to the purposeful integration of liberal education, professional studies, and civic engagement. Visit moravian.edu to learn more about how the Moravian University focus on education for all prepares its students for life-long success.