Moravian University Black and Latino Male College Readiness Program welcomed 33 students from eight Lehigh Valley high schools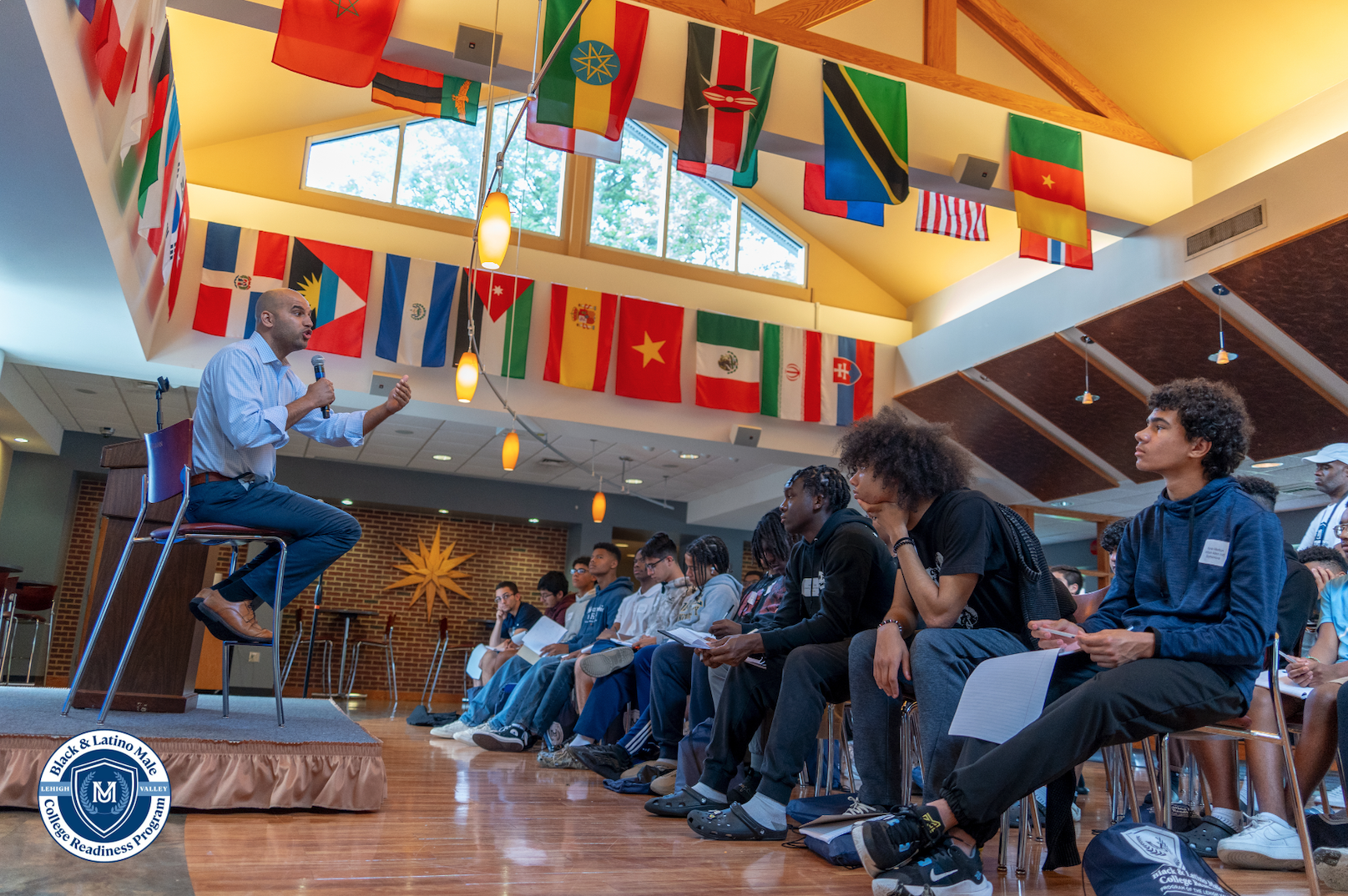 Moravian University Black and Latino Male College Readiness Program welcomed 33 students from eight Lehigh Valley high schools
BETHLEHEM, PA, August 14, 2023: Today, Moravian University, in partnership with Air Products, released a video that highlights the students, programming and featured guests of the 2nd Annual Black and Latino Male College Readiness Program of the Lehigh Valley. This program, designed to empower and inspire high-school-age Black and Latino men from the Lehigh Valley on their journey toward higher education, took place from June 27 through July 1, 2023, on Moravian University's Main Street campus, the Air Products campus in Allentown, and other Lehigh Valley locations. In addition, students enjoyed an evening at a Lehigh Valley Iron Pigs game.
Program sessions included "Entrepreneurship and Financial Literacy" and "How to Engage Your Professor in Class." Students learned valuable life skills from mentors and professionals that invested their time and energy to participate in this innovative program. Professional headshots of all attendees were taken, and each student was given a suit, generously provided by Edwing Joseph & Sons, as well as a white dress shirt, tie, and a pocket square.
More than 30 featured guests, contributors and mentors appeared during the program to address the students, including Tyree Blair, attorney, and partner at Spitale, Vargo, Madsen & Blair; Jaciel Cordoba, news anchor at WFMZ 69 News; Yusuf Dahl, CEO of The Century Promise; Kensler Telfort, vice president for business, process excellence at B. Braun Medical; and Kahron Walker '17, financial analyst at The Federal Reserve Bank of Philadelphia.
The importance of perseverance was a theme embedded throughout the program, with one student commenting, "It has made me understand that once you get to college, it depends on you and you only to make sure you're on track."
The success of the program prompted Moravian University to offer a second session in July for those students interested, but unable to attend, the first session that began on June 27.

Program contact:
Moravian University
Baru Roberson-Hornsby
Senior Career Development Strategist
robersonb@moravian.edu
Media contact:
Moravian University
Michael Corr
Assistant Vice President of Marketing and Communications
corrm@moravian.edu
610.861.1365
About Moravian University
Moravian University is the nation's sixth-oldest university, located in Bethlehem, Pennsylvania, and offers undergraduate and graduate degrees that blend liberal arts with professional programs. For more than 275 years, the Moravian University degree has been preparing students for reflective lives, fulfilling careers, and transformative leadership in a world of change. Moravian University is a member of The New American Colleges and Universities (NAC&U), a national consortium of selective, small to midsize independent colleges and universities dedicated to the purposeful integration of liberal education, professional studies, and civic engagement. Visit moravian.edu to learn more about how the Moravian University focus on education for all prepares its students for life-long success.
#