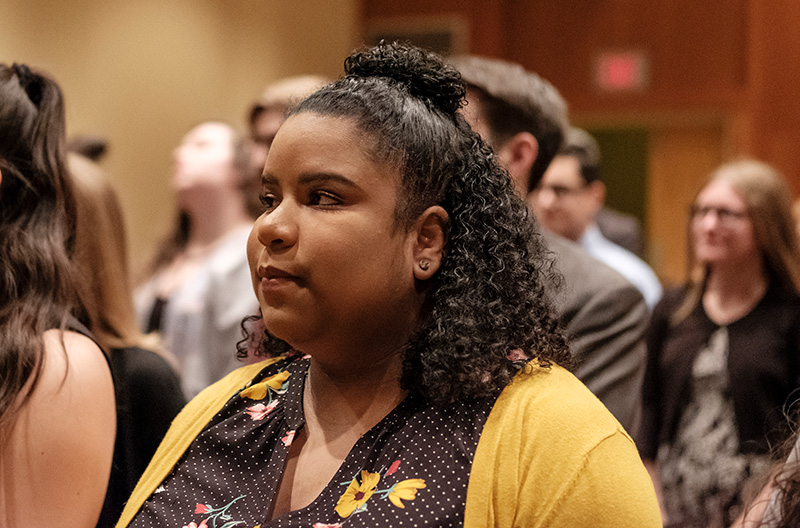 More than anything else in the world, Diomarys Nunez '18 G'20 wants to do research in perinatal health—mood swings, depression, anxiety, and other mental health conditions that can descend on women during pregnancy, afterward, or both. She has one more year of coursework to complete toward her doctoral degree, but she has run into an obstacle on an educational path that has been rough from the start.
Nunez is the second of five children and the eldest daughter. Her mother emigrated from the Dominican Republic. In a traditional Dominican household, the eldest daughter is considered the eldest child—expected to take on the responsibilities of the household: cooking, cleaning, and caring for the younger children. "My big brother is 2 years older than I am," says Nunez, "and when he turned 18, he moved out of the house to pursue his dream of working in the music industry. Because he was a boy, he had more freedom."
Nunez grew up in Allentown running the household while her mom worked a warehouse job. At William Allen High School, Nunez absorbed messages that suggested she was not college material. But she liked school, and both of her parents emphasized the importance of education. "Even knowing that I was needed at home, they said we'd figure out a way for me to go to college no matter how hard things got financially," says Nunez. "They saw it as a ticket out of our living situation."
So Nunez started at Lehigh Carbon Community College while taking care of the family, sharing school drop-off and pickup of her younger siblings with her mom, and working nights at a FedEx warehouse. A friend told Nunez about Moravian, and she decided to transfer.
The decision put Nunez in an environment rich in academic and social opportunity but also a place of personal angst. "The transition from living at home to living on campus was difficult," she says. "I went from helping out with household responsibilities to focusing solely on academics, grades, and career. I definitely felt a lot of guilt coming here."
Repeatedly, Nunez struggled with the ingrained expectations of her Dominican heritage weighing against those she set for herself to better her life through a college education. But the support from family, Nunez's friends on campus, and Moravian faculty and staff helped keep her on course with her education.
Nunez earned her psychology degree in December 2017 and walked with her class at the May 2018 commencement. She completed her master's in clinical counseling at the Moravian Theological Seminary in May 2020.
Today, Nunez has completed two and a half years toward her doctorate in psychology at Holy Family University. She has one more year of coursework before her dissertation year begins, but her FAFSA funds have been exhausted. She must pay out of pocket, and she doesn't have the financial resources. So, she has set up a GoFundMe account. "I feel embarrassed. I feel exposed and frustrated that I can't come up with the money on my own. But I've realized that I want this degree more than anything in the world," says Nunez. "My dream to do research in perinatal mental health will lead to doors opening for so many individuals who need support."