Iglesias Awarded Nightingale Scholarship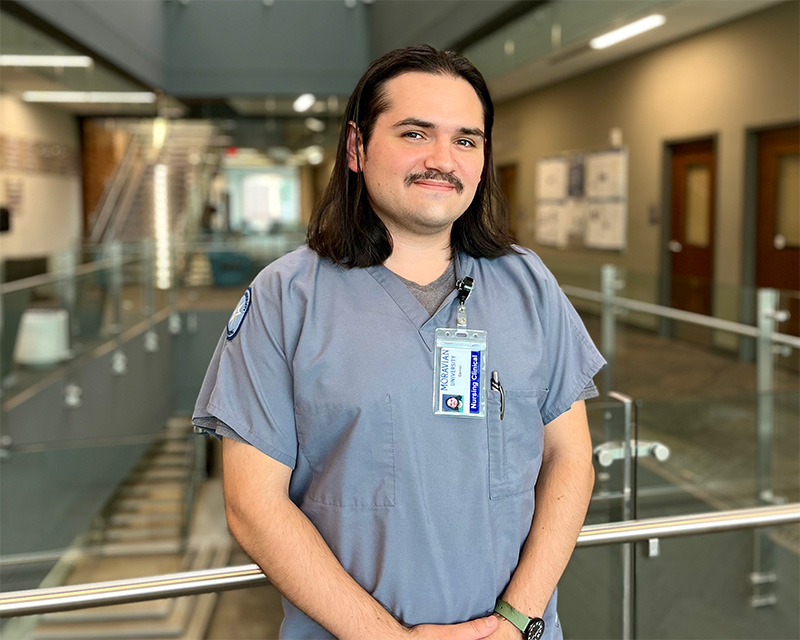 Daniel Iglesias was on vacation and in the car driving with his parents and youngest brother when he received a call from an unknown person. He decided to answer, and over speaker the caller announced that Daniel was the recipient of the Nightingale Scholarship Award of Pennsylvania. Daniel's family cheered out loud. It was a special moment.
Academic achievement, leadership potential, community service, and personal commitment to the profession of nursing are the qualities sought in Nightingale Scholarship candidates.
"Listening to Daniel's insights and observations about dilemmas related to ethical decision-making, I realize he is a deep thinker," says Susan Scholtz, associate professor of nursing.
"His analytical ability along with his sense of inquiry and wonder enable him to look at life's challenges with a lens of contemplation and compassion, and his theoretical foundation coupled with his approach to problem solving has postured him to provide holistic care. Daniel is a true asset to the profession of nursing."
Iglesias is an accelerated post-baccalaureate nursing student with the Class of December 2023. He grew up in Pleasanton, California, and earned his bachelor's degree in legal studies from the University of California Santa Cruz but decided he didn't want to become a lawyer, a profession that upsets the work-life balance scale heavily toward work. So he took some time to think about what he would like to do. "My family suggested nursing, and when I explored the profession, I saw that it aligned with my values," says Iglesias. "I want to do something tangible and for which I'd feel proud—something that makes a difference in someone's life.
"I was also motivated by COVID and the extraordinary effort and commitment of healthcare workers," he adds. "And with so many leaving the nursing profession as a result of burnout, the need is significant."
Once he decided to pursue nursing, Iglesias researched programs all over the country and chose the Helen S. Breidegam School of Nursing and Public Health, despite its being roughly 3,000 miles from home.
After graduating in December, Iglesias will search for a job on the East Coast. He likes the local health networks and may look at opportunities in Philadelphia. He's leaning toward becoming an ER nurse. "It's fast paced. You see a lot and learn a lot, and that's what I want," he says.
Whoever hires Iglesias will be fortunate to have him on their team.