Meeting the Mental Health Crisis Head On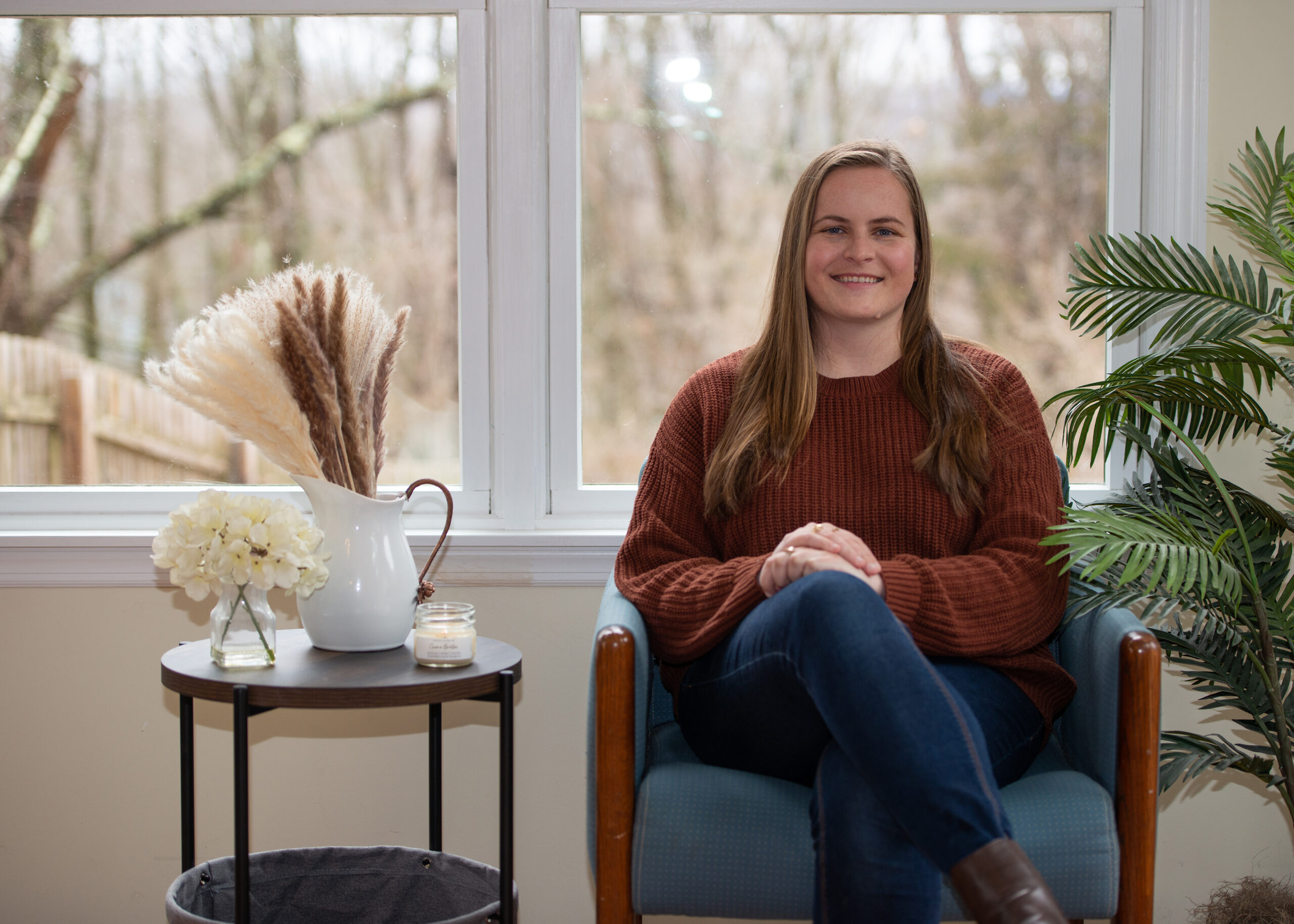 By Meghan Decker Szvetecz '08, photography by Marissa Ricciardi '15, owner of Marisa Lucy Design
It was spring 2020 when Emily Miller '17 completed coursework for a master's degree in professional clinical counseling at LaSalle University. The global pandemic halted in-person learning, and as Miller wrapped up her semester virtually, she wondered how–or even if–she would be able to move on to her field placement.
"Am I going to be able to do this? Am I going to have to wait until this pandemic is over to be able to start seeing people," questioned Miller. She soon realized that, in fact, the timing was fortuitous. "We call this a mental health crisis in America right now because there are not enough mental health professionals to meet the sheer amount of people who are in need of services."
From an internship to full-time position on the staff, Miller, 27, provides psychotherapy to clients at Pinebrook Family Answers, a nonprofit service agency for individuals receiving state-provided health insurance. Sessions were initially virtual, but Miller has since added in-person appointments once a week at Pinebrook's main office in Allentown.
"I've had colleagues tell me, 'if you can do this virtually, you'll be able to do this in person much easier,' and I one hundred percent believe that's true. The only way I knew to interact with clients was virtually; I never saw them face to face until late 2022."
Miller earned both a BA in psychology and a BS in environmental science at Moravian, gaining opportunities to meld her two passions and insight into which degree would lead to her career.
A SOAR project centered on bullying and school-aged children's mental health exposed Miller to valuable research experience, while a spring break study-abroad trip to Costa Rica with biology professor Diane Husic immersed Miller in environmental issues. "I saw the integration of how the environment impacts a culture and an individual," she explains. "It was the perfect combination of my two degrees. I ended up doing a paper on it."
She also leaned on the support of Moravian's counseling services as she prepared for graduation. "I knew it was going to be a big life change graduating from college. I went to counseling as a check-in, more so making sure that I had that place to be able to talk."
It was during an appointment at the Center for Career and Civic Engagement that she was urged to choose a graduate school that is CACREP accredited. "It let me take the national counseling exam before I graduated, which was very helpful. So now I'm working toward my licensure as a Pennsylvania licensed professional counselor, and all I have to do is wait and accumulate the right number of hours," says Miller, who hopes to be accredited this fall.
Being a young counselor is both a strength and a limitation, admits Miller. She can more easily gain the trust of her younger clients, while older clients have had more and varied life experiences. Either way, she aims to make her clients feel like they are talking to a friend. "I find that the best sessions have come from genuine conversations and a willingness to listen and just sit with people in the feelings that they're having at that moment," she explains.
One of Miller's proudest achievements so far was recently speaking at a webinar alongside field experts on the topic of measurement-based care. For the last few years, Pinebrook has utilized the mental health services company Greenspace to survey clients, and Miller could share first-hand how Pinebrook continually receives above-average scores.
"I spoke more so on the clinical implications of the survey as well as how to introduce it to clients and how to help clinicians increase that therapeutic alliance and then strengthen the relationship that they have with their clients."
As Miller does her part to meet the mental health needs of her clients, she continues to view it as a privilege to care for people at their most vulnerable. "I try to say to my clients, I'm so proud of all of them wherever they are in their journey," she says. "It's just so cool to see them navigate life."