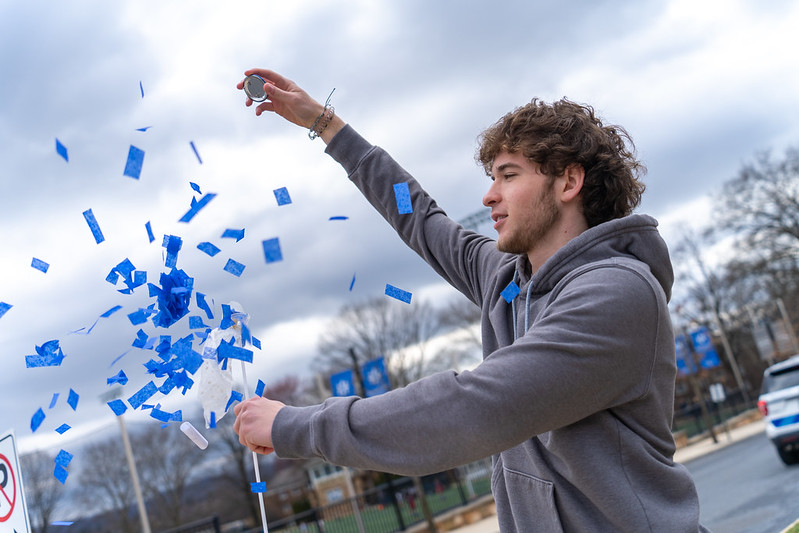 On March 11, we welcomed more than 280 future Greyhounds and their families to campus for our first Accepted Students Day of the spring semester. Scott Dams, vice president of marketing and enrollment, President Bryon Grigsby '90, P'22, P'26, and Bethlehem Mayor Willie Reynolds '03 kicked off the event in Johnston Hall with welcome messages and advice for our accepted students.
"I was so excited to welcome all of our accepted students to campus," says Lauren Mann '20, associate director of undergraduate admission and Accepted Students Day showrunner. "The weather held out for us, the facilities team did an amazing job with the setup, and we got to truly celebrate and welcome our Class of 2027!"
The day continued with academic breakout sessions that gave students an opportunity to meet with faculty from their chosen major, special panels and presentations for parents and guests, and a club fair coupled with Bingo hosted by the Moravian Activities Council (MAC). Plus, appointments with our financial aid services team were available throughout the day.

As guests returned to Johnston Hall for lunch, the sound of popping balloons filled the room—more than 100 students stopped by our Pop'N'Shop station to submit or confirm their enrollment deposit and to pop a balloon, watch the confetti fly, and win some exclusive Moravian merchandise!
These committed students also had the opportunity to collect their new Apple technology—a MacBook Pro, iPad, and Apple Pencil—provided to every student as part of Moravian's distinctive Elevate undergraduate experience. The IT team was ready to help with technology distribution and setup. Our newest Greyhounds can now spend the remainder of their senior year and summer getting familiar with this new tech so they're ready to jump right into classes in the fall.
After lunch, students and their families enjoyed a campus resource fair, featuring departments such as the Career and Civic Engagement, the Center for Global Education, and Student Life. Representatives from local business partners where students may one day intern or work were also present. And for students and families interested in seeing the campus, our 26-Point Ambassadors offered tours of the Main Street Campus, Priscilla Payne Hurd Campus, residence halls, and the Sports Medicine Rehabilitation Center.
Thank you to everyone who attended. We're looking forward to welcoming our next group of future Greyhounds to campus for our final Accepted Students Day on Saturday, April 15!