Kayla Valle, Class of 2022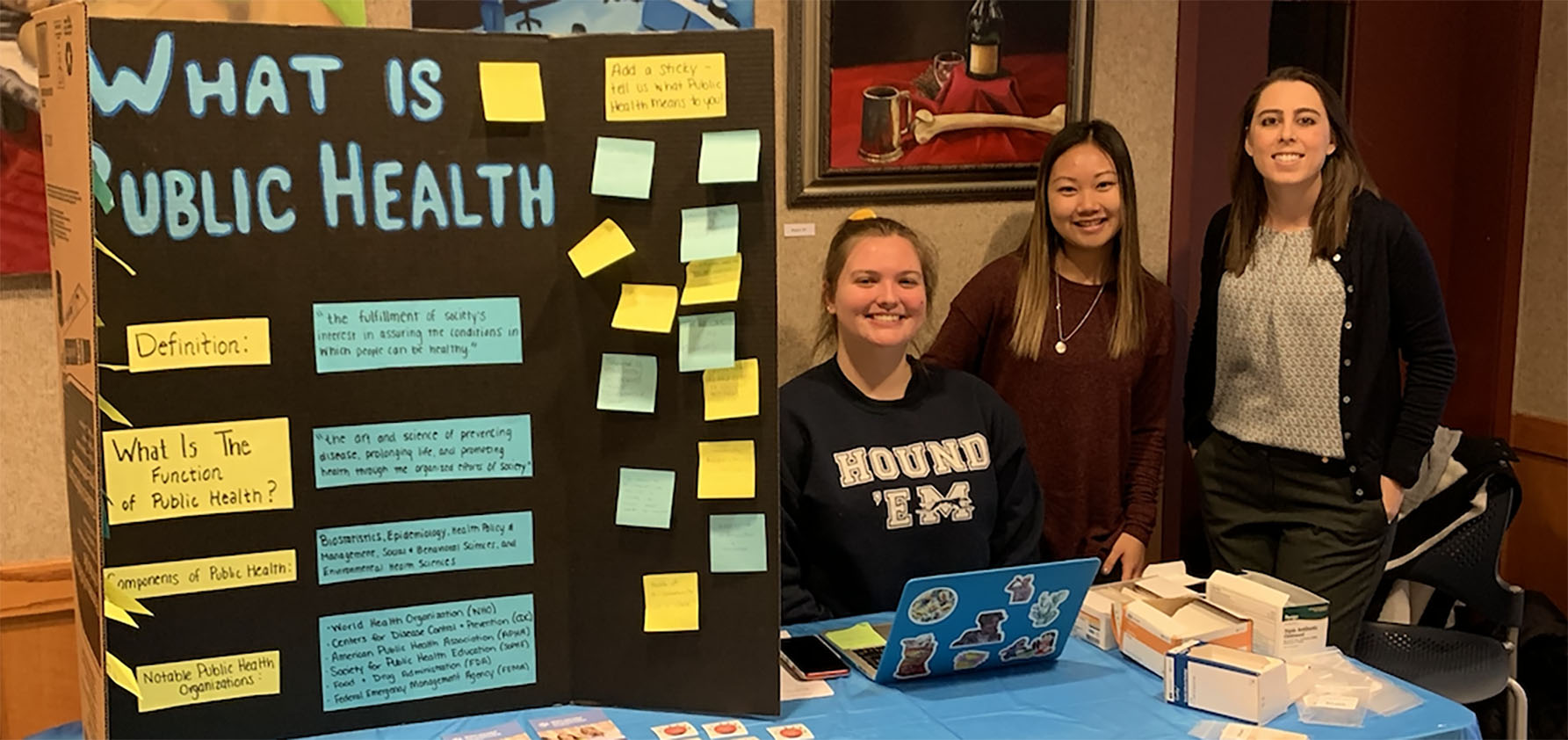 My major is pure mathematics, and I am in the process of getting certified to teach secondary education. I always enjoyed mathematics in high school, so when coming to college, it felt natural to continue taking math classes. I took calculus II with Dr. Talbott in the fall of my freshman year. I loved the class, and I began spending time with faculty and students in the department. Everyone was so kind and helpful, and I enjoyed the feeling that succeeding in mathematics gave me.
Why is mathematics a wonderful field?
To me, mathematics is beautiful. It is our world's lone universal language. Math does not make distinctions within gender, race, culture, and everything else that divides humanity. It is aesthetic because it can be simultaneously abstract and have concrete order. It is elegant—composed of diverse elements of balance and symmetry. Finally, math is timeless. It has been a part of our Earth longer than we have. It is something that was discovered, rather than invented, therefore it is completely independent of human creation. We have always and will always be able to study mathematics and refine our proficiency. Being aware of the beauty of the subject, I know I could never part ways with something so powerful.
What activities are you involved in?
I have been lucky enough to be a part of many different activities on campus. Each activity has brought me many friendships, opportunities, and a lot of positive memories. Cheerleading was the first organization I joined. I spent my entire adolescent life competing in cheerleading, and I was so happy to come to Moravian and have the opportunity to cheer on the sidelines. I cheered all four years that I have been here, and I have been the captain of the team during my senior year. We cheer for the football team, men's and women's basketball, and we compete at UCA Nationals in Disney. I love the sport—and my fellow cheerleaders—more than anything, and I am so lucky to have been a part of the team at Moravian.
In my freshman year, I became a sister in the Sigma Sigma Sigma sorority. My sisters have supported me in every aspect of my life, and they have pushed me to be the best version of myself. I am eternally grateful for the time I have spent with them.
I am—no surprise—a member of the mathematics society, an organization for anyone with an interest in mathematics. We host Epsilon Talks and other mathematically oriented events. It is through this organization that I made some of my closest friends within my major. I have served on the executive board as the public relations coordinator, educating Moravian's student body about mathematics through Instagram (@moravian_mathematics_society).
I am also the president of the senior class gift committee, which encourages students to give back to Moravian after everything that this university has given us. In addition, I am involved with the freshman orientation team and the 26 Point Ambassadors. Both organizations help students either choose to come to Moravian or get acquainted with the community once they arrive. I love connecting with students in these stages because I have so much passion for Moravian. I hope that by sharing my positive experiences and love for the school, I can help students find confidence that they will be able to have the same experiences here. Finally, I am involved in two honor societies, Kappa Delta Pi and Gamma Sigma Alpha.
What's next after you graduate?
When I decided I would major in mathematics, I had to decide what I would do with my degree. I've always enjoyed being social, and I enjoy helping people—becoming a math teacher would combine both. I hope to get a job teaching mathematics in a high school in New Jersey. I want to encourage young people who may have lost their confidence with the subject that everyone is capable of learning mathematics. I also want to show students the beauty that exists in the field and that mathematics is more than doing problems and worksheets.
Tell us about one of the best experiences you've had at Moravian University?
One of my favorite things to do is share the love I have for Moravian with prospective students or students who are new on our campus. My favorite experience has been taking part in New Student Orientation each year. The weekend is so much fun from start to finish. We help new students move their belongings into the first-year residence halls, which is always a cool experience to see. Parents and families are always relieved at how easy the process is for them with the help of the Orientation Team and the fall athletic teams.
Share something about yourself that may surprise people.
I am a double legacy at Moravian! My parents met here in Monocacy Hall in 1989 in a class they were taking together. They have been together ever since. They took their wedding photos in front of Comenius Hall. When I say that Moravian is the place that has given me everything, I really mean it.
What is your favorite college tradition and why?
Homecoming because I am involved in so many activities that celebrate the day. I have participated in homecoming each year at Moravian as a cheerleader. However, I also get to watch my sorority sisters enjoy the day. There is always a homecoming parade that the cheerleaders march in led by the marching band, and Greek life creates floats to ride on during the parade. I also love to see alumni coming back to celebrate the wonderful community that still exists at Moravian. It is also fun to see my parents reunited with their best friends from college each year at homecoming. This past fall, I was nominated as one of the senior homecoming ambassadors for my year, which made the day even more memorable.
What is your favorite thing to do when you're not studying and why?
Spend time with my friends. I have made so many incredible friendships here at Moravian, and a lot of my favorite memories come from just hanging out on campus, whether we're getting food from the Star or participating in MAC events. We always find a way to have fun. I am so grateful for the friendships that Moravian has given me. The people here are the reason that our community is so special.
Who inspires you? Why?
I am inspired every day by my family. My grandparents, parents, and siblings have all already led incredible lives. They inspire me to be the best version of myself, and they support me in everything that I do. I hope that I can inspire others in the way that my family has inspired me. I am also inspired by my friends. I have grown with them over the years, and I know that they will each find success in their respective fields.
What is the best advice you have ever received or a quote that stays with you?
"Be the change you wish to see in the world."
Kayla Valle is from Bloomsbury, New Jersey.