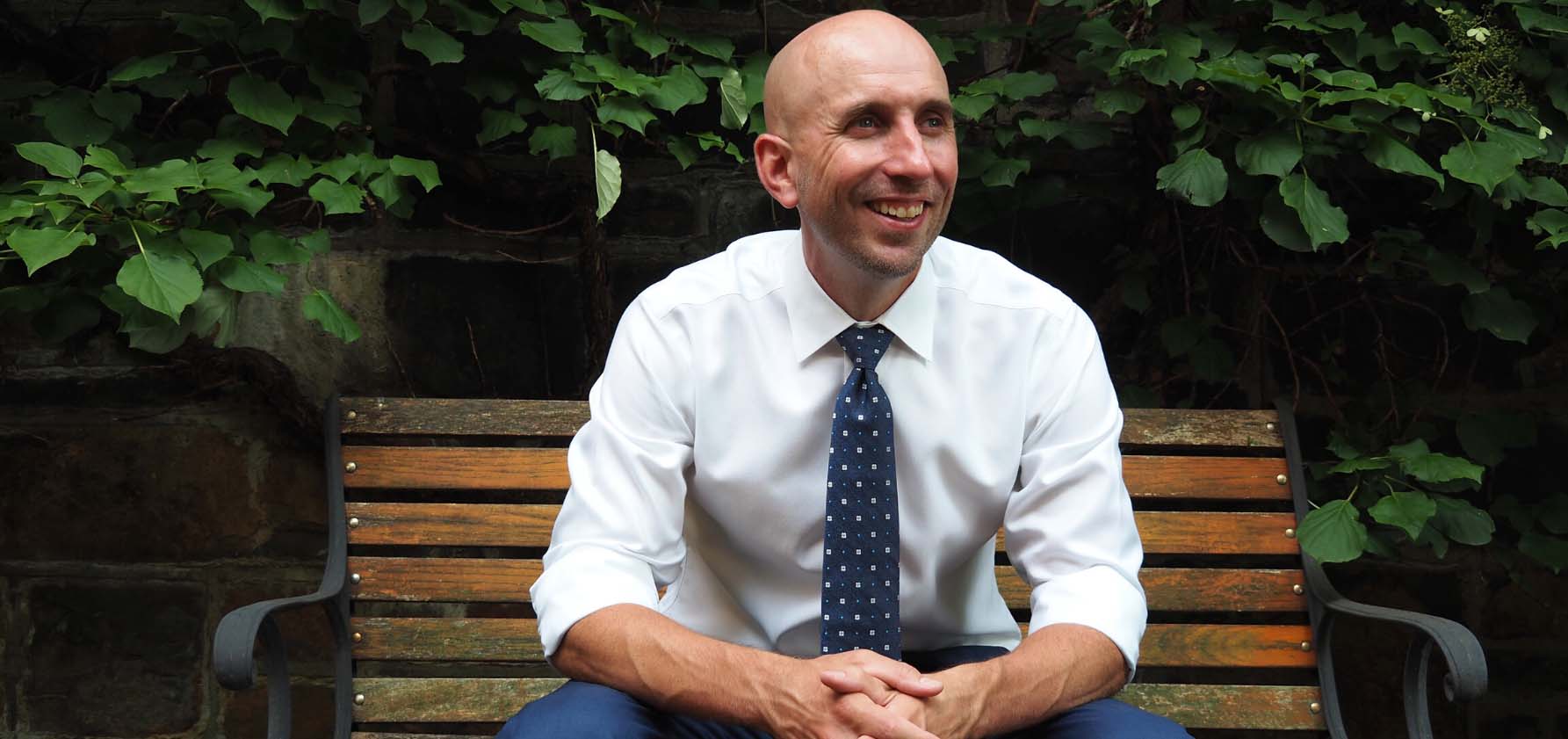 Bethlehem's new mayor, J. William Reynolds '03, is a native son. Born and raised in center city, "Willie" is a graduate of Thomas Jefferson Elementary School, Liberty High School, and Moravian University.
"I feel like I went to Moravian for 20 years," Reynolds says. "My father started there as a political science professor in 1979, so I would sometimes sit in the back of his classes when he was teaching. And I basically grew up in Johnston Hall and Steel Field watching the Greyhounds in the '80s and '90s."
Reynolds credits his parents' lifelong involvement in the Bethlehem community for his interest in working in the political realm, culminating in his run for mayor of Bethlehem. "For many years, my father ran the Rainbow Conference at Moravian, where he would bring in high school students from throughout the Lehigh Valley to go through a series of breakout groups having to do with diversity and inclusion and equity, at a time when those words weren't as popular as they are now," he says.
Reynolds graduated from Moravian in 2003 with a degree in political science and a minor in history. While there, he secured an internship with state representative Steve Samuelson, with whom he had worked for several years after graduation. Eventually, Reynolds would return to Moravian to complete his certification to become a history teacher at William Allen High School in Allentown, where he's worked since 2009. "During that time, I decided to run for city council in Bethlehem, as I saw the city beginning to be reinvented," says Reynolds. "And then I ran for mayor in 2013."
Though Reynolds lost his first mayoral run by a little over 100 votes, he would continue serving on the city council for the next eight years until the COVID-19 pandemic, when he decided to run for mayor again. "I knew that many in our community, including our most vulnerable, had been particularly affected by the pandemic," Reynolds says, "and I wanted to bring a new vision that builds on our economic revitalization to help our community come out of the pandemic even stronger."
Top on the list for Reynolds and his team is making sure that Bethlehem citizens have access to basic needs, like housing and healthcare. For the longer term, Reynolds says he's thinking about what the city can do to fix the systems that were broken during the pandemic.
"How do we make our community more sustainable, more walkable?" Reynolds asked. "How do we invest in those institutions in our community—our arts organizations, our theater organizations, our youth sports organizations—that really have taken a hit over the past two years?"
Photo courtesy of George Wacker '03 (Lehigh Valley With Love)