A Steward of Sustainability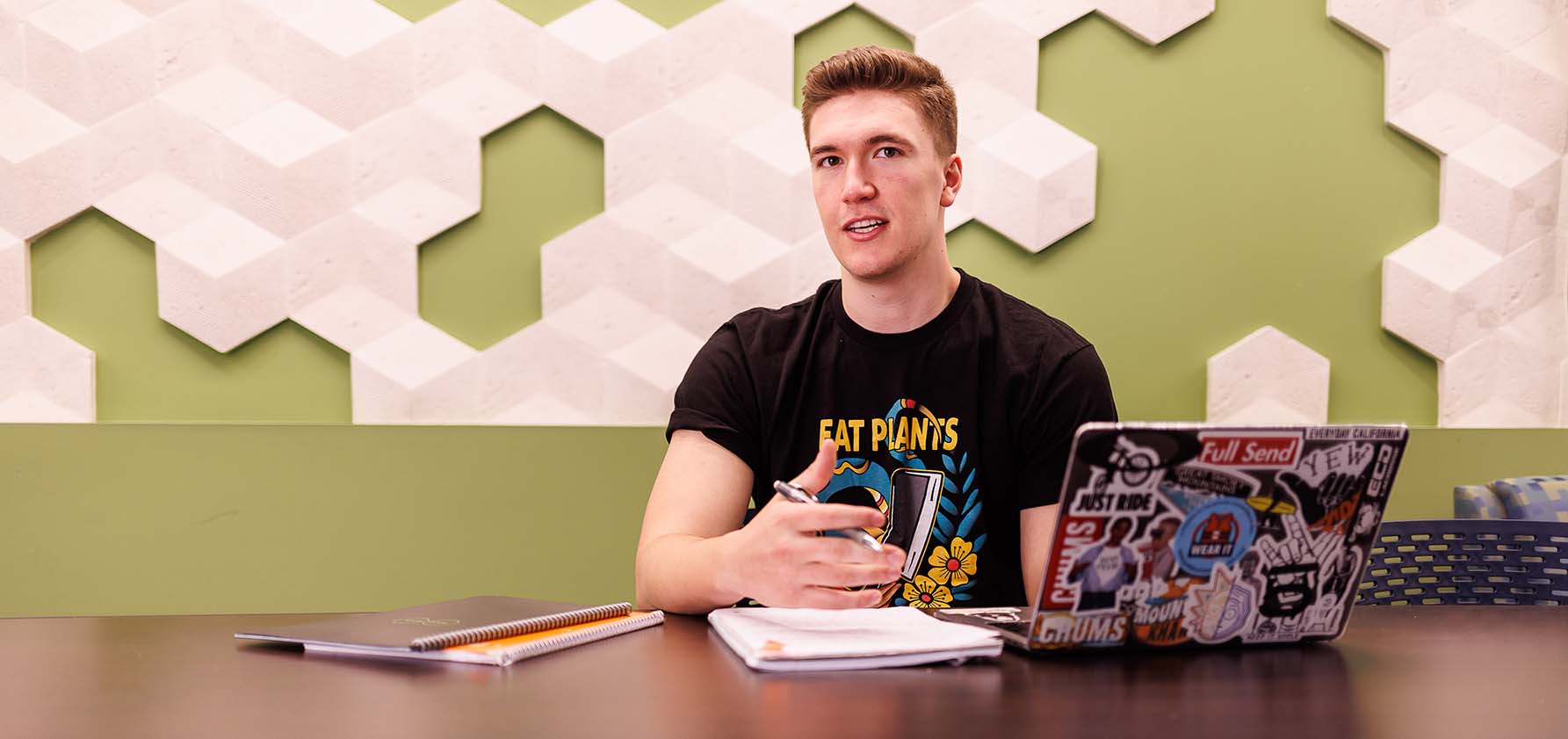 Since he was a little kid, Keegan Schealer '22, has loved nature, so much so that he has decided to make a career out of preserving it. The environmental policy and economics major at Moravian University is working locally and globally to bridge the gap between scientists, policy makers, and economists to come up with a solution to climate change.
"Climate change is scary, and it's easy to feel hopeless. But hopelessness doesn't help," he says. "It's only when you feel optimistic and care about the planet that you get things done."
With the encouragement of Diane Husic, dean of the school of natural and health sciences, Schealer is serving as a fellow with the Youth Environmental Alliance in Higher Education (YEAH) Network, a National Science Foundation-supported network of colleges and universities across the country. YEAH, which includes students from Vanderbilt, Colorado State, and other institutions, works with international partners to educate and inspire the next generation of sustainability leaders in science and policy.
"Through YEAH, I am connecting with people all over the world who are working toward sustainable goals," Schealer says. At the end of the day, we all live on this planet together, so global cooperation is imperative to coming up with effective solutions long-term, he says.
This past fall, Schealer presented virtually at COP26, the climate change conference in Glasgow, to bring attention to the YEAH Network as well as to highlight the importance of youth activists and youth voices. "My generation is the next group of CEOs, change makers, and leaders, so it's important for the global leaders of today to give us a forum to share our voice," he says.
Schealer is making connections on a local level as well. He's interning with the Lehigh Valley Planning Commission, where together with the\ Environmental Protection Agency and the NGO ICLEI, Local Governments for Sustainability, he is developing a climate action plan specifically for Northampton and Lehigh Counties.
"There are certain industry categories in the Lehigh Valley, such as transportation and cement, that are the biggest polluters," Schealer says. Last semester, he conducted a greenhouse gas inventory in the area. This semester, he will help put a plan together to reduce emissions and make the Lehigh Valley more sustainable.
While he works on these long-range plans for sustainability, Schealer also has some advice for what we can all do in the short term to have lasting effects. Although he admits it may be cliché, he says the phrase "reduce, reuse, and recycle" should be an adage we all live by.
"Reduce your plastic consumption by investing in a travel mug and reusable water bottle, utensils, and grocery bags," he says. "Recycle whatever you can, and donate items you might be tempted to throw away, like clothing and furniture." He also recommends using cold water to wash dishes and clothes and for showers—"cold water is beneficial for both the environment and your body," he says.
If you can't take all these measures, he suggests funding carbon offsets—projects that help counteract activities that create greenhouse gasses. He recommends checking out carbon offset websites such as goldstandard.org for more information and doing things to offset carbon emissions naturally, like planting trees.
And perhaps most importantly, he encourages us all to get out in nature.
"When you experience the beauty of nature and appreciate the positive impact it has on our lives, you'll care more about it and take action to protect it," he says.
Empowered by his current roles with YEAH and Lehigh Valley Planning Commission, Schealer says he is more optimistic than pessimistic when it comes to the planet's future health.
"We face many challenges, but I think in the end we will come to some solutions to help climate change slow down," he says. "In 50 years, almost all the cars on the market will be electric, and we will have powerful technologies to help reduce some of the damage we have already done," he says.
That is, he admits, if we don't continue to do too much damage before then. So, we all need to do our part. To keep things moving in the right direction, when he graduates, Schealer eventually hopes to start his own sustainability consulting business.
"Global emissions will continue to increase for the next 10 to 15 years, until we get the funding necessary to increase renewable energy," he says. "If we can, 100 years from now we will be in a much better place—super sustainable