DEI Seeks to Bridge the Gap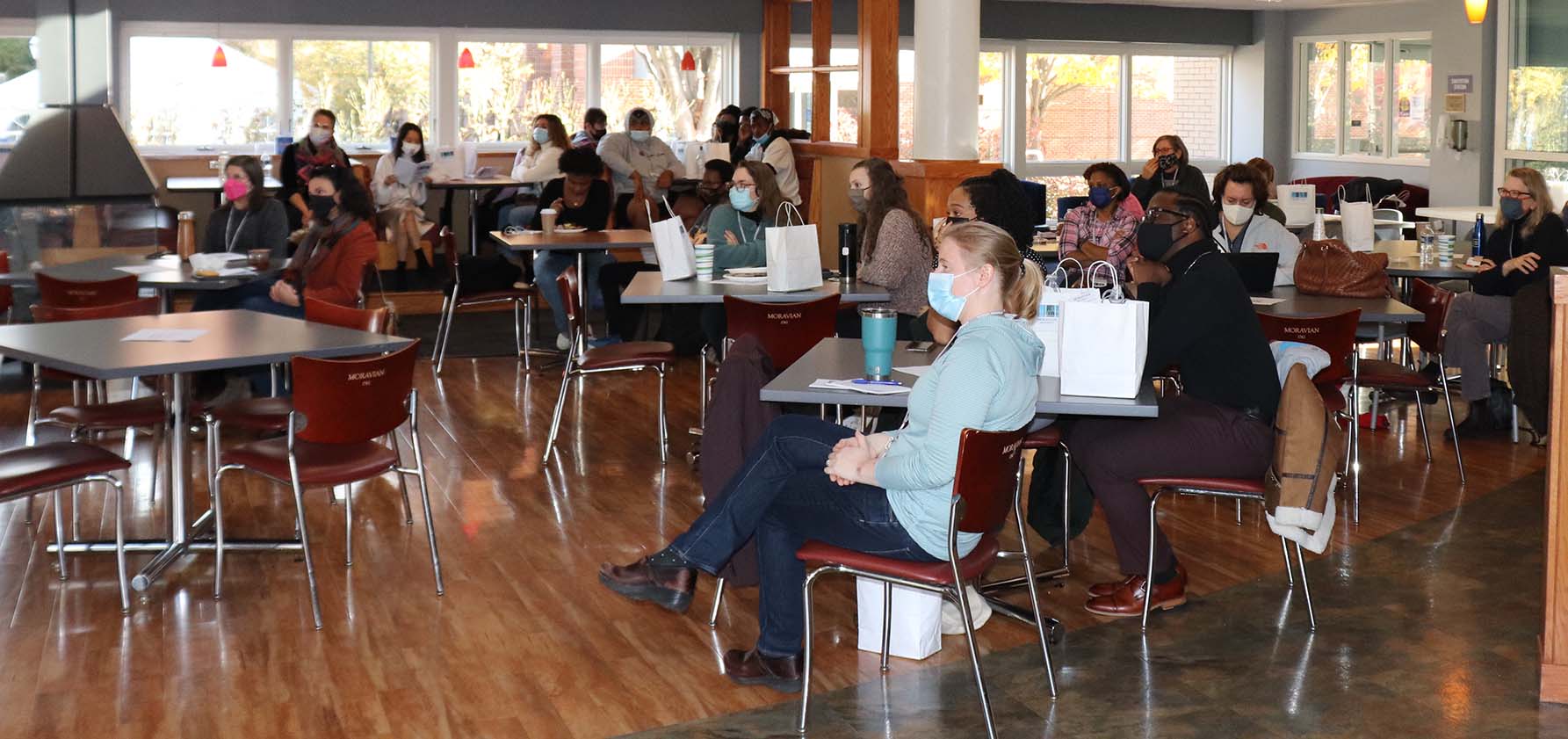 Faculty, staff, students, and alumni filled the Haupert Union Building's Pavilion and its corresponding Zoom session to engage in Moravian University's 2021 installment of the Bridging the Gap (BTG) Conference and immerse themselves in the work to support the pursuits of underrepresented and marginalized students. Prior to Covid-19, BTG had been held for nearly 20 years, typically by the diversity, equity, and inclusion professionals of the Lehigh Valley Association of Independent Colleges (LVAIC) consortium.
For this year's theme, "We Here!" participants declared. "The People of the Global Majority, including students on our college campuses, are here to have their voices heard, deconstruct barriers to access and success, and reclaim space." Facilitated by the Office for Diversity, Equity and Inclusion (DEI), campus community members gathered to uplift one another, learn from their collective stories and lived experiences, and "break through walls." Faculty, students, alumni, and external guest presenters engaged hybrid audiences with topics that spoke to resilience.
Among Moravian's faculty, Natasha Woods and Sara McClelland, both assistant professors of biology, delivered a workshop on diversity in STEM. "We talked about occasions where we might have discontinued our respective journeys, if not for mentors who encouraged us to be resilient," said Wood. "This kept us in the STEM pipeline that is known for leaking ethnic minorities and women."
Of the morning workshops, Diomarys Nunez '18 gave one of the most notable. In her presentation "BIPOC Students in Graduate School and Mentorship," she detailed her lived experience of overcoming failure as a result of a broken system. In doing so, she highlighted her Dominican cultural responsibilities and the impact they had on her time as an undergraduate. "I was responsible for everything when my mom wasn't around," said Nunez. "It started to impact my academics and my transition from daughter to independent college student." To combat the obstacles posed to her as a woman of color, including historic underrepresentation in psychology and respective doctorate programs, she created a space to foster the skills necessary to overcome, challenge, and deconstruct barriers for her success and for those that would follow.
The conference's morning workshops were followed by a compelling panel discussion featuring keynote speakers Kahron Walker '17, Diomarys Nunez '18, and Tamara Garraway '18. Vice President and Dean of Equity and Inclusion, Chris Hunt moderated the panel with questions that reinforced the "We Here!" declaration and dug deeper into the lived experiences of underrepresented and marginalized students at a predominantly White institution such as Moravian. Their responses detailed challenges regarding community culture, financial support, and access. Garraway, who came to Moravian from Brooklyn, highlighted the disconnect she felt when exposed to Bethlehem's lesser diversity and fewer resources. "The culture shock I felt came from not knowing who to trust, who had my best intentions in mind, and who could get me to where I was going," she said. Despite these sentiments, all three alumni supported their choice to attend Moravian and credited the institution for having shaped them for the better.
The featured keynote was followed by an afternoon round of breakout sessions that included a workshop on "Shades of Blackness: Understanding Blackness." Together undergraduates Christina Carty '23 and Angelica Bennett '22 delivered a presentation so successful that it was brought back to campus as a Friday Forum. On both occasions participants were challenged to reflect on their experiences with Blackness and the issues of colorism that may lead to anti-Blackness in culture and within.
Moravian University's version of the Bridging the Gap Conference successfully attracted a group devoted to cultivating an equitable and socially just campus and world. In keeping in mind various aspects of the "We Here!" declaration, faculty, staff, students, alumni, and external guests united to amplify historically underrepresented and marginalized voices, deconstruct barriers to access and success, and reclaim space. With the success of this year's BTG Conference, Friday Forums, and its newly introduced Reconciling History Series, the DEI Team is already gearing up for a Spring semester filled with more exciting programming.
---
Reflections from Gavin Kemery
manager, Office of Diversity, Equity, and Inclusion
The conference was a great opportunity to highlight some of the barriers students from historically underrepresented and marginalized groups faced and continue to face during their time at Moravian. In addition to hearing some powerful lived experiences and constructive criticisms, it was nice to see such a large Saturday turnout—an example of Moravian's commitment to diversity, equity, and inclusion. I'm grateful to be a part of this moment of reflection. The presenters offered some brilliant insights that I think resonated with a lot of folks in our community, so I'm excited to help translate that energy into change.