Dr. Chris Hunt, Vice President and Dean for Equity and Inclusion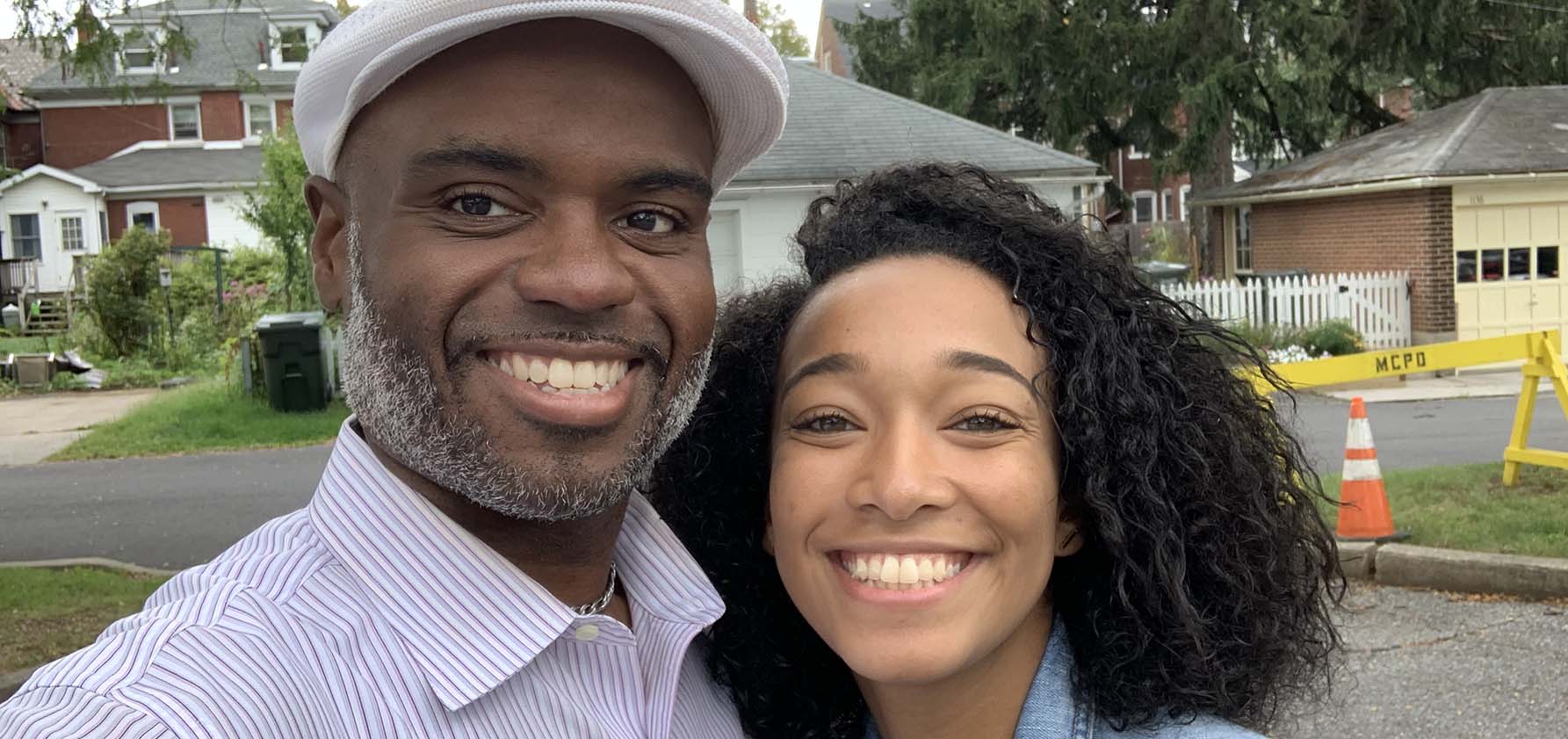 (photo: Dr. Chris Hunt gets a visit from alumna Melissa Cheong '18 in fall of 2021.)
Where did you grow up?
I'm a New Yorker, having been born there, although I grew up in Bethlehem. I'm a Liberty High School graduate from the 90's.
What do you enjoy most about what you do?
I enjoy this work because it allows me to emulate some of the most influential people that were mentors for me when I was a college student. When I was a first-year student at West Chester University, Black men, including Jerome "Skip" Hutson and Dr. Kendrick Mickens, helped me understand how to navigate a predominantly White college campus and be a leader.
Of your accomplishments thus far, which is most meaningful to you?
Successfully defending my dissertation and earning my doctorate. Attaining a terminal degree is something most people in our society do not achieve, particularly Black men, so being a model for that accomplishment is important to me.
Share something about yourself that people may not know.
Although my role can sometimes require me to be front and center, I'm a natural introvert and prefer one-on-one or small group interactions.
What is your favorite spot on campus and why?
Lately it has been my office! The Diversity House is a warm, comfortable, and hospitable space. And, Moravian University's Facilities Department has done an excellent job maintaining our building.
What is your favorite college tradition and why?
In November 2014, the Black Student Union began hosting their annual Thanksgiving dinner, which is a tradition that has continued over the years. I enjoy cooking, and students enjoy eating, so it's a win-win situation (LOL)!
What is your favorite thing to do when you are away from campus?
Spend time with my partner, who is also in higher education. As a Black woman in academia, she understands the impact of student mentorship as well as the nuances of college administration.
What book, film, song, or piece of art has so touched you that you find it enduring/unforgettable?
The Souls of Black Folk, written in 1903 by W.E.B. DuBois is a timeless classic that examines race in our society and how it shapes our interactions and behaviors.
I can never resist a good_____.
Dog—like mine, Geno Hunt, a beagle-chihuahua.
Who inspires you and why?
I draw inspiration from my pastor, Phillip Davis of Greater Shiloh Church in Easton. He's a community leader who has impacted thousands of lives, yet when you are with him, he has this unique way of making you feel like you're the only person in the world he ever thinks about. I try to emulate him and give people my utmost attention.
What is the best advice you have ever received?
When I was struggling to finish my dissertation, a colleague told me, "just lean forward," which was a nod to perseverance, endurance, and stick-to-itiveness.
Share something that makes youhappy.
Traveling and documenting new experiences is one of many activities that bring me happiness.