Emily Wells, Class of 2023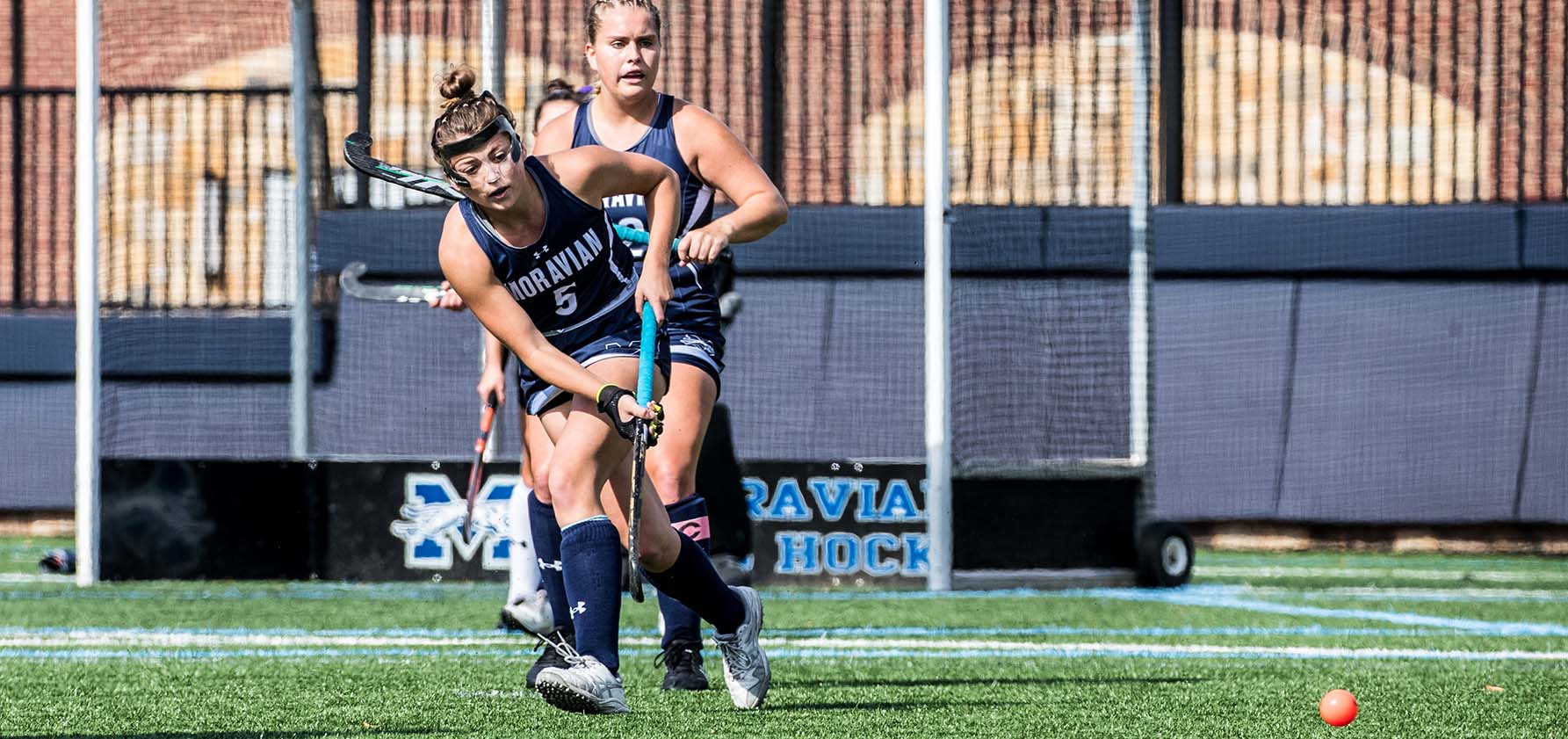 My hometown is Whitehall, Pennsylvania. All my grandparents, aunts, uncles, and cousins live within 15 minutes of my home. This meant my family was a huge part of my life growing up, and so I've always had a strong support system. Moravian is a short 15-minute drive from Whitehall, so staying close to my family and getting to see my younger siblings throughout my time at college was a factor in choosing a university. Now I realize that this experience has given me a large appreciation for keeping loved ones nearby and that family will always be what I value most.
What is your major or academic interest and what drew you it?
I am a biochemistry major on the pre-med track. I was first drawn to medicine when my dad made a career change from chemical engineering to enrolling in medical school when I was 7 years old. I got to see him go through medical school, and I see how rewarding his career is now. Becoming a physician has been my dream career since middle school, and I am personally drawn to medicine because I want to have the ability to improve the quality of life for individuals in my community, so they can live their happiest and healthiest lives.
What activities are you involved in at Moravian?
I am on the field hockey team, but I am also in the Alpha Sigma Tau sorority for which I was the director of philanthropy last year. I had a campus job in academic support as a Peer Assisted Study Session Leader for students in Calculus 1. I am also a member of Pre-health club, Tri Beta [biology honor society], and Phi Eta Sigma [freshman honor society]. Most recently, I started an independent study to research cancerous cell activity with a biochemistry faculty member.
Tell us about field hockey.
I started playing field hockey in 5th grade and have loved it since. I am a center midfielder for Moravian's field hockey team. The best part of being on the team is getting to be a part of a group with the same goal and growing, winning, and celebrating success together. Our team at Moravian is such a close-knit community, and I know I can always count on all my teammates.
Being a student-athlete is demanding, yes?
Yes, it is demanding, but it's led me to develop good time-management skills, which will help me even after my time at Moravian. I learned that balancing studying, homework, classes, and field hockey has made college less stressful for me. I enjoy the classes I take for my major, but if all I did was classwork, there would be no balance in that. As hard as it is to manage sometimes, being a student-athlete has led to friendships and memories, and I am so appreciative.
What have you learned from playing a sport?
Energy is everything in a team activity. If the person next to you is giving 100%, that energy and passion are contagious and ultimately lead to more success for the team. Being able to count on each other for that motivation is what builds team morale. Almost every career involves some sort of team setting, so being an athlete, in general, helps us all develop these important teamwork skills.
Tell us about one of the best experiences you've had at Moravian University.
This field hockey season overall has been an incredible experience. During a year of no athletics due to COVID-19, the team was still working hard and preparing for this past fall season, and it showed through our success. Our overall record was 14–3, with a conference record of 6–1. Our team broke many school records, such as most wins in a season, most goals in a season, and having the most Landmark all-conference players in program history.
Share something about yourself that may surprise people.
I got my boating license before I got my driver's license.
What is your favorite spot on campus and why?
John Makuvek Field because that's where I have all my home field hockey games and practices.
What is your favorite college tradition and why?
Our student-athlete kick-off event. The Student-Athlete Advisory Committee hosts this every year in the fall to introduce all the sports teams and coaches. It's a nice social event to catch up with friends I haven't seen over the summer.
What is your favorite thing to do when you're not studying or playing field hockey?
In my free time, I love to be outside. I find it so refreshing. Some of my outdoor hobbies are running, hiking, water skiing, wakeboarding, and snowboarding.