The Tenacious Jenny Jimenez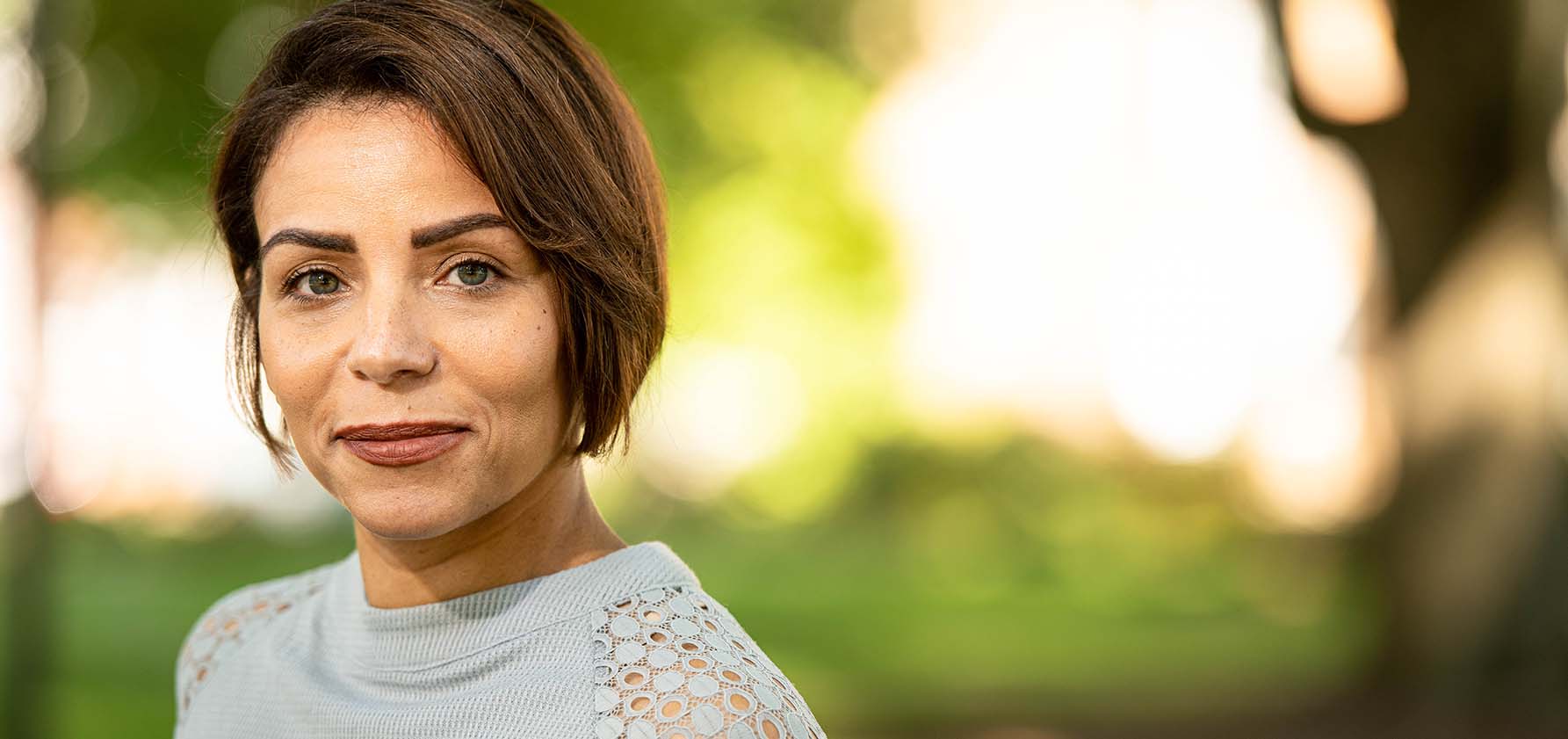 When she decided to get her college degree, Jennifer Jimenez '14 was a single mom of an 8-year-old daughter and a 6-year-old son and worked 50 or more hours a week at a demanding job that occasionally required travel. The decision didn't come easily. "I questioned how I would make time for schoolwork and stay on top of everything else," she says. "I had to consider my children's sports and other extracurricular activities. I had a lot on my plate back then." Still, she chose to add a significant helping of life to that plate—she enrolled at Moravian College.
"I was thinking long term—where do I want my life and my career to be in my middle and later years," Jenny says. "I wanted to see where I could go, but I was also determined to set an example for my kids."
Living in Hanover Township, Jenny considered Lehigh, Muhlenberg, and Moravian. She chose Moravian because of the availability of faculty and staff and their willingness to work with her if she needed to make adjustments. "Everything was personal," she says. "My education was customized to my lifestyle."
Jenny began as a part-time student, taking two courses "to get my feet wet," she says, but soon took on a full load so that she could graduate in four years. Moravian's flexibility in offering online as well as in-person courses helped Jenny use her time efficiently. "Even though I was extremely busy and sometimes felt overwhelmed, I was able to manage school, home, and my job," she says. "I also took courses during the summer to catch up and soon had a good routine going so that I made the Dean's List every semester except the first."
Though several years older than most undergrads, she always felt welcome. "I saw other adults here. The community is blended. You do not have to be fresh out of high school to feel like Moravian is your home," she says.
And feeling at home, Jenny didn't hesitate to take part in campus activities. She recalls taking her children to Winterfest. "They absolutely loved it and looked forward to it each year," she says. "It felt good to include my family in my school life and help them understand why it was important to me to get my degree."
Jenny's involvement with the Moravian University community has continued ever since she earned her BA in Business Administration and Management. She has volunteered with the career center and the Moravian Alumni and Parent Program, and she attends several alumni events. Currently, she serves as secretary of the Alumni Association Board of Directors.
Jenny also gives to the scholarship fund, having benefited from scholarships when she was a student. She remembers writing a thank you note every year to a particular couple who were donors. "They had saved up to put their son through college; however, he was killed in a car accident before his first semester," tells Jenny. "Rather than use the money on something for themselves, they donated it to help students like me get through college. Their selfless act was a blessing to me, and I've never forgotten their generosity. I want to do the same for others."
With a successful career in the insurance and finance industry, Jenny continues to have ambitious goals. She plans to continue her MBA with Moravian University in spring of 2022.
And of course, she'll keep up her service with the alumni association. "I feel engaged and part of so many things. We sponsor and participate in a lot of great events that connect alumni with current students. It is like a big family reunion where you catch up with relatives you haven't seen in a while," she says. "I absolutely love what we do! College doesn't have to stop at graduation. You can maintain those relationships and be an encouragement to students and alumni alike."