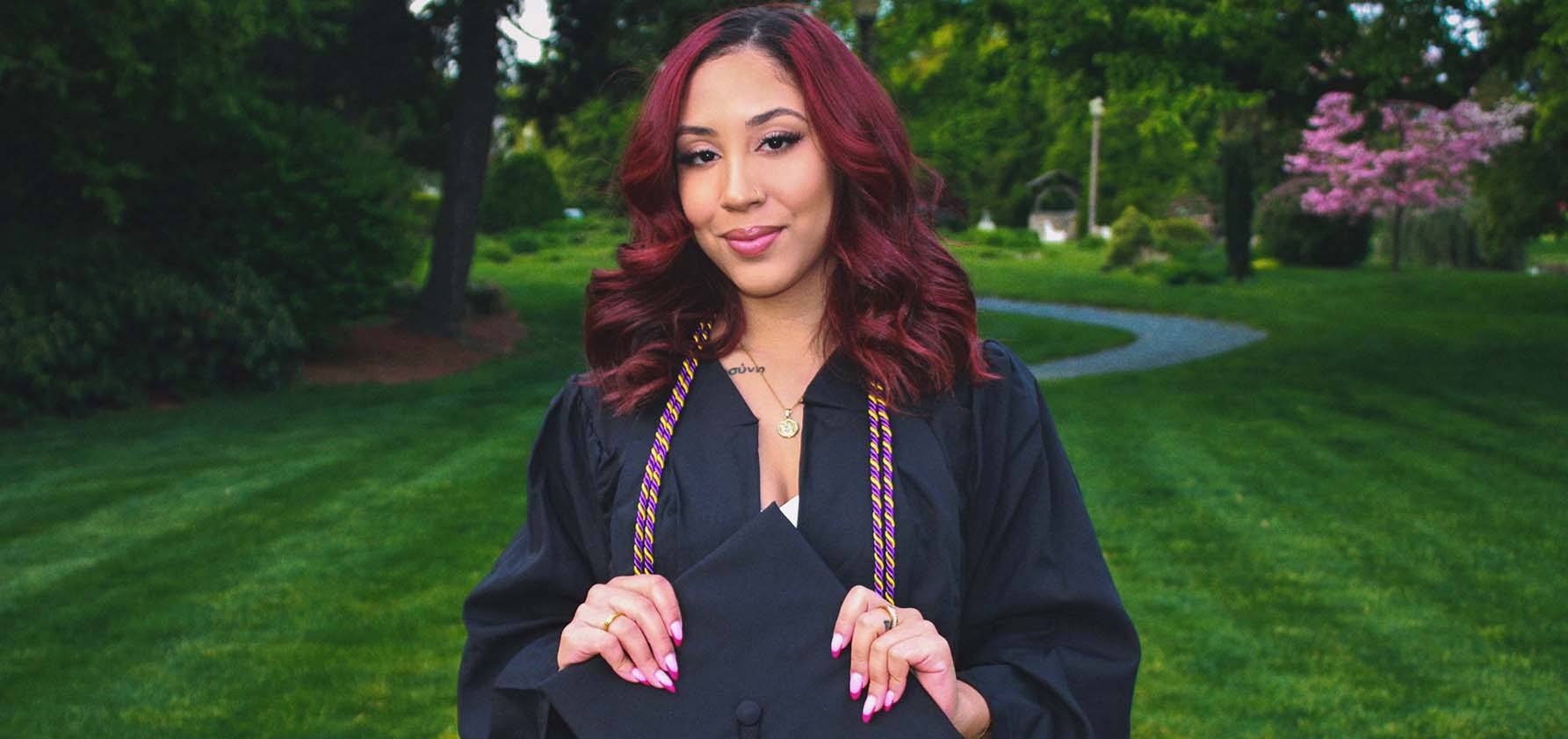 To be the first woman in my family to graduate from college gives me butterflies in my stomach. To be the woman in my family to represent the Dominican Republic with such pride and grace. To be the woman that the young girls in my family look up to.
Graduating from Moravian means so much more to me than earning a college degree. I represent hope and dedication. I represent the meaning of working hard and reaching goals.
***
I was born in the United States, but my family immigrated from the Dominican Republic. There, women have little opportunity to make their own choices and go after their goals. The tradition in my country, as in many countries, is for women to stay home and bear children. Often women must abruptly take on responsibilities to care for their families, and they drop out of school. With limited educational resources among other factors, only a small number of women graduate from college. Coming to the United States gives us hope and a much greater chance of accomplishing our goals.
I am the first-born daughter of immigrants who did not continue their education past middle and high school. Growing up, I witnessed how hard my parents worked to sustain our family, and I saw what a great sacrifice it was to leave behind family to come to the United States. All they wanted was for their children to go to better schools, live better lives, and have the chance to pursue their goals.
Being from one of the less-fortunate cities of Dominican Republic, it is very uplifting and aspiring when someone goes off to college to advance in their education and careers. I took on that role and responsibility when I decided to come to Moravian. I wanted to represent my country and my family and show that someone like me can earn an undergraduate education somewhere like America's 6th oldest college. Anything is possible.
Being accepted to college was extraordinary in itself, but participating in extracurricular activities and living the experience of obtaining my bachelor's degree made it that much more special. I participated in the Women's Art Show two years in a row. I was a member of the Fro Nation Club and DEI Club and was vice president of TIARA (Togetherness, Independence, Academics, Respect, Achievement), the interest group of Mu Sigma Upsilon Sorority. In my senior year, as a graphic and interactive design major, I participated in the Senior Show at Payne Gallery, where I showcased my thesis project, Listo App.
During my time at Moravian, I discovered that I can overcome any obstacles that get in my way. I faced many tough situations in my early years of college, some that nearly stopped me from continuing my college education. I have always found a way to pull through and focus on the goal of earning my degree. I realized this mindset is what made me the dedicated and successful student I became, and this mindset will shape me into the woman I've always wanted to be.
I was on a mission not only for myself but to be an example for my family. There are six young girls in my immediate family to whom I am very close and who look up to me and have observed my educational journey. I made sure they would see me go off to school every day, study, go to work, and finally walk down that stage at graduation. I wanted them to get a glimpse of what their future could look like. I want them to follow my steps in achieving a higher education and feeling the gratitude and happiness that I felt when I received my degree.
I hope also to be an inspiration to other women from the Dominican Republic and all Caribbean, Latin, and Hispanic countries so that more and more women will enroll in and graduate from college. We all face the same battles and long for the same opportunities. I will forever be grateful for my own journey.
In May of 2021, I graduated with a BA in graphic and interactive design and a minor in business marketing, and I currently work for the Center for Integrated Behavioral Health in Bethlehem, performing administrative duties and creating graphic design for social media. One thing I love about design is that it is ever evolving. There is so much to learn and dive into with a career in design; however, I would like to explore my other passions as well and perhaps work toward a marketing and public relations career.
This is only the beginning.