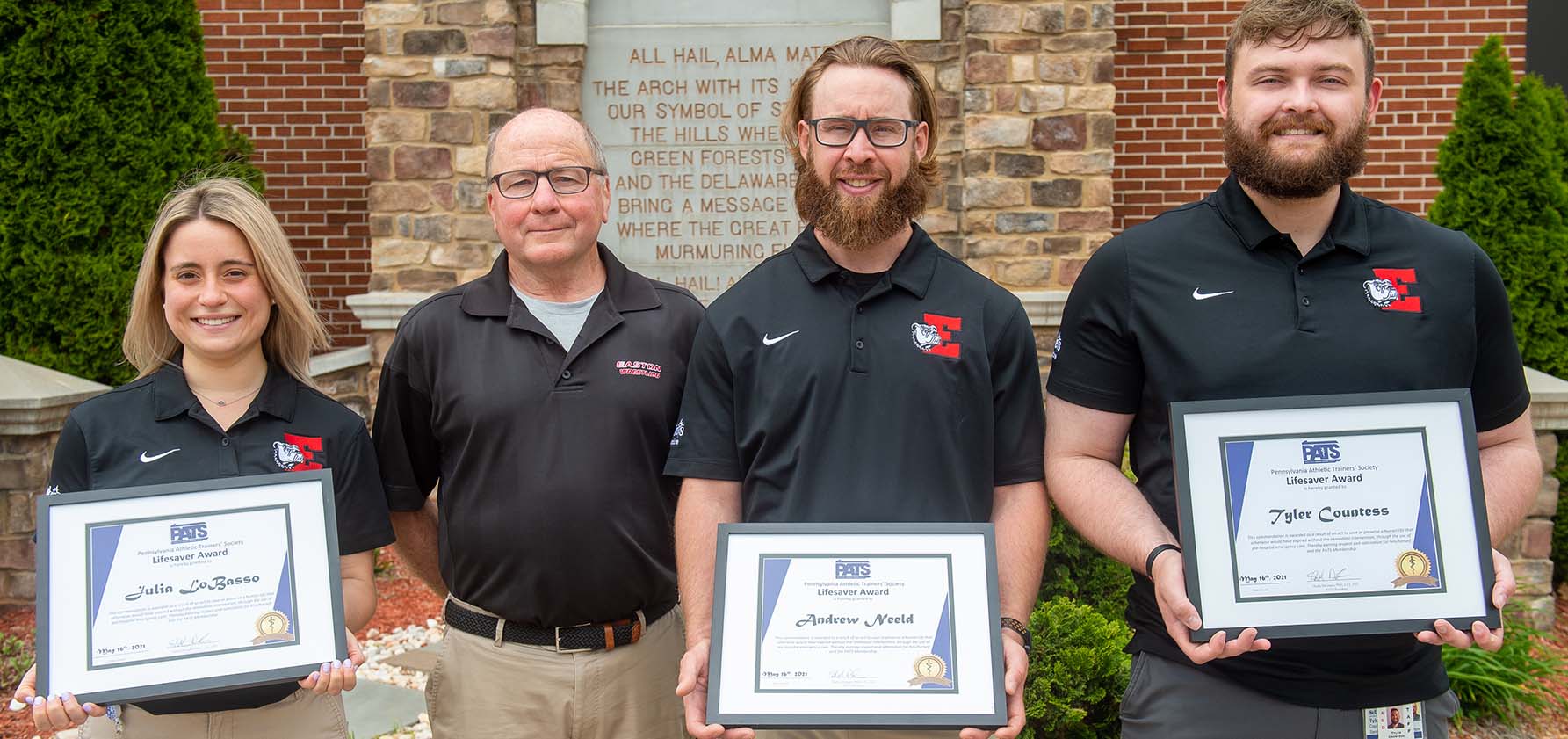 It takes hours of practice, lightning-quick responses, and flawless teamwork to make those split-second decisions that lead to winning in sports. And this combination of factors is critical, too, when it comes to responding to an emergency where a life is in peril.
They clicked perfectly on March 10, 2021, when St. Luke's athletic trainers (ATs) teamed up with other professionals to save the life of assistant wrestling Coach Steve Powell at Easton Area High School. Athletic trainers, Tyler Countess '16 G'18 (above, right), Andrew Neeld, and Julia LoBasso, who were at Easton that afternoon, sprang into action when they were alerted that Coach Powell had collapsed in the wrestling practice room during practice.
As the district athletic trainer called 911, Countess and team started CPR, taking turns doing 30 compressions, then adding two rescue breaths. Countess ran for the automated external defibrillator (AED) and returned to apply the AED in hopes of jumpstarting Powell's heart. No response, so CPR was resumed.
Their efforts paid off. Just minutes into the rescue, an ambulance arrived on the scene, and a portable EKG machine detected a faint pulse in the coach. The squad rushed Powell to the ER at St. Luke's Anderson Campus where a stent was inserted into the blocked artery that had caused the heart attack.
For their life-saving efforts, Countess '12 G'16 and fellow ATS were honored with the inaugural Pennsylvania Athletic Trainers' Society (PATS) Lifesaver Award. This award recognizes an act of professionalism in an effort to save someone's life (or quality of life) in an emergency situation that warranted immediate care and management.
Countess has returned to Moravian to advance his medical education, enrolling in the first cohort for his doctorate in physical therapy.