Steel Battalion Has Strong Performance in Ranger Challenge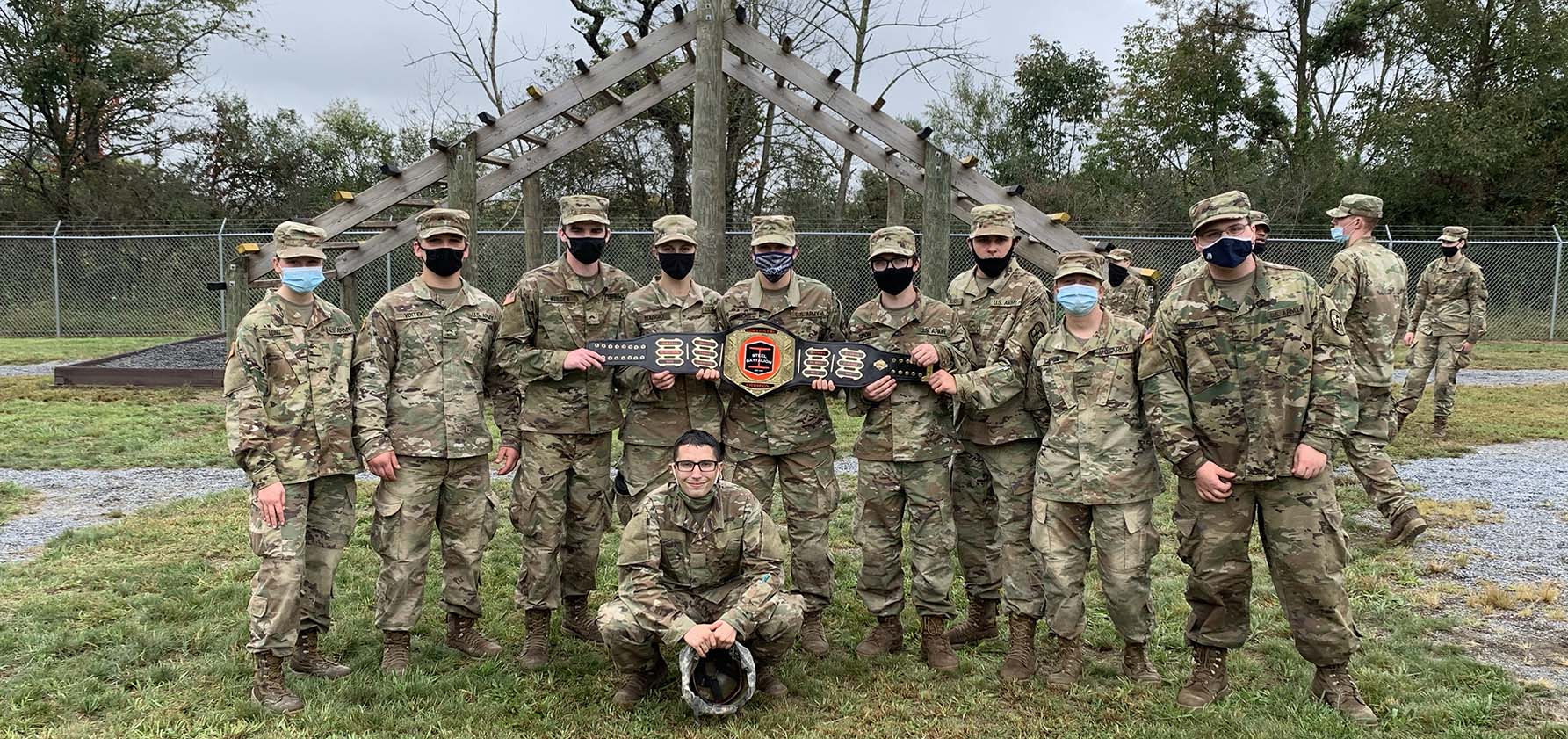 by Elizabeth Shimer Bowers
Each year, a group of chosen ROTC students compete in a much more grueling race than the Spartan, Tough Mudder, or Warrior Dash—and for real—as part of the Ranger Challenge.
The Steel Battalion Army ROTC annually assembles a Ranger Challenge team that competes against ROTC schools within the 2nd Freedom Brigade at Fort Dix, New Jersey. This year's team included two cadets from Moravian University, 10 from Lehigh University, and two from Lafayette College who completed a series of challenges, ending with an arduous test of physical and mental conditioning called "The Crucible."
The goal of the Ranger Challenge is to qualify to go on to the National Sandhurst Competition, which takes place two weeks later at West Point.
"The Ranger Challenge mimics an NCAA Division I sport within ROTC," says Madeline Wickel '23, one of the two Moravian University participants. "Each team member contributes and becomes proficient in skills such as rope bridge, land navigation, tactical combat care, the grenade course, the obstacle course, and rucking," she says.
To get to the penultimate collegiate military skills and leadership competition that is Sandhurst at West Point, cadets must build the physical toughness and mental stamina necessary to skillfully move, shoot, communicate, and lead.
"The Ranger Challenge requires many extra hours a week of training and takes grit and a constant drive to succeed," says Joseph Voitek '23, the second Moravian University student on the team.
Thanks to these hours of hard work and training, at the end of the Ranger Challenge, Wickel and her teammates won the overall competition and tug-of-war in a COVID-informed 30- school round-robin format. They succeeded in matriculating to West Point's National Sandhurst Competition, which took place on April 16th and 17th. There they finished 22nd—a huge jump from their last Sandhurst competition in 2019, where they placed 38th.
The Ranger Challenge team achieved this honor despite being up against a shortened training schedule due to COVID-19. The group normally starts training in August, but this year their training was delayed until March of the competition year.
"We only had a couple of weeks to train but had a great program in place to get our minds and bodies in shape," Wickel says.
Following the Ranger Challenge competition, the team had a mere two to three weeks to prepare for Sandhurst. The Sandhurst competition includes ROTC programs from across the nation, the military academies (West Point, Annapolis, Airforce, and Coast Guard), and other companies at West Point that produce teams to compete.
"Sandhurst was a great experience. It pushed our team past our physical and mental barriers and allowed us to grow into better CDTs and future army officers," Voitek says.
It should come as no surprise that the Ranger Challenge team performed as well as it did; it consists only of high-speed cadets that go above and beyond their roles, both in college and the military. Many, including both Voitek and Wickel, are student-athletes. Voitek is a member of the Moravian University Football Team and Wickel is a thrower in Track and Field. "We both work to be the best cadets, students, and athletes we can be," Wickel says.