Moravian College BIG Band Records Film Score for Lucky Louie""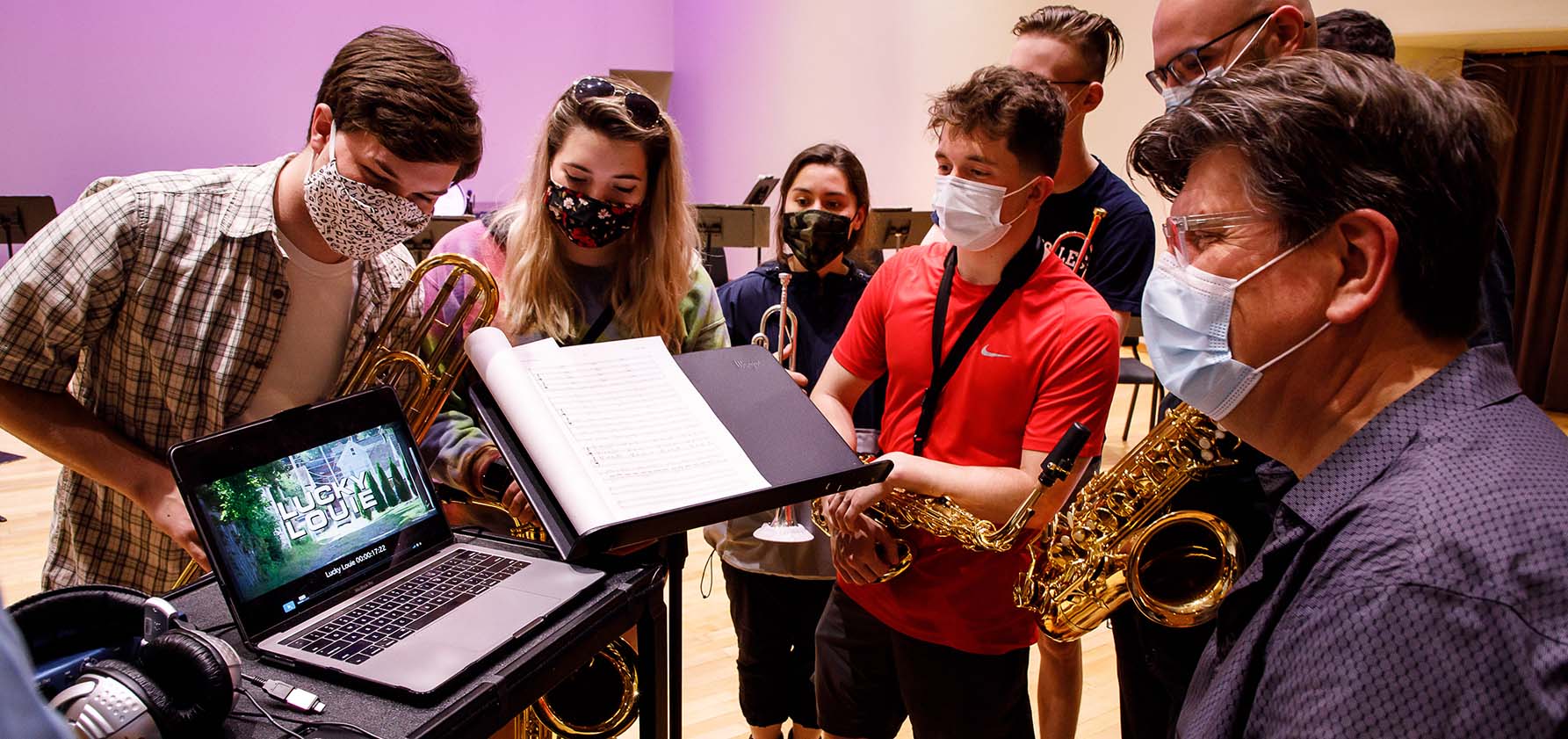 The members of the Moravian College BIG Band will soon be able to add film score musicians to their resumes. Thanks to a little bit of serendipity and a lot of hometown love, the students have recorded a portion of the music for Lucky Louie, a new film by Bethlehem native Daniel Roebuck, with original scoring by Emmy-nominee and Allentown native Alex Kovacs.
Kovacs, based in Los Angeles, has worked with Roebuck on several projects after making the Lehigh Valley connection—Roebuck has playfully likened their pairing to Steven Spielberg and John Williams. "For Lucky Louie, I thought, how cool would it be to get a local band to record the music?" Kovacs says.
Kovacs, whose work was nominated for an Emmy in 2020 for the HBO miniseries, McMillions, took saxophone lessons for more than a decade with Neil Wetzel, chair of the music department, director of jazz studies at Moravian College, and the director of Moravian College BIG Band. "This is the first time [BIG band] has done this kind of thing," Wetzel says. "I'm excited for the students to have an opportunity for a real-world application [for their music], the opportunity to see what it's like to do professional recording."
Roebuck prides himself on recruiting local talent—actors, production, music—for some of his work, including Getting Grace and Lucky Louie, both of which were funded by the nonprofit organization A Channel of Peace. "Coming home is an extraordinary gift for an actor," Roebuck says, while sitting in a hotel in Budapest after weeks of shooting. "Shooting movies in my hometown, Bethlehem, and the Lehigh Valley is the best fit I've ever had as a creative person."
And because Lucky Louie—a family comedy about a retired police officer who recruits four ex-convicts and a behavioral science student to solve a decades-old bank robbery—has a 1970s heist movie feel—think a cross between Get Smart and 1960s James Bond jazzy scores—the decision to enlist a jazz band made sense, Roebuck says. "I believe very strongly in the Moravian College jazz musicians, and I love that we're giving them this opportunity."
The students recorded 14 minutes of music for the intro to Lucky Louie.
"This experience has been completely different from anything the BIG Band has done in the past," says Kaitlyn Furst '22, music and sociology major and alto saxophone player. "It has pushed me in different ways musically, as the precision needed for a film recording is very different compared to a pit orchestra performance or big band concert."
Everyone involved is excited about the final product. Says Wetzel: "The students will see the movie and hear themselves—that'll be a gas."
---
The film will wrap later this year, but a release date has not been determined as of this writing.