Favorite Reads By The Reeves Team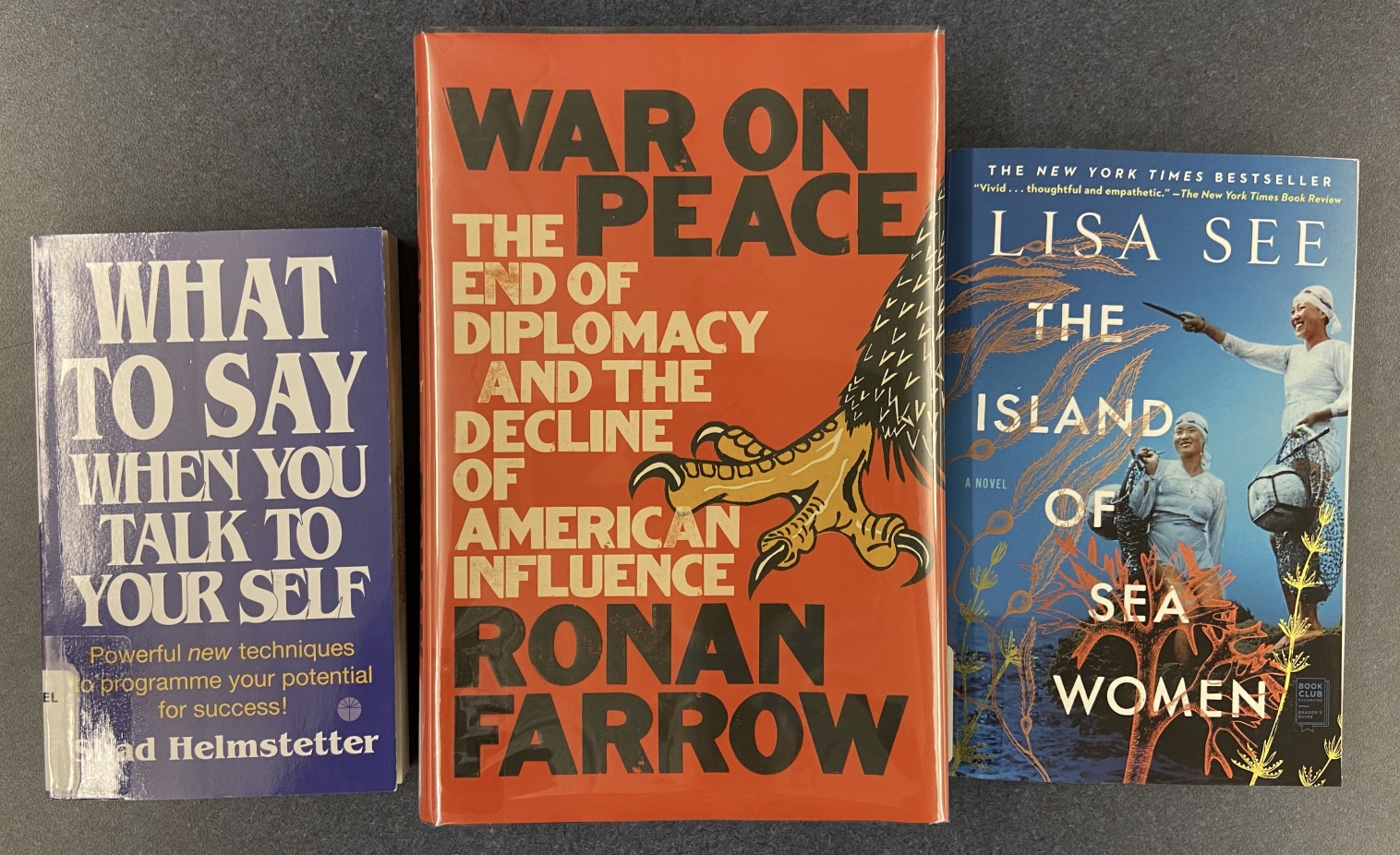 By Jeff Dickens
The Reeves Library team has compiled a list of recent books we've read and recommend to our campus community for summer reading. Each suggestion includes why the team member is recommending the book. We would also like to take this opportunity to remind our users that we have a best seller collection that has received a lot of recent donations. At the end of the team's list, we are providing a few examples of leisure reading authors and books you can find in the bestsellers or book stacks.
The Book Woman of Troublesome Creek by Kim Michele Richardson. This historical novel is based on the true stories of packhorse librarians who delivered books in the remote Kentucky regions of Appalachia from 1935-1943. Packhorse librarian, Cussy Carter, faces not only the challenges of her route but discrimination from local townspeople, as she is the last of the "blue people," with a rare blood disorder, in the region. PS3618.I34474 B66 2019
While as a librarian, I was intrigued by the packhorse librarians' tale, it was Cussy's struggle to accept herself, despite the blatant discrimination she faced from others that made this story come alive for me.
A story from Smithsonian tells us more about packhorse librarians: https://www.smithsonianmag.com/history/horse-riding-librarians-were-great-depression-bookmobiles-180963786/
The Island of Sea Women: A Novel by Lisa See – The Island of Sea Women is my favorite book by Lisa See. The main characters are haenyeo divers, and these women are the breadwinners on the Korean island of Jeju. This deeply moving story chronicles the strength and resilience of women and the importance of forgiveness. PS3569.E3334 I85 2019 Bestsellers
Passionate Travelers by Lois Brunner Bastian '50 Like many people, my mind is frequently occupied with daydreams about where I would travel if given the opportunity. Would I visit a familiar destination or strike out on a new adventure to some exotic local? In Lois Brunner Bastian's most recent book, she brilliantly assembles her notes from her decades of globe-trotting as a travel writer into an inspiring guide for the would-be traveler. Her stories tantalize the imagination and inspire wanderlust by leaping from one country to the next, sharing interesting and humorous anecdotes about her life abroad, seeing famous sights, experiencing new traditions, overcoming language barriers, and making life-long connections with strangers from all over. G465 .B27 2015 Alumni Collection
The Rose Code: A Novel by Kate Quinn – The Rose Code chronicles the unlikely friendship of three women working at Bletchley Park. The story will appeal to fans of historical fiction, romance, and mystery and is hard to put down.
The Spy Went Dancing by Aline, Countess of Romanones is the second book written by nee Aline Griffin who was recruited in 1943 to be an undercover agent in Spain. It is now 1966 and Aline, married to the Count of Romanones, recruits Wallis Simpson the Duchess of Windsor, to succeed in her assignment. This read combines the glamor of Europe's elite social set with intrigue and danger to give the reader a thrilling read. D810.S8 A44 1990
There There by Tommy Orange. This 2018 novel has been hailed as an instant classic. Orange, who is a member of the Cheyenne and Arapaho tribes, centers his novel around what he terms "urban Indians." All of the characters are en route to the big pow wow. Their interconnections are revealed in excruciating slowness, skillfully drawing the reader into their stories and lives. I like a happy ending. There is no happy ending. But, then, Native Americans were not given a happy ending to the colonization of the U.S. PS3615.R32 T48 2018
War on Peace : The End of Diplomacy and the Decline of American Influence by Ronan Farrow. War on Peace is part investigative journalism, part memoir, and written in a lively style accessible to a popular audience. The general thesis that the diplomatic service is now and has been steadily since the end of the cold war, being eclipsed by an emphasis on military-guided thinking in foreign policy. The son of actress Mia Farrow and director Woody Allen, Farrow was precocious enough of a student to graduate from Bard College at 15, and later worked under the late Richard Holbroke, United States Special Envoy for Afghanistan and Pakistan, his recollections of those years making up a significant part of the story. The narration is peppered with interesting anecdotes from Farrow's experiences interviewing an impressive list of sources, including the Afghan warlord who first teamed up with Army Special Forces to fight the Taliban in the weeks following 9/11, to every living secretary of state from Kissinger to Tillerson. Farrow doesn't offer solutions like you might find in a more academic leaning work, but the evidence the author presents – that statecraft of negotiated settlements has yielded to a diplomacy that favors military strategy – is convincing. Despite its admittedly earnest subject matter, the book makes a great "lite" read for the summer. JZ1480 .F37 2018 (Best Sellers)
What to Say When You Talk to Yourself by Shad Helmstetter. This is a classic book that asks you to examine the internal dialogue that is constantly going on in your head. The root of some of our problems can be traced back to negative self-talk. In the era of COVID, it's worth reading for the first time or re-reading this book to help navigate any situation in a more positive way. BF637.S4 H456 1991 (Best Sellers)
A few leisure authors found in Bestsellers and in the book stacks are:
David Baldacci
Janet Evanovich
Patricia Cornwall
James Patterson
Fern Michaels
Nora Roberts
And, a few favorites of our community are:
A Coyote Reader by William Bright. A collection of stories and poems from both traditional Native American tales and modern American writing that show Coyote in roles that range from a divine archetype to an outlaw. E98.F6 B83 1993
A Little Life: A Novel by Hanya Yanagihara. When four classmates from a small Massachusetts college move to New York to make their way, they're broke, adrift, and buoyed only by their friendship and ambition. There is kind, handsome Willem, an aspiring actor; JB, a quick-witted, sometimes cruel Brooklyn-born painter seeking entry to the art world; Malcolm, a frustrated architect at a prominent firm; and withdrawn, brilliant, enigmatic Jude, who serves as their center of gravity. Over the decades, their relationships deepen and darken, tinged by addiction, success, and pride. Yet their greatest challenge, each comes to realize, is Jude himself, by midlife a terrifyingly talented litigator yet an increasingly broken man, his mind and body scarred by an unspeakable childhood, and haunted by what he fears is a degree of trauma that he'll not only be unable to overcome — but that will define his life forever. PS3625.A674 L58 2015
Another Brooklyn, by Jacqueline Woodson. "For August, running into a long-ago friend sets in motion resonant memories and transports her to a time and a place she thought she had mislaid: 1970s Brooklyn, where friendship was everything. August, Sylvia, Angela, and Gigi shared confidences as they ambled their neighborhood streets, a place where the girls believed that they were amazingly beautiful, brilliantly talented, with a future that belonged to them. But beneath the hopeful promise there was another Brooklyn, a dangerous place where grown men reached for innocent girls in dark hallways, where mothers disappeared, where fathers found religion, and where madness was a mere sunset away. Jacqueline Woodson's Another Brooklyn heartbreakingly illuminates the formative period when a child meets adulthood — when precious innocence meets the all-too-real perils of growing up."– From book jacket PS3573.O64524 A85 2016
Little Fires Everywhere: A Novel by Celeste Ng. In Shaker Heights, a placid, progressive suburb of Cleveland, everything is planned — from the layout of the winding roads, to the colors of the houses, to the successful lives its residents will go on to lead. And no one embodies this spirit more than Elena Richardson, whose guiding principle is playing by the rules. Enter Mia Warren — an enigmatic artist and single mother — who arrives in this idyllic bubble with her teenaged daughter Pearl, and rents a house from the Richardsons. Soon Mia and Pearl become more than tenants: all four Richardson children are drawn to the mother-daughter pair. But Mia carries with her a mysterious past and a disregard for the status quo that threatens to upend this carefully ordered community. When old family friends of the Richardsons attempt to adopt a Chinese-American baby, a custody battle erupts that dramatically divides the town — and puts Mia and Elena on opposing sides. PS3614.G83 L58 2017
One Hundred Years of Solitude by Gabriel Garcia Marquez. Tells the story of the Buendia family, set against the background of the evolution and eventual decadence of a small South American town. PQ8180.17.A73 C513 2006
The Overstory by Richard Powers. "An air force loadmaster in the Vietnam War is shot out of the sky, then saved by falling into a banyan. An artist inherits a hundred years of photographic portraits, all of the same doomed American chestnut. A hard-partying undergraduate in the late 1980s electrocutes herself, dies, and is sent back to life by creatures of air and light. A hearing-and speech-impaired scientist discovers that trees are communicating with one another. These four, and five other strangers — each summoned in different ways by trees — are brought together in a last and violent stand to save the continent's few remaining acres of virgin forest."– From dust jacket PS3566.O92 O94 2018
Paul Robeson: Artist and Citizen by Jeffrey C. Stewart. Paul Robeson: Artist and Citizen presents a kaleidoscopic portrait of Paul Robeson (1898-1976), the All-American football player and Phi Beta Kappa Rutgers College graduate who became a world-renowned actor, singer, motion picture star, and America's first African American politically engaged performing artist. E185.97.R63 P37 1998
The Secret Life of Bees by Sue Monk Kidd. "Set in South Carolina in 1964, The Secret Life of Bees tells the story of Lily Owens, whose life has been shaped around the blurred memory of the afternoon her mother was killed. When Lily's fierce-hearted black "stand-in mother," Rosaleen, insults three of the deepest racists in town, Lily decides to spring them both free. They escape to Tiburon, South Carolina — a town that holds the secret to her mother's past. Taken in by an eccentric trio of black beekeeping sisters, Lily is introduced to their mesmerizing world of bees and honey, and the Black Madonna. This is a remarkable novel about divine female power, a story that women will share and pass on to their daughters for years to come" [from back cover] PS3611.I44 S38 2002
Sorceress of Darshiva by David Eddings. Troubles and delays continued to mount as Garion, Belgarath, Polgara, and the company pursued Zandramas across the known world. Possessed by the Dark Destiny, she had stolen Garion's infant son to use in a ritual that would destroy all that was fair and good. Always the quest led onward, across and beyond the continent of Mallorea, where the Evil God Torak had once been supreme until Garion slew him. And always Zandramas was one step ahead of them. The armies she had raised, led by a Demon Lord, threatened to cut them off on one side: on the other, the forces of the Emperor Zakath were seeking to capture them. Zandramas was taunting them and spying on them, flying over in the form of the great dragon, while the Dark Destiny changed her and etched away the last of her touches of humanity. Somehow, as the Seeress of Kell had warned them, they had to be at the Place Which Is No More for the ritual at the same time as Zandramas, if they were to have a chance to defeat her evil schemes. But where that might be they still had no clue. PS3555.D38 S6 1989
Zami: A New Spelling of My Name by Audre Lorde. The poet, Audre Lorde, depicts her life and examines the influence of various women on her development. PS3562.O75 Z23 1982