Kelly-Cavotta Honored for Service to Veterans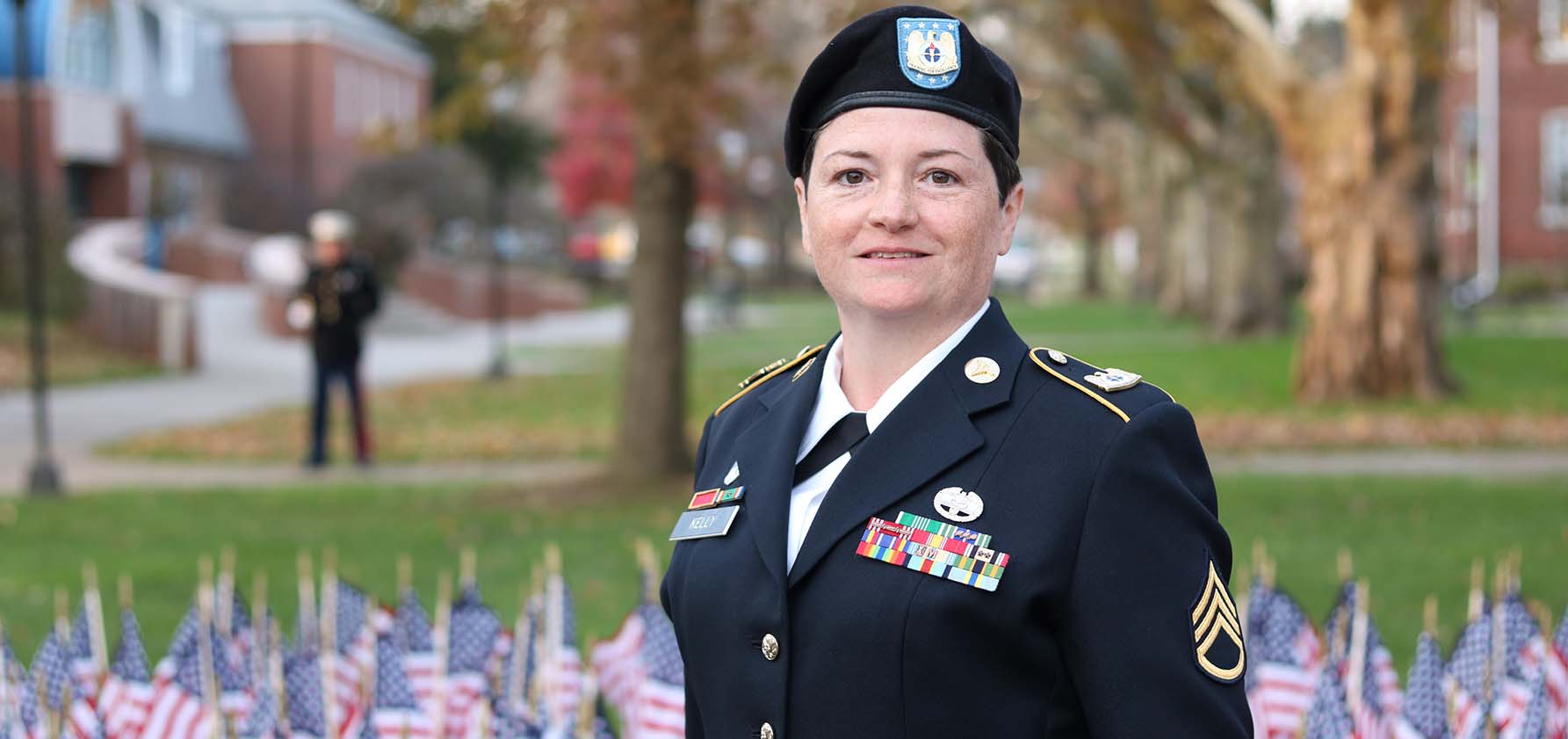 On March 30, 2021, Governor Tom Wolf and First Lady Frances Wolf joined the Pennsylvania Commission for Women to host an event to honor Pennsylvania's female veterans in celebration of Women's History Month. The event recognized 19 women from across the commonwealth representing every branch of the armed services for their brave service and selfless contributions to Pennsylvania and to the nation.
One of those women was our own Marilyn Kelly-Cavotta, director of veteran and military affairs at Moravian College. After medically retiring from the Army 13 years into her 20-year enlistment, Kelly-Cavotta embarked on a career to help others through the same life change.
"The military does a fantastic job of getting recruits acclimated to the military but not such a good job helping veterans reacclimate to being civilians," says Kelly-Cavotta. She knows this not only from her own experience but from what she saw growing up. "My dad was a marine who served in Vietnam, and I witnessed his struggles with the VA and the process of transitioning out of the military," she says.
In her position at Moravian College, Kelly-Cavotta has become a critical resource—the person military-connected students seek when they feel stuck and don't know who to call or where to go. "I have created awareness and become the person veterans know they can contact. If I don't have the answer, I will help them find the answer," she says. "Being recognized with this award will help spread the word so others realize they can reach out to me as well."
Kelly-Cavotta landed in her role of Director of Veteran and Military Affairs at Moravian, after several years of working with veterans in Northampton County. With an undergraduate degree in social work from East Stroudsburg University under her belt, Kelly-Cavotta went on to get her master's degree at Temple, focusing on policy and community and specializing in veteran and military affairs. For her internship and fellowship, she worked at Victory House, a transitional housing center on the south side of Bethlehem, where she helped homeless veterans get access to health care.
She then moved to Lehigh Valley Health Network and worked in the Veteran Health Program, where she helped veterans obtain healthcare services, employment, and housing. Then in October 2019, Kelly-Cavotta gathered with a group of female veterans at a roundtable with Congresswoman Susan Wild to bring to light some of the challenges faced by female veterans coming out of the military. It was one of the women at that roundtable who nominated Kelly-Cavotta for the female veteran recognition Award.
"I can't testify to the male experience of being a veteran, but as a woman veteran, I know the unique challenges, and I want to help other women speak up about their experiences so we can raise awareness and address the issues," she says. The acknowledgement Kelly-Cavotta and the other women veterans received on March 30th did just that: brought more awareness to veterans, particularly female veterans, and the struggles they face.
Originally scheduled to take place at the Governor's mansion in Spring 2020, the ceremony was postponed due to COVID and held virtually this year on Facebook Live. Kelly-Cavotta says she was excited to attend the original in-person event, but she was just as happy to take part virtually.
"I'm honored by this award and equally honored that Moravian created the Director of Veteran and Military Affairs position so I can help military-connected students as my career," she says. "I am a veteran, they are veterans, and they know they can trust me. Every day I get up in the morning so happy to go to work; helping others feels like a blessing."