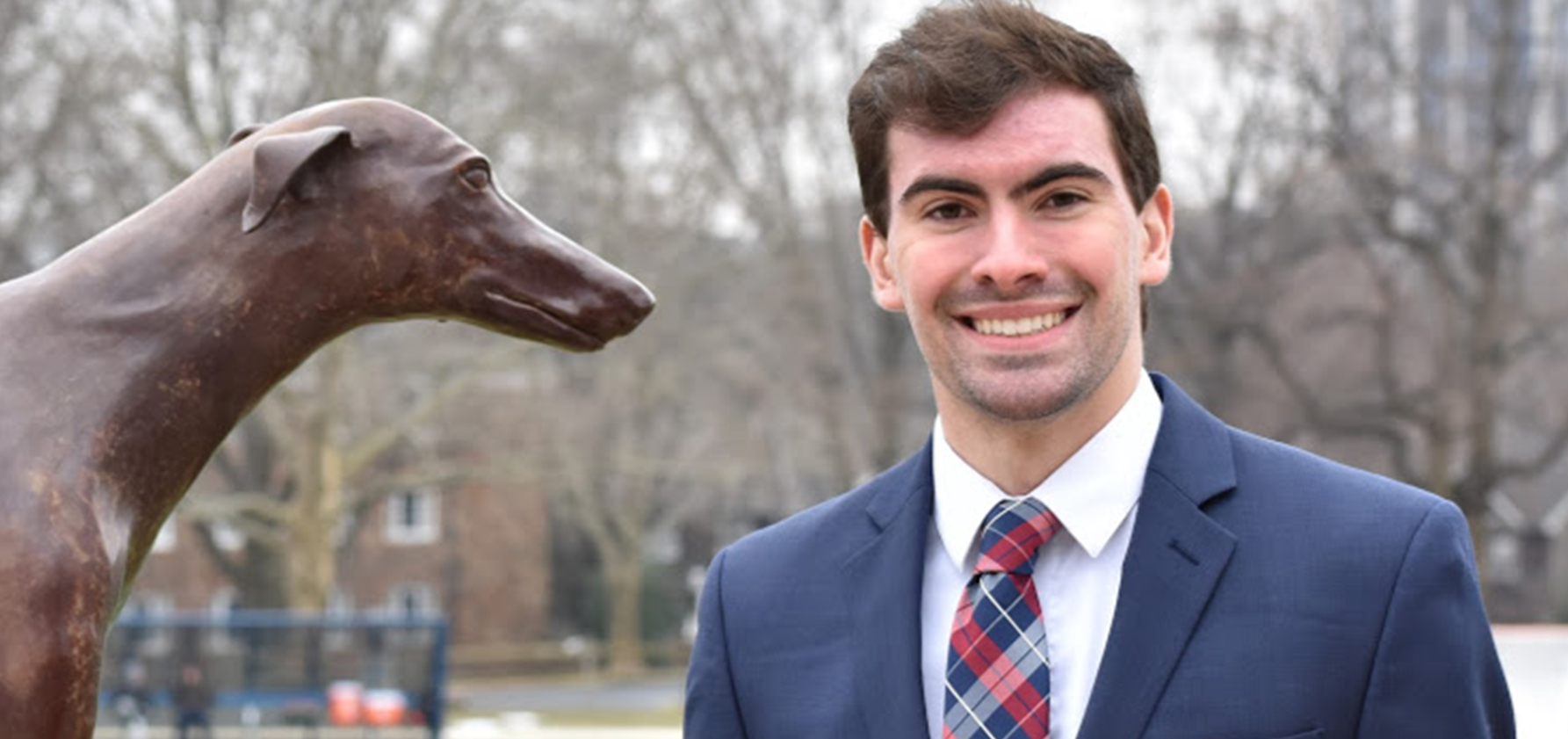 The 400 meters is the most grueling sprint in all of track & field. Even with excellent training and conditioning, athletes must run the last 100 to 200 meters of the race entirely spent—relying on pure determination. Senior scholarship recipient Sean McFarland '21 has been a sprinter for the track & field team and races the 400 meters. Last year, he was top in the Landmark Conference in this most challenging race! He credits this accomplishment and his Moravian leadership achievements to the support he has received from the college community, diligent preparation, and his growth over the years at Moravian College.
Sean said the leadership positions he's held have taught him responsibility and the importance of looking out for others, an example embodied by the people he connected with at the college. When he received his first Moravian scholarship last year, Sean was overwhelmed that someone he did not know would help him with the financial support he needed to participate in so many opportunities.
As an alumnus, he plans to pay it forward by supporting students in need at Moravian through scholarships. He also looks forward to collaborating with faculty and students professionally. Sean became very close to many of his professors and now looks forward to sharing ideas with them and with students as a clinical psychologist.
Early in his college journey, Sean put a lot of pressure on himself to succeed. Enrolling as a biology major and track athlete, he felt he needed to do everything perfectly. "Advice I would give myself and any incoming freshman at Moravian is to take it as it comes. Don't be so anxious about the responsibilities and desire for the success of being in college. The opportunities are there. Just be yourself, do your best, and rely on the good people around you."
Asked what experiences he'll remember most about his time at Moravian, Sean didn't hesitate to mention the track & field team. Now a member of the Leadership Council (the team's equivalent of captains and mentors), he is proud of the great success the team has had and attributes their accomplishments to a total team environment. From his first day on campus, the support of teammates, coaches, and Moravian alumni and fans made him feel welcome and confident that he had a place to belong.
Prepared for even more challenges during his sophomore year, Sean won the election to become a Student Trustee, a position he values profoundly and will hold until he graduates. As a full voting member of the Board (a student privilege that's unique at Moravian), he saw firsthand how committed the leadership and alumni are to student success. "One misperception I think some students have is that the Board is making decisions in a bubble. Nothing could be further from the truth. All of our discussions centered on the needs of students and families, alumni, faculty and staff, friends, and the community."
By his junior year, Sean became a resident assistant (a senior resident assistant in his final year) and solidified his future career plans. After rekindling an interest in psychology, he changed his major and decided to one day become a clinical psychologist. He wants to make a difference in people's lives through his research and teaching and by working directly with individuals.
As it is for many other Moravian students, making a difference is second nature to Sean. Through a new Moravian program called Reflective Dialogues, he and others meet with fellow students who may be struggling with stress, the pandemic, and everything else that life can throw at them. He said that it's fulfilling to help students as a peer—listening and offering advice based on what he has learned and experienced himself.
The entire college community is proud of Sean's accomplishments and that he works hard to use his gifts and talents to benefit others. When reflecting upon his time at Moravian, he often references the commitment everyone has for supporting one another. That he was assisted by Moravian scholarship donors' generosity shows just how deeply scholarship support permeates the Moravian College culture, something of which we can all be proud.