A Theatre Company Radio Performance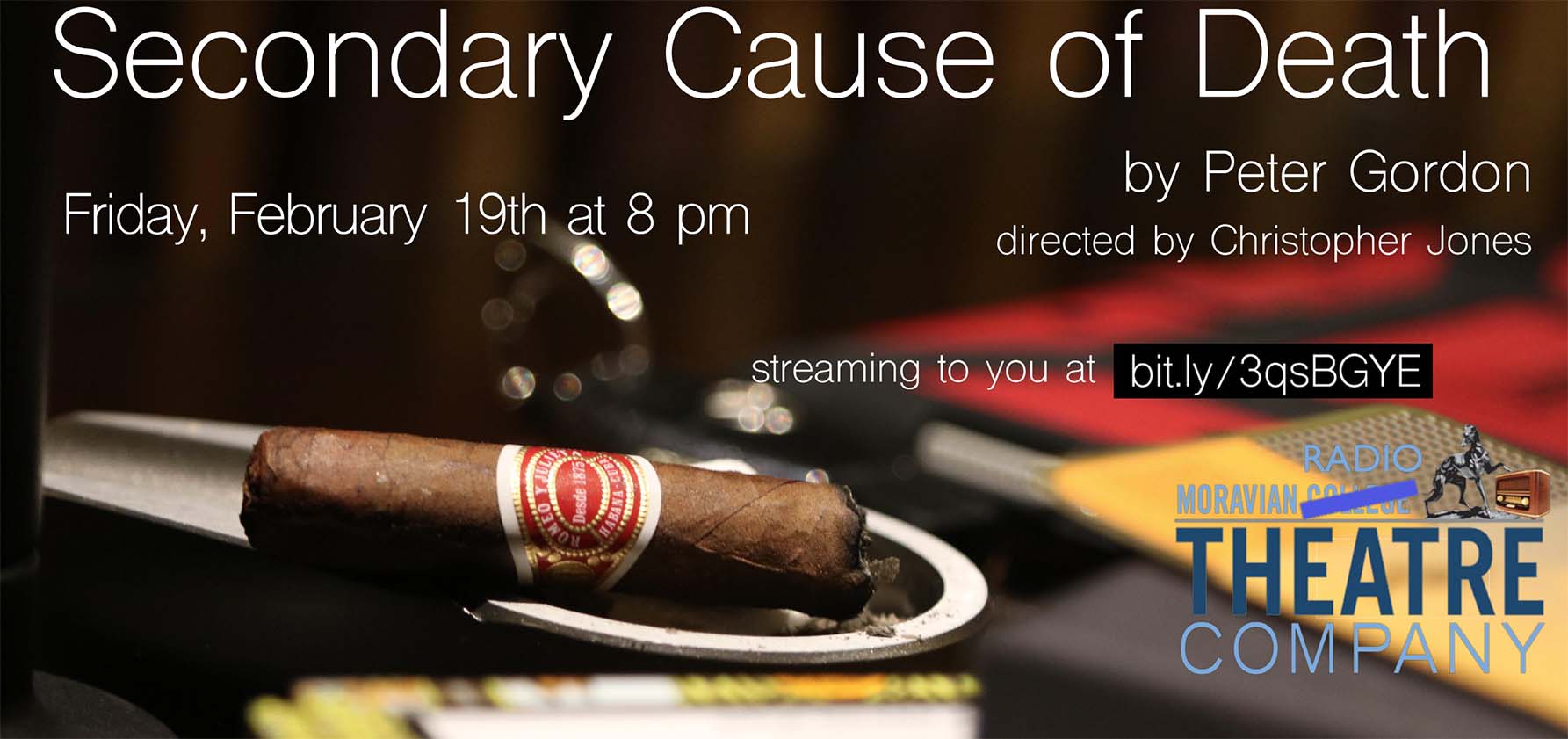 On Friday, February 19, six Moravian College Theatre Company alumni joined with current students* under the direction of biology professor Chris Jones to present a radio-drama-style reading of the comic murder mystery play Secondary Cause of Death by Peter Gordon. The successful event was one of those silver linings people are discovering amidst the wreckage wreaked by the pandemic.
With safety protocols preventing traditional theater performances, the Moravian College Theatre Company is finding creative ways to continue its work. Fall semester projects included an original video production about the legacy of Comenius and a Zoom reading of Arthur Miller's classic The Crucible. Midway through the semester, Jones proposed a radio drama, and with the theater company's enthusiastic support, he chose the play Secondary Cause of Death, the sequel to Peter Gordon's Murdered to Death, which the theater company produced several years ago.
Originally, Jones planned to hold in-person rehearsals but then moved them online. The unexpected bonus of remote rehearsals leading up to a streamed performance was that alumni were able to participate despite the busy schedules and geographic separation that would otherwise have precluded their involvement. Making the project even more special, several of the alumni participants had performed together in the theater company's production of Murdered to Death when they were students.
This happy reunion produced smiles all around, and the positive feeling was palpable in a talkback on Zoom that followed the live stream of the reading. Performers and audience alike referred to the event as "a light in the darkness" and talked about the importance of coming together in moments like this during an otherwise difficult time.
---
*The cast: Leanna Altenburg '18, A. Bard '23, Jillian McLuhan '20, Alexander Peña '17, Corinne Philbin '20, Caitlin Roth '21, Kayli Silimperi '17, Isaac Weston '22, Cecelia Zutic '20