Stepping Up Moravian's Dance Program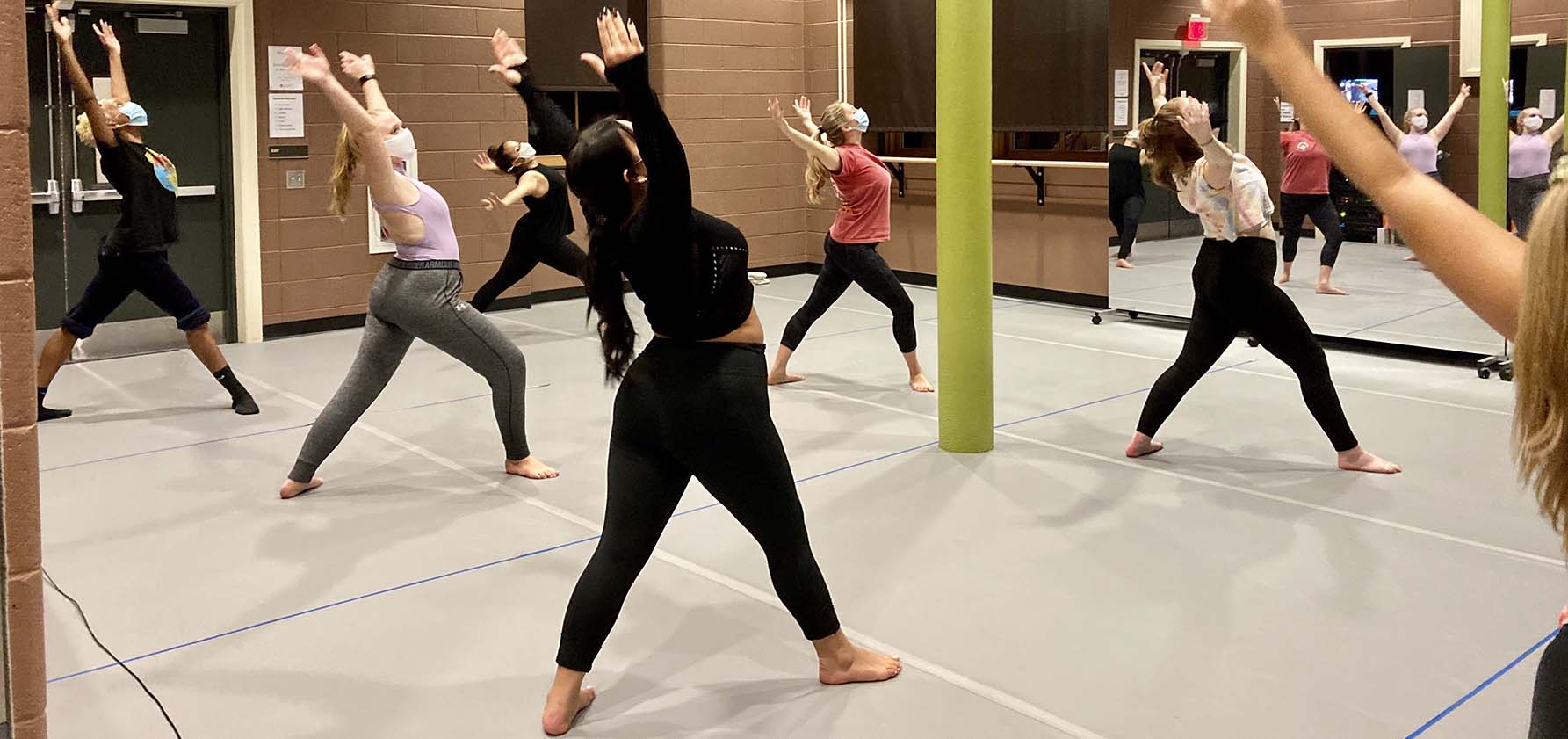 By Christiana Anselmo '21 and Katie Langdon '23
When the Moravian College Dance Company was founded 46 years ago, rehearsals were held in a locker room in the back of Johnston Hall. In time, through expansion and renovation a dance studio was created and a sprung floor with marley (a specialized dance surface) replaced the linoleum. Finally, the company had a proper studio for rehearsals, however, the space could accommodate only 15 dancers. There was no opportunity for the company to grow.
When Lisa Busfield took over as the company's artistic director in the fall of 2018, securing a new space for her dancers was at the top of her to-do list, but it would take many months before she would be able to check off that objective. Several meetings, involving Busfield, Assistant Company Director Karen Riehl, Dance Advisor Mary Ann Hoffman, Founding Director Dawn Ketterman-Benner, and student leadership failed to produce the space and funding for a new studio.
That is, until last year when the Music and Athletic departments, the college's facilities department, the United Student Government, and generous donor Susan Gangwere McCabe '79 joined forces to find a solution. Through their efforts, the Root Cellar, a former dining space in the Hill residential hall on South Campus, became the new home of the dance company and a freshly developed dance minor program.
Construction began in March 2020. While the world outside struggled to combat COVID-19, the Root Cellar was slowly transforming from an unused dining space to a state-of-the-art dance studio. Where tables and chairs once stood, new sprung floors were laid in what would be the main studio. Mirrors and ballet barres were hung, and a grant from the United Student Government paid for new audio and video equipment. The kitchen was transformed into a smaller studio with a temporary marley floor, and a donation of lockers from the Athletic department provided a dressing room. By fall of 2020, dance classes were being held in the new space.
Still, more work needs to be done. The smaller studio (pictured right) desperately needs a permanent sprung wood floor and mirrors, and to round out the facility, Busfield wants a space for an athletic trainer and a costume and storage area. "I'd like to encourage all dance alumni to contribute to this new home for the dancers, so they can enjoy the beauty of dance," says McCabe "Our support will allow these students to create their own memories."
The Dance Minor
Also on Busfield's to-do list was the development of a dance minor at Moravian College. Busfield partnered with Neil Wetzel, chair of the music department, and Hilde Bindford, associate professor of music, to design the curriculum for an accredited dance minor, which is now offered at the college.
In her three years as artistic director, Busfield has overseen 10 students minoring in dance. The first two graduated in 2020. With majors in neuroscience, math, education, English, health sciences, and nursing, these students are able to create a rigorous interdisciplinary course load, exemplifying the true meaning of a liberal arts education.
Some dancers have even found ways to take their major study and fuse it with their love of dance. Emily Bolger '20 created an honors project in statistics in which she studied the nutrition intake of dancers. Quinn Matthew '22 studies health sciences on the physical therapy track with the intent to pursue performing arts medicine in graduate school. English major Christiana Anselmo '21 examines how the elements of storytelling can inform choreographic works.
As the dance program gains interest throughout the Lehigh Valley, the dancers and faculty are looking forward to more successful years expanding it and implementing new dance courses into the academic offerings. The student dancers consistently show their commitment by raising funds for trips to major dance conferences, such as the American College Dance Association.
They also take advantage of professional opportunities. Three company members, Alexis Cruz '22, Katherine Langdon '23, and Stephanie Firling '24, were cast in a piece by New York-based choreographer Monica Bill Barnes this semester that will premiere virtually this month. Also, all company members regularly take part in masterclasses outside the college, which are funded by the Dawn Ketterman-Benner Dance Fund.
The rapid expansion of the dance program is a testament to the close relationship the dance faculty and students share. United by their common goal to expand dance opportunities and experiences for Moravian students, this group is sure to see many successes in the future.
---
If you are interested in supporting dance at Moravian, please contact Julie Kulp, director of Annual and Affinity Giving (kulpj@moravian.edu) for more information on how to make a gift.
For more information on Dance @ Moravian, visit moravian.edu/music/dance-at-moravian