Our Apple Distinguished Educator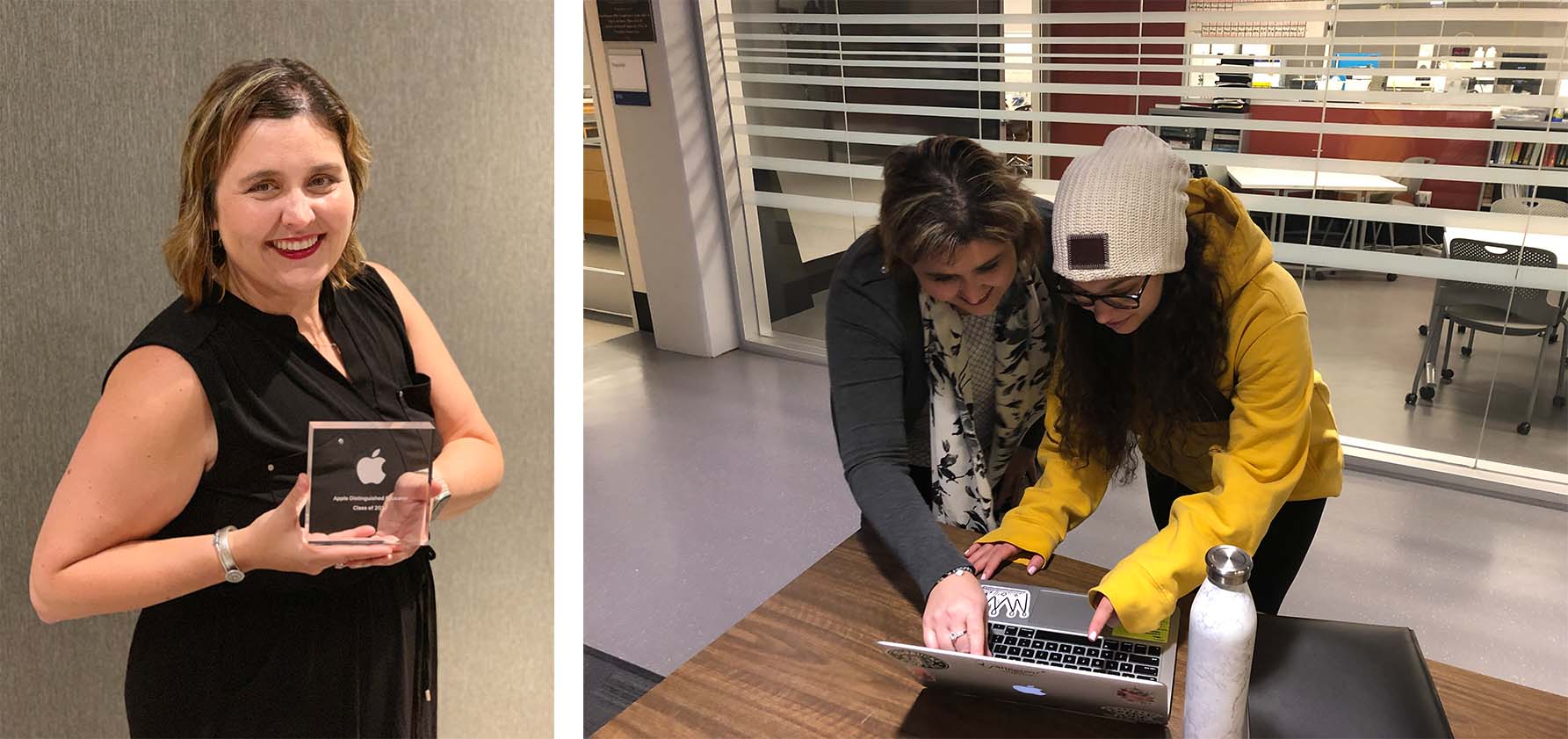 Technology advances rapidly, and Karen Groller, assistant professor of nursing, is right alongside, using the latest devices and software programs in meaningful ways to enhance nursing education. In her first-year writing seminar, Groller educates her students about how health messaging influences individual and community health by analyzing social media platforms and messages. Students explore a health issue over the semester and then transform the information to create an infographic or podcast about that health concern for their community. This enables students to become analytical consumers and informed producers of health information.
When a representative from Apple, who is also a nurse, came to campus to deliver a presentation, she encouraged Groller, already an Apple teacher, to apply to become an Apple Distinguished Educator (ADE). While Apple teachers acquire their designation through online learning and testing in the use of Apple products, the ADE candidate and her video-based application undergo rigorous reviews by a panel of peers from around the world, and the work of an ADE has global reach.
From the Apple website: "In 1994, Apple created the Apple Distinguished Educators (ADE) program to recognize K–12 and higher-education pioneers who are using Apple technology to transform teaching and learning. These are the educators who are looking to change the world. They are active leaders from around the world helping other educators rethink what's possible with iPad and Mac to make learning deeply personal for every student."
Groller was named an Apple Distinguished Educator in February 2019, one of more than 500 educators chosen from the thousands who applied that year. "There are four main characteristics of an Apple Distinguished Educator," says Groller. "We are known to be trusted advisors, passionate advocates, authentic authors, and global ambassadors."
After being selected, Groller attended a consortium of new and existing ADEs for training and to meet with other educators and explore new technologies. She has been busy ever since.
"I collaborate with other ADEs on special projects," says Groller. "We're the experts asked to trial a new app or to assist educators in another state or country. In 2019, I traveled to teach and mentor nurse educators with their education projects at the Digital Innovation Virtual Bootcamp: From Concept to Action, organized by the American Association of Colleges of Nursing and Apple. This year, due to the pandemic we'll be gathering virtually, of course."
"In addition, 2020 is the year of the nurse and the midwife," says Groller. "I have been part of the conversation to help celebrate and plan on how to innovate nursing education through the new conference program Transform 2020 scheduled for this December."
In February of this year, Groller published the Apple book Creating Visual Health Messages—A Focus on Infographic Creation, which explains what a visual health message is, its importance in promoting healthy living, and how to create one; some of her students' work appears in the book. Groller has a second Apple book coming out at the end of June in which she collaborated with other nurse educators and instructional designers on innovative ways to engage students in nursing concepts from a distance.
Of course, in her classes at Moravian, Groller continues to incorporate technology in meaningful ways. She wants her students to develop skills with technology that will help them professionally, whether that's investigating community health issues on a personal level, creating health messages, or exploring information about a patient's condition or medications.
Groller is also collaborating across departments at Moravian and is working with Crystal Fodrey, associate professor of English and director of the Writing at Moravian program, and Meg Mikovits, writing center and writing fellows program coordinator, on a proposal for a grant to fund research on digital multimodal writing. "The focus is on looking at how to incorporate digital multimodal writing projects in teaching and how students can transfer that learning into their professional fields."
"I don't believe in teaching to simply use an application or new tool," says Groller. "I always strive to use technology in intentional and meaningful ways."