Romello Walters '22, aka Mello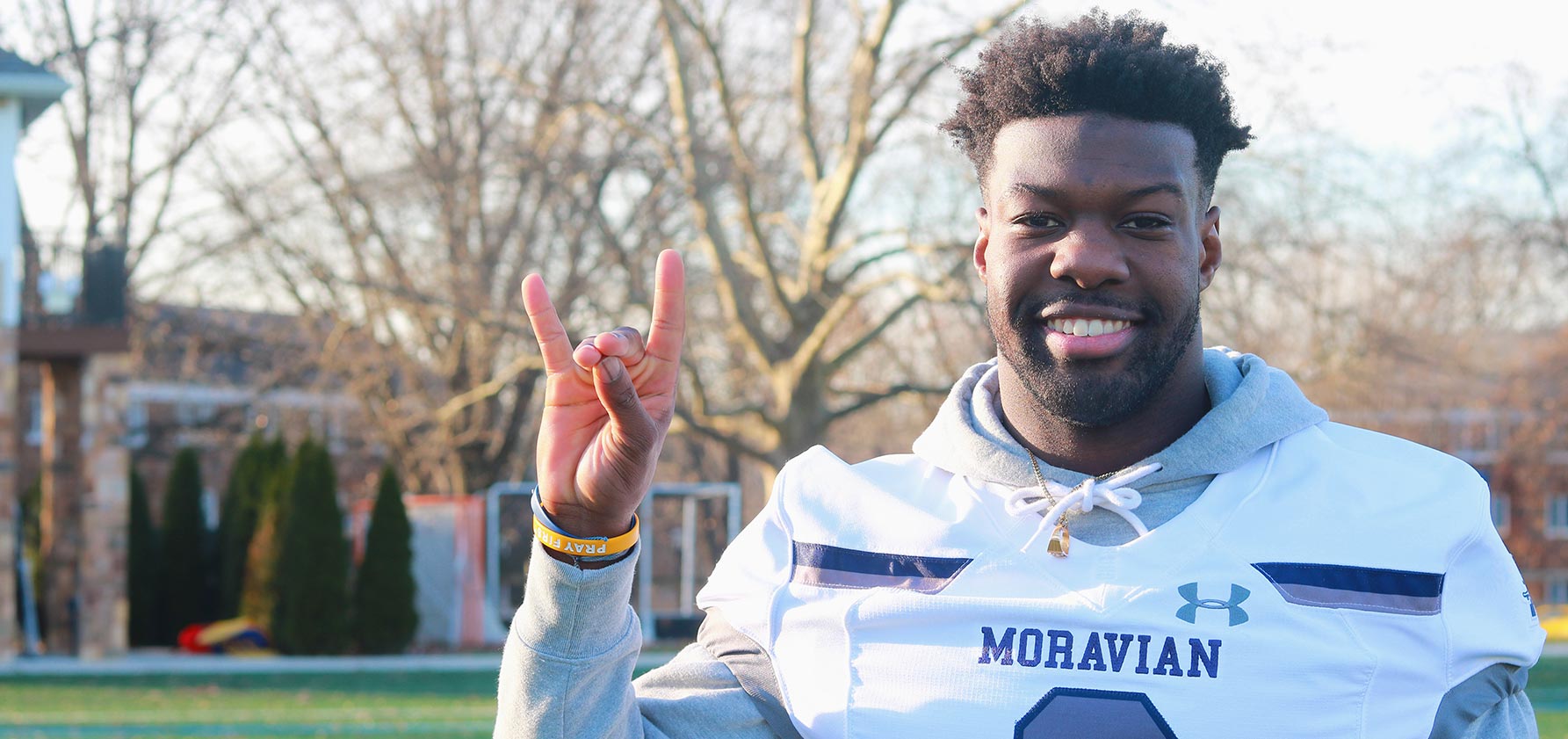 Where did you grow up?
Tampa, Florida. I was born and raised there—it's all I know. I met my lifelong friends there. I love my city, and my city loves me. I don't think I'd be the person I am today had I grown up somewhere else. Florida is bright, and people always smile. That has helped shape my personality. I'm often playful. I don't think there's ever a day when I feel too down; it's always just a blessing to be at this school.
What is your major, and what activities are you involved in?
I am majoring in business marketing, and I play wide receiver and defensive back on the football team. I'm also a vlogger for Moravian College's social media team. I come up with ideas and create content. Here's "A Day in the Life of a Football Player."
What's next after you graduate?
My plan is to pursue a career as a pharmaceutical rep, but with my involvement in developing social media for the college, who knows what doors may open and what the future may hold?
Share something about yourself that may surprise people.
When I was a baby, my photo was entered into a contest sponsored by Gerber, and I was awarded Most Photogenic Baby.
My favorite beverage is eggnog. (Check out my taste test of several brands available in our local grocery stores.)
What is your favorite spot on campus?
My room, because it reminds me a bit of my room in Tampa. It's set up the same way, and I have a lot of things that remind me of Tampa, even though looking out the window, I might see some snow.
What is your favorite college tradition?
Getting some Chick-fil-A on a Saturday full of college football games, because football Saturdays are undefeated!
What's your favorite thing to do when you are not studying?
Call my friends from back home, because I like to keep in contact and catch up with them. We connect every day through group chats, individual texts, or Snapchats.
What is your favorite book?
The Diary of a Wimpy Kid series. Growing up, I felt it was something I could relate to. The main character, Greg, and I went through many of the same things, like trying to find a date to the middle school dance. The books are funny, and I enjoyed the illustrations. I wasn't big on reading any more than I had to outside my coursework, but I always enjoyed reading Diary of a Wimpy Kid.
Who is your hero?
Jesus Christ. I am a very strong believer in him, and without him I wouldn't see the countless blessings he has placed in my life, Moravian being one of them.
What is the best advice you have ever received?
Suck it up, work harder, and control what's controllable.
What makes you happy?
My mother and my brother. They have played such an influential role in my life. My mother is my rock and my queen. She's made so many sacrifices for her two boys, and she just puts a smile on my face on my rainy days. My brother is my best friend for life. I know if I need a laugh or someone to talk to, I can always go to him. He has taught me so many life lessons for which I will always be grateful.