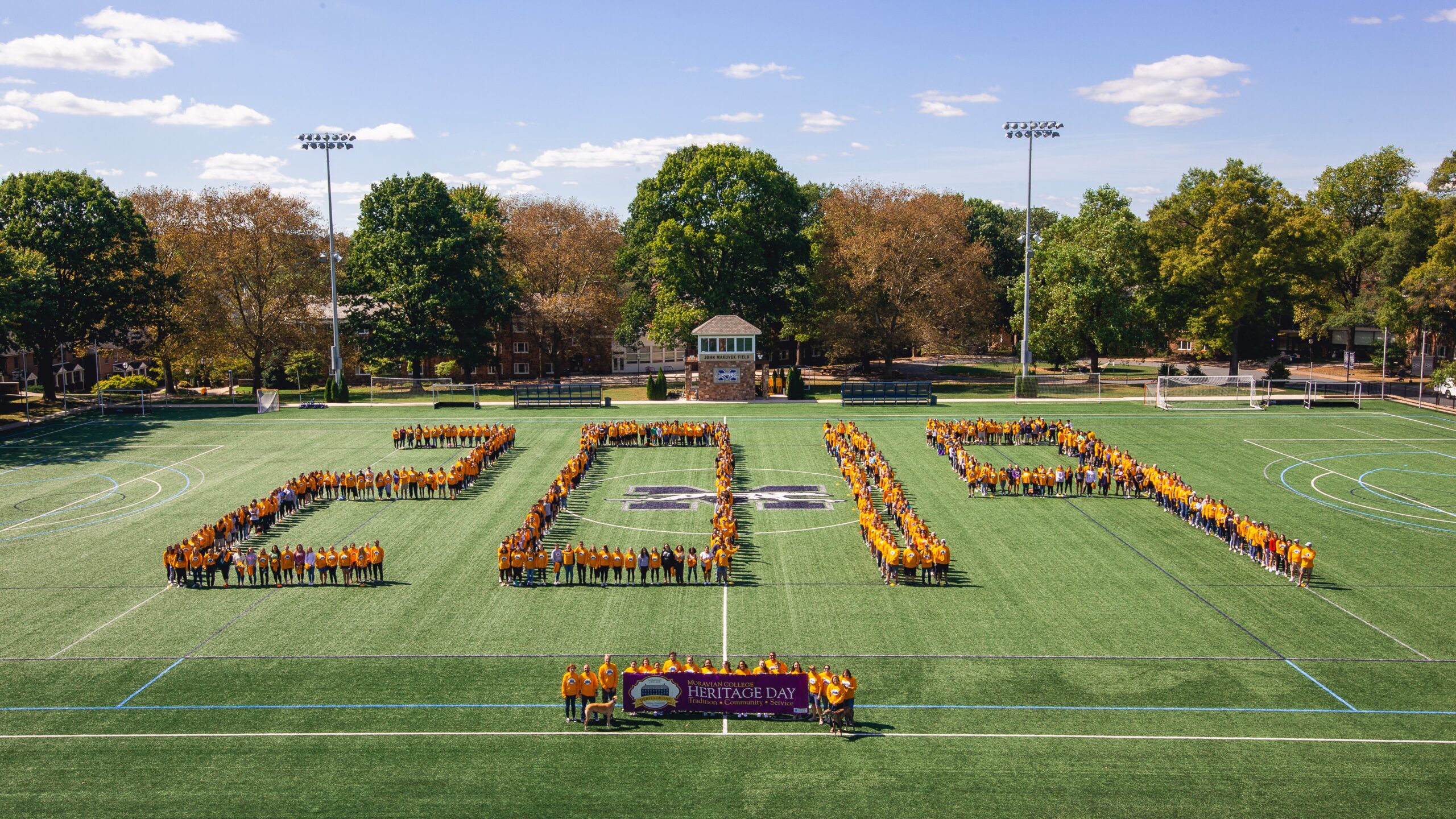 1. Student Jaime Ernst received the prestigious Fulbright Award.
An English major with a double minor in Spanish and mathematics, Jaime Ernst '19 was awarded a Fulbright Scholarship for the 2019–20 academic year to teach at the private school CPC Alcaste in Logroño in northern Spain. Ernst holds teaching certificates in secondary education and ESL.
2. Moravian College was awarded designation as an Apple Distinguished School.
Apple Distinguished Schools are defined as centers of innovation, leadership, and educational excellence that use technology to inspire creativity, collaboration, and critical thinking. On January 31, 2019, executives from Apple came to campus to officially recognize the college's designation.
3. We joined the New American Colleges and Universities (NAC&U) consortium.
This summer, Moravian College accepted an invitation to become a member of NAC&U. The consortium brings together small to midsize colleges across the country dedicated to providing a liberal, professional, and civic education.
4. The college took big strides in our commitment to and support of student veterans.
We hired our first-ever director of veteran and military affairs, Marilyn Kelly-Cavotta, expanded and renovated our veteran's lounge, and Moravian College was named a Pennsylvania National Guard Association–friendly School.
5. Moravian College offered our first community scholarships to LCCC and NCC.
Matthew Eible, graduating with a 4.0 GPA from Lehigh Carbon Community College, and Julio Hernandez, with a 3.97 from Northampton Community College, received full tuition to attend Moravian as part of our new community scholarship program.
6. We launched our first online graduate business program.
Recognizing the growth of careers in data analytics, the college partnered with Extension Engine—online-learning specialists who have worked with Harvard and M.I.T., among others—to develop a master of science in predictive analytics. September enrollment far exceeded expectations.
7. We partnered with Milton Hershey School.
The Milton Hershey School in Hershey, Pennsylvania, serves students from families with an average annual income of $18,000. The school entered into a partnership with Moravian College because of our commitment to supporting low-income and first-generation students.
8. The college held its first-ever
InFocus Town Hall.

Through Moravian's InFocus program, students and faculty investigate the four most prominent global challenges: poverty and inequality; sustainability; health and healthcare; and war, peacebuilding, and justice. In April, 160 students, faculty, and expert consultants from the wider community came together to share and discuss the research conducted during the 2018–19 academic year.
9. We honored a select group of outstanding and accomplished individuals.
Moravian College awarded honorary degrees to award-winning composer and artist Neil Sedaka, and Charlene Donchez Mowers, president of Historic Bethlehem Museums & Sites. The Moravian College Presidential Medal was awarded to Kerry Cheever, professor emeritus and former chair of the nursing department, and Curtis "Hank" Barnette—lawyer, businessman, educator, philanthropist, Chairman Emeritus of Bethlehem Steel Corporation, and a member of the Moravian College Board of Trustees.
10. New and renovated locker rooms were built for our student-athletes.
Renovations were completed and a dedication held this fall at the Steel Athletic Complex locker room. And, this past summer, unused space beneath the fitness center in the Timothy Breidegam Fieldhouse welcomed the construction of new locker rooms and offices.