Learning to Lead in the MSDA program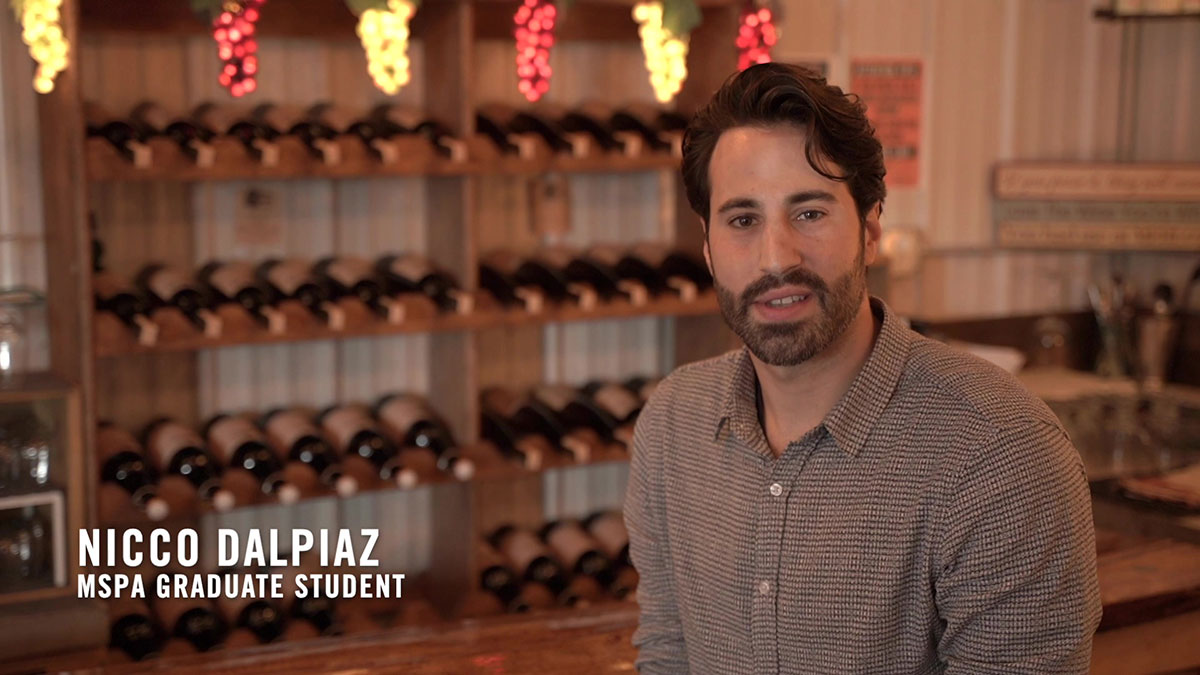 Nicco Dalpiaz—Associate Client Manager at Nielsen, co-owner of Dalvino Wine Company, and Online Master of Science in Data Analytics student. How does he manage? Nicco joined Program Director, Dr. Katie P. Desiderio, for a student ambassador event to discuss his experience as part of the first cohort of MSDA students at Moravian Graduate.
What was the admissions process like?
Dalpiaz always wanted to earn his MBA—he's on a journey of lifelong learning, after all. So when he learned that his alma mater, Moravian College, launched a fully online MSDA program, he knew the timing was right. Dalpiaz worked with his Student Experience Mentor to complete and submit his application, a process he referred to as "very smooth and straightforward." In an industry that often provides a fragmented application experience, Dalpiaz could count on his SEM as a singular point of contact for all admissions questions. His SEM even helps coordinate Dalpiaz's tuition discount, which he receives as an employee of Nielsen. So if this admissions experience was a sign of things to come, Dalpiaz had high hopes for the program.
Does the program teach any leadership skills?
A key component of Moravian's MSDA program is the focus on leadership in the courses—building relationships, communicating with clients, and managing a team. These are all skills that Dalpiaz considers critical in order to advance his career. Sure, he needs to be able to build the data sets and crunch the numbers. But leading the team that's responsible for those data sets and client communication—that's a whole new ballgame. It's one thing to understand the data, but another to explain it so your boss or client understands its implications.
Dalpiaz believes that his current leadership course, MGMT 511: Developing Leadership Competencies, is the perfect foundation to develop his skills. And he knows it only gets better from here. Next up is MGMT 513: Leading People in Organizations and MGMT 556: Decision Analysis.
What is the online learning experience like?
Dalpiaz has taken online courses before, so he thought he knew what to expect—text-heavy Powerpoint slides and an impersonal lecture. But Moravian surprised him. The MSDA program's use of technology, specifically Zoom webcams, to connect students and faculty face-to-face is a gamechanger.
Through synchronous course sessions (all students are online at the same time), Dalpiaz is able to really connect with his classmates and professors. He still completes coursework on his own time and at his own pace—normally at night, between winery-related tasks—but he can also set up group meetings via Zoom to work on projects and collaborate with peers. Even with all of his other commitments, Dalpiaz still considers his course workload to be manageable. He credits his professors and the online learning platform, Canvas, for keeping things organized and on track.
Overall, the online experience has been a positive one. On top of his regular lessons through coursework, Dalpiaz is gaining experience with networking and developing relationships, as well as communication and time management. And a big plus—Dalpiaz will stay with this same cohort of students throughout the program, so his connections will only grow from here.
How do the courses apply to your career?
Dalpiaz works with data every day as an Associate Client Manager at Nielsen. But it wasn't until he started Moravian's MSDA program that he realized just how much the data could really tell him. Up until recently, data analytics was focused solely on the past. "What happened?" "What can we do differently next time?" But now, with the help of predictive analytics, data experts can look to the future. "How busy can we expect to be this month?" "Which products will sell the best during the holiday?"
In the case of Dalvino Wine Company, his family business, Dalpiaz now uses data to meet demand. He can calculate which wine will sell best in the summer, how busy the winery will be during the week, even how many people to expect during the busiest time of the day. And thanks to these informed predictions, Dalpiaz is prepared for the demand, with a fully stocked cellar of white wines during the summer and reds in the fall.