The Hounds of Wall Street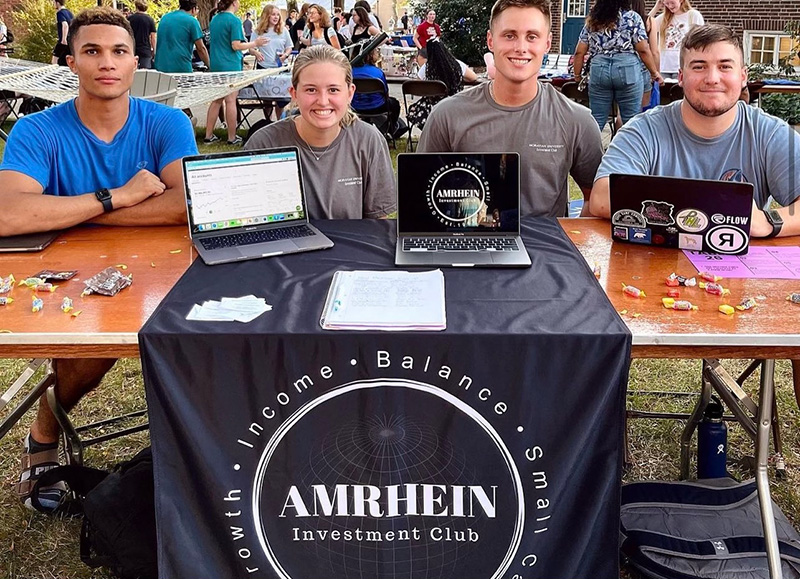 Two million dollars. That was the approximate value in 2019 of the investment fund managed by Moravian's Amrhein Club. As of October 24, 2023, the student-managed fund boasts a balance of $4,268,694.98, placing it among some of the most successful student-managed investment funds in the country.
The fund's greatest value, however, is that its management—and the real-world financial learning that goes along with that—is available to all Moravian students. No courses or majors are required to participate in the Amrhein Club, which now boasts 45 student members.
"The majority of the students are in the business and economics school," says Daniel O'Connor, assistant professor and club advisor. "But we've had officers who were chemistry majors and public health majors, so there's no sense that you have to know what you're doing coming into it."
The club's investments are organized into four funds—balanced, growth, income, and small cap—with a student member elected to oversee each. The current fund managers are Avery Napolitano '24, Rylie Murphy '25, Tori Santoriello '24, and Shane Klinger '24.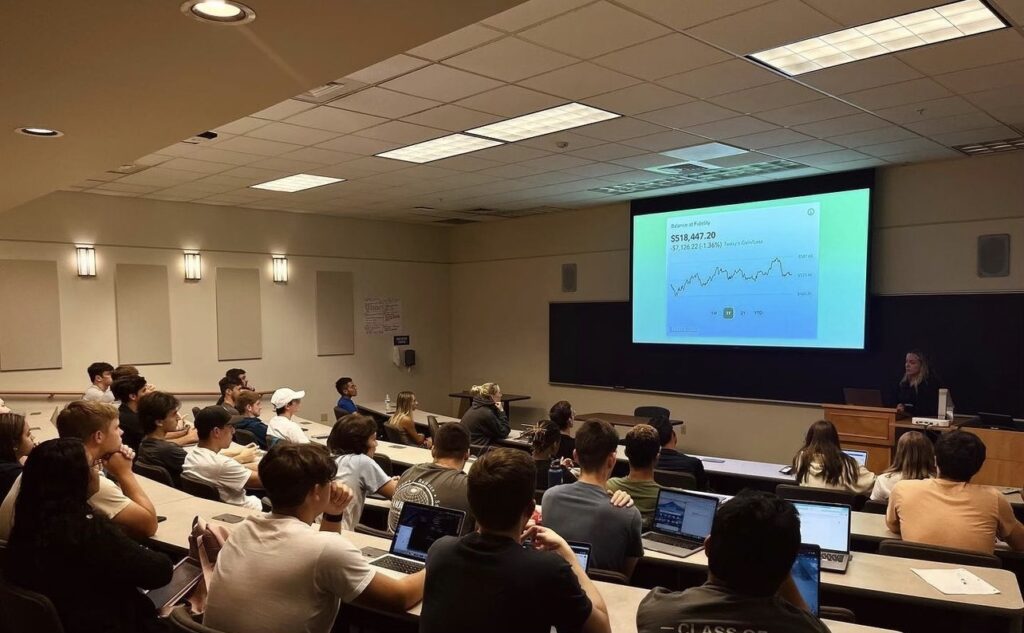 Emma Garchinsky '23, who is now earning a master's degree in business administration and management at Moravian, is the current president of the club. "I've learned so much about stocks and investing," Garchinsky says. "I didn't have a single investment before joining the club, and now I do it on the side with the money I've saved up from working."
***
The club's business is conducted as a democratic process. While each fund manager, along with his or her team, suggests which securities to buy or sell, the group as a whole comes together to vote, with a simple majority determining the decision.
In the club's constitution, the faculty advisor can veto a vote, but O'Connor feels that exercising it would violate the spirit of why the club exists. He believes that Irving S. Amrhein—a stockbroker and Moravian College trustee who provided $20,000 in startup money back in 1962—wanted the club to be a kind of investment laboratory on campus.
"I would never override anything [the students have] done," O'Connor says, "I'll challenge their decisions sometimes, just to make sure that they're seeing more than their perspective on it, but I want them to have experience that learning happens when we fail as well as when we succeed."
While most of the investment fund's earnings are reinvested, some of the dividends go to a money market fund to pay for things like club marketing and advertising, a once-a-semester dinner, and an annual conference in New York City called the Global Asset Management Education Forum, or GAME Forum, sponsored by Quinnipiac University.
"We go for two nights," O'Connor says. "We stay in midtown Manhattan and get to interact with about 1,300 other students from around the world that are doing the same thing, along with the chief economists from JP Morgan, Vanguard, and others."
While Garchinsky, who graduates in December, is looking to go the management route in a company rather than a career as a stockbroker, she considers her participation in the Amrhein Investment Club an invaluable experience.
"I was a freshman when I joined the club, and I couldn't tell you what the difference between a stock and a bond was," Garchinsky says. "Now somehow they let me be in charge of managing this much money. It is a learning experience for everyone, and it's such a great resume builder and life skill to have."
—Steve Neumann '94, G'18