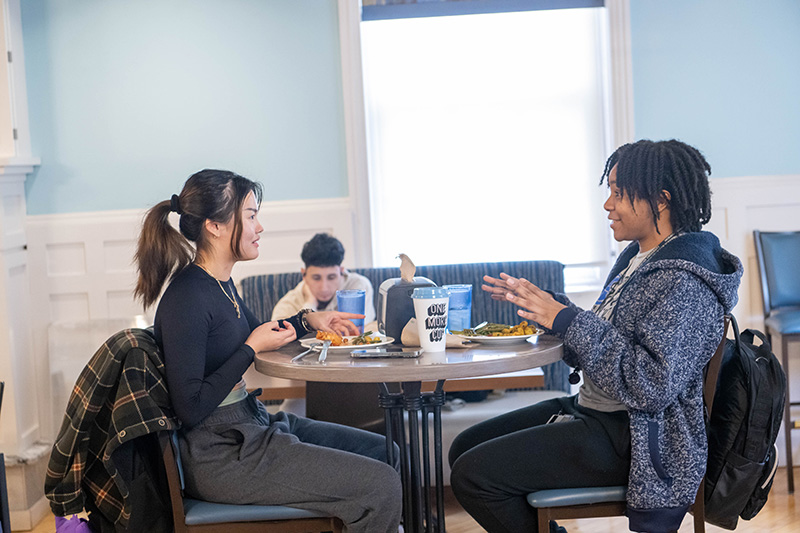 "Your View: How do we respect each other's viewpoints when it comes with such vitriol?"
By Diane Husic professor of biology; founding dean of the Center for Scholarship, Research, and Creative Endeavors; and director of the Environmental Studies and Sciences Program (This piece appeared in the August 20, 2023, issue of the Morning Call.)
The U.S. National Women's Soccer team suffered a heartbreaking loss August 6 after overtime and several rounds of a penalty shootout in the World Cup. Sweden won when the final kick of the game sent the ball across the plane of the goal by a mere fraction of a centimeter, a call that could only be determined by video assistance.
While this loss for the United States was disappointing, I have been appalled by the subsequent backlash against the team on social media and from some news outlets.
Besides the vitriol, many U.S. citizens have been celebrating this loss. As someone who works both with college students and with the NCAA, I can't help but wonder what the impact of these hateful comments will be on student-athletes, young girls and members of the LGBTQ+ community.
Flashback to 1972. I still remember excitedly signing up for soccer as a gym course option in eighth grade, only to be told that "girls don't play soccer."
When the U.S. Women's National Team first won the World Cup in 1991, I wanted to go back to those individuals and remind them of that moment and describe the effect it had. The fact that I still remember that incident is telling.
Perhaps ironically, that negative, but impactful, moment occurred in the same year that Title IX was passed.
Last year was the 50th anniversary of Title IX, the federal civil rights law that provided educational and athletic opportunities for countless girls and young women.
As many of us know all too well, gender gaps remain in sport participation, in many fields of study, in career advancement opportunities and in pay. And now it is apparently acceptable for people to denigrate our national women's team and to say vile things about individual players simply because they don't agree with the players who advocated for equality or criticized some of our nation's policies or leadership. Are these not the same individuals who are currently defending the First Amendment rights of free speech for others?
The erosion of rights for women, people of color and members of the LGBTQ+ community is happening across the country. I am old enough to remember the successes of the civil rights movements of the 1960s, but I now watch our country regress.
As summer quickly passes and those of us in education prepare for the new academic year, I wonder how all of this will affect students in terms of their mental well-being, sense of inclusion and ability to thrive in the classroom or in sports competition.
Several reports describe the mental health crises in this country; a 2022 national study showed that over three-quarters (77%) of college students experienced moderate to serious psychological distress. Many factors contribute to stress and anxiety in youth and young adults, including finances and career worries, cyberbullying and microaggressions, discrimination and environmental threats. Terms like "climate grief" and "ecoanxiety" have entered their lexicon. Anti-diversity, equity and inclusion legislation in certain states is already having an impact on education, and the debates about transgender athlete have been ugly.
The presidential campaign rhetoric will increase during the upcoming academic year and inevitably amplify the gaps in our fractured nation.
Given how sharply divided our country is on so many issues, I spend a lot of time contemplating how I can foster respectful dialog in the classroom when I know that there will be widely divergent points of view. I teach a climate change course, and for the first time this fall, I will be teaching a class on environmental policy. The first chapter of the text includes examples of how U.S. policy on environmental issues has changed depending on who has been in the White House. While this is an accurate historical assessment, as a class, we will have to face the partisan divide on environmental issues in week one.
As a first-generation student from a rural area in Michigan, attending college meant encountering new ideas and people with vastly different beliefs and lifestyles from my own. This was a critical part of my education, and I have seen this broadening of horizons and growth in countless students during my 34 years in higher education.
As faculty, our role is to create learning environments where diverse views are valued, and ideas are debated with civility. This will be challenging in the coming year, but it will be critical to use our collective expertise and deep concern for the well-being of all students to find ways to support them and to model the respect and appreciation of diversity that we desire for society at large.