Yenser Named AV Professional of the Year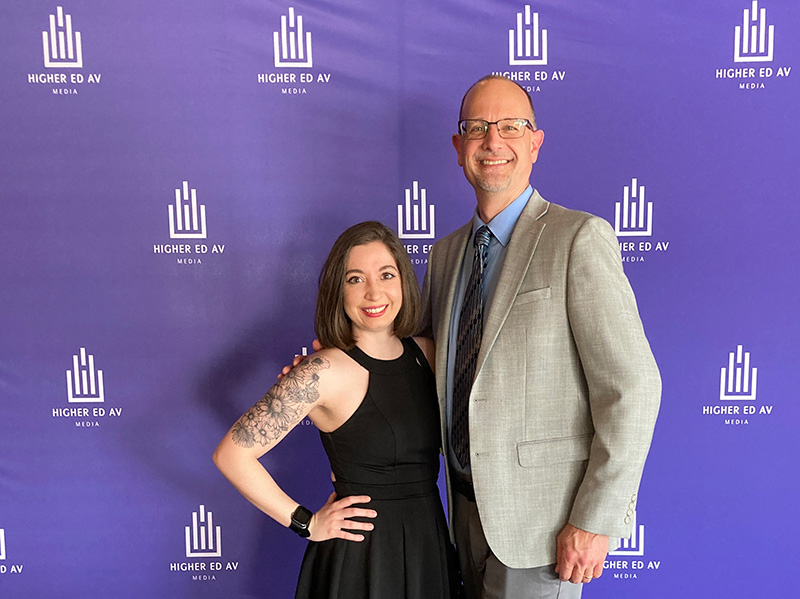 If you've attended any big event at Moravian, you've likely seen our director of event technology, Britt Yenser '14, CTS, setting up and operating the audio and video equipment and overseeing student workers. And she's really good at her job.
That's why at the Higher Ed AV [audiovisual] Awards ceremony, she was named AV Professional of the Year.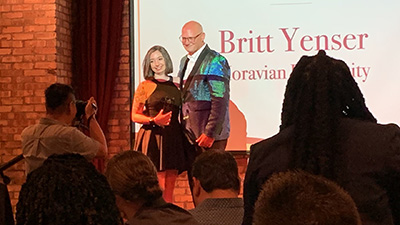 "I am so grateful, humbled, and honored to be seen and acknowledged by my colleagues," says Yenser. "In the audiovisual world, we are considered most successful when we are NOT seen. An AV win is for someone who creates a seamless, integrated experience with their world and technology.
But Yenser is quick to thank and recognize the people who've supported her in her work. "I'm the combination of all the best people I've ever known," she says. "As an individual, I am not all that special or extraordinary. I surrounded myself with the right people. So this is our win."
"I was thrilled—and not surprised—to hear Britt's name called as the winner of Higher Ed AV Media's 2023 AV Professional of the Year," says colleague Craig Underwood, director of AV engineering. "Britt has made a real and lasting impact on the lives of her student worker team (dare I say family?), and of course on the lives of all students here at Moravian. On a national level, she has become a powerful advocate for women and underrepresented communities in the AV industry through her published articles, new podcast brAVe [space], and involvement with the Higher Education Technology Managers Alliance. Through these and other channels, she generously shares her knowledge and successes to advance the AV industry. And did I mention she does all this with seemingly effortless charm and wit?"
The awards ceremony is the official audiovisual industry event dedicated to honoring higher education's AV projects and products and the people who run them. The event was the kickoff to InfoComm, the annual weeklong conference for audiovisual professionals, where attendees can join education sessions, check out the latest AV technology in the exhibit hall, and meet with other industry professionals.