Pacanowski '22 Named Poet Laureate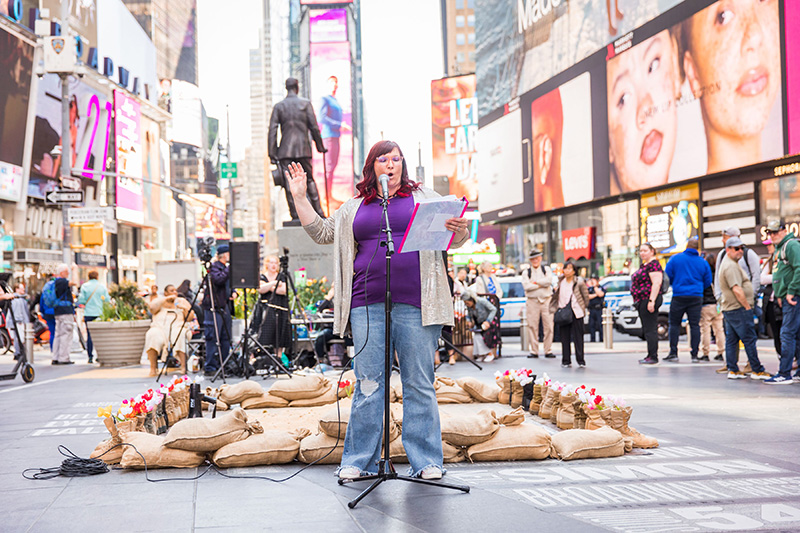 Combat veteran, speaker, and writer Jenny Pacanowski has been named Poet Laureate for Veterans for Peace. Committed to world peace, Veterans for Peace works internationally toward many goals, including that of raising awareness of the causes and costs of war.
"It is an honor to be acknowledged by such a large organization," says Pacanowski. "The values of Veterans for Peace align with my own, and I find it validating. It's a beautiful thing to be a representative."
This fall Pacanowski will take up that role as representative on a monthlong tour with Veterans for Peace in Japan. "I will be speaking and performing my poetry about being a woman in the military as well as the issue of sexual trauma, which is a growing matter in the Japanese military."
This opportunity also gives Pacanowski access to spread the word about the power of art to help veterans heal from the trauma of war and reintegrate into society, something she has learned from personal experience.
To pay off student loan debt, Pacanowski joined the army as a combat medic and served one tour in the Iraq War. When she returned home, reintegration was nearly insurmountable. "For a long time after I got back, I isolated myself in a cabin and drank all the time. Then at one point during traditional talk therapy, I'd decided I was going to try everything possible to feel better. And if nothing worked, I was going to kill myself," Pacanowski told CBS News in 2016.
What worked was writing. Pacanowski has penned poetry since she was a kid, but it was in a veterans' workshop on freewriting that she discovered writing's power to heal. "The workshop was an open and welcoming space," she says. "Writing and speaking my truth allowed me to release the stories that were harming my body, mind, and soul. It gave me relief, and I felt witnessed."
With poetry as an outlet for all the disappointment, disillusionment, and rage that immobilized her when she returned from Iraq, Pacanowski says she has been able to move into the future.
In 2016, she founded the nonprofit organization Women Veterans Empowered & Thriving (WVET), which offers workshops in writing and performance to empower women veterans to not only reintegrate but thrive. Today, the organization provides workshops for all veterans, including men, as well as civilian support members.
To deepen her own creativity and skills in performance art, Pacanowski, who graduated from Moravian with a BA in theater and integrated studies, is pursuing an MFA in performance creation through Moravian in partnership with Bethlehem's Touchstone Theatre.
"My experience at the MFA program has been a great addition to my life," says Pacanowski. "Touchstone and Moravian have created a close-knit community as well as an educational program. They have brought in teachers from all over the world, and the in-house professors are engaging, fun, and full of great knowledge. I'm so grateful for a program that is so welcoming to a nontraditional student and willing to integrate my work in the world into the program."
Pacanowski is thriving, helping women veterans to thrive, and talking with people all over the world about war, peace, and becoming whole after combat. "The heightened language of poetry is a catalyst to have a conversation with the audience. It sparks dialogue."
Listen to Jenny read her poem "Heart of the Enemy."