Brian Martin, Executive Director of Undergraduate and Graduate Admissions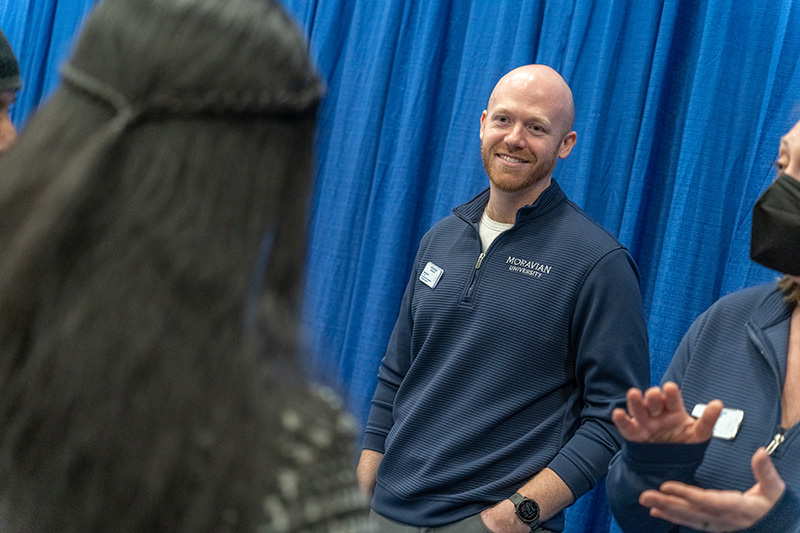 Freehold, New Jersey, is only 30 minutes from the Asbury Park. It is the hometown of Bruce Springsteen and Moravian's own Brian Martin. Growing up there, Martin developed a love for the Jersey Shore. Here in Bethlehem, he loves his job as executive director of undergraduate and graduate admissions. 
What drew you to this profession, and what do you enjoy most about your job?
I was drawn to higher education for many reasons; the most important being my love of learning. I've always seen admissions as an opportunity to change lives by opening doors to education. Creating and shaping the work that allows students to successfully enroll and fulfill their dreams through education is why I love coming to work every day!
Of your accomplishments thus far in that role, which are most meaningful to you?
I have been in my current role for only a few months but have been at Moravian for nearly five years. Over that time, I have been fortunate enough to be part of launching new academic programs and entrusted with leading a large team. My greatest accomplishment through it all has always been seeing the members on my team grow and achieve their professional goals through the work we do in helping students. 
Share something about yourself that people may not know.
I have been playing guitar for about 15 years.
What is your favorite space on campus?
I married my beautiful wife and best friend in Borhek Chapel, so it will always hold a special place in my heart.
What is your favorite Moravian tradition?
Heritage Day is my favorite day of the year. It's important to come together and celebrate our community by going out and providing service to others, and I think the event highlights that perfectly.
What is your favorite thing to do with your free time?
I enjoy reading, running, and playing video games.
What book, film, song, or piece of art has so touched you that you find it enduring…unforgettable?
I love all kinds of music from hip-hop to jazz, but my favorite song is "Blue Sky" by the Allman Brothers Band. Something about that song always brings me back to a beautiful summer day driving along the Jersey Shore with the windows down. 
I can never resist a good ________.
Pizza.
Who inspires you and why?
Professionally, Bob Iger (CEO of the Walt Disney Company) is a huge inspiration in my leadership style. I especially appreciate his approach to change management modeled by continuous improvement. He always tries to put his people first, and that is something I keep central to my daily work. Personally, my parents have been my inspiration through the joy in how they live their lives and find beauty in even the smallest of moments.
What is the best advice you have ever received?
Your job does not define who you are.
Share something that makes you happy.
Enjoying my cup of coffee at 5 a.m. and looking forward to the opportunity of a new day. It's corny, I know, but the perspective has served me well throughout my life!