Zoey M. Bronson, Class of 2025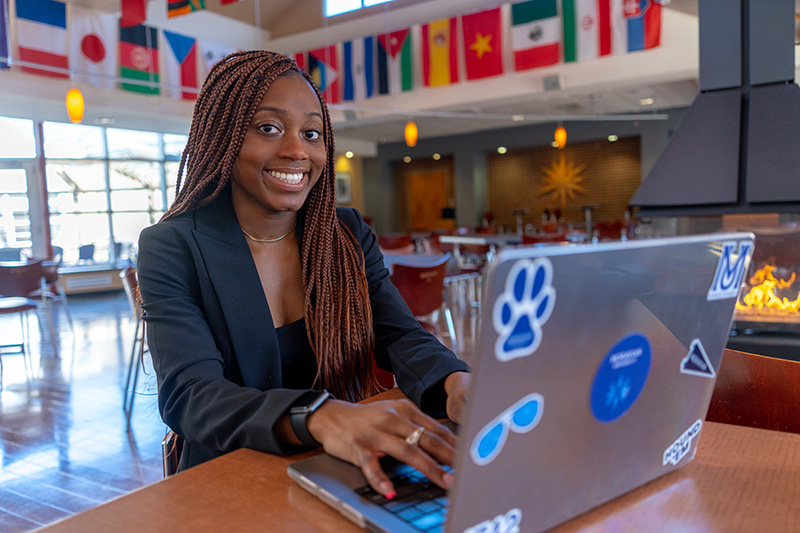 Zoey M. Bronson '25 is a political science major and Africana studies minor with a pre-law concentration. Here, she answers a few questions about her Moravian University experience, her hopes for the future, and where she derives her inspiration.
My hometown is Wilson, Pennsylvania. Because of my service in the community, I was honorably included in the high school's president's council. Serving on the council influenced me to run for student trustee at Moravian.
What activities are you involved in?
In addition to being a newly elected student representative on the Moravian University Board of Trustees, I am vice president of the Moravian University Democrats Club, a newly initiated member of Gamma Sigma Sigma National Service Sorority, and a member of the Black Student Union, Phi Delta Alpha Pre-Law Program, and the women's track and field team.
What's next after you graduate?
I plan on attending law school in the fall of 2025 and pursuing civil rights/social justice law.
Tell us about one of the best experiences you've had at Moravian University?
It would have to be sitting in on my first board of trustees meeting.
What is something you've learned outside the classroom?
I have discovered that college is what you make of it, and you cannot breeze through school without stepping out of your comfort zone and becoming involved.
Share something about yourself that may surprise people.
I have a passion for bodybuilding and plan to participate in amateur bikini competitions.
What is your favorite place on campus?
I frequently study in the Pavilion at the booths on the far right because I enjoy listening to music and basking in the natural light that comes through the windows. This is by far my favorite place on campus because I can put on my headphones and dissociate from the chaos of college and focus on studying and organizing my planner for the week.
What is your favorite college tradition?
Saint Patrick's Day because the entire campus gathers around the volleyball courts and celebrates as a community. It is an example of something that brings Moravian students together.
What is your favorite thing to do when you're not studying?
Hanging out with my friends and especially watching Jersey Shore with my housemates.
What book, film, song, or piece of art do you find unforgettable?
A song I find unforgettable is my parents' wedding song, "Ribbon in the Sky" by Stevie Wonder. It's truly a beautiful song.
Who inspires you? Why?
My little brother, who looks up to me and inspires me to be the best version of myself each and every day.
What is the best advice you have ever received or a quote that stays with you?
When I was applying to colleges, my father told me, "Shoot for the moon, even if you miss, you'll land among the stars." I often see this quote, and it brings me a sense of reassurance that doors will close, but another door will soon open.
Share something that makes you happy.
Being with family and friends makes me happy because I enjoy being surrounded by loved ones.