Alumni Address Homelessness in Lehigh Valley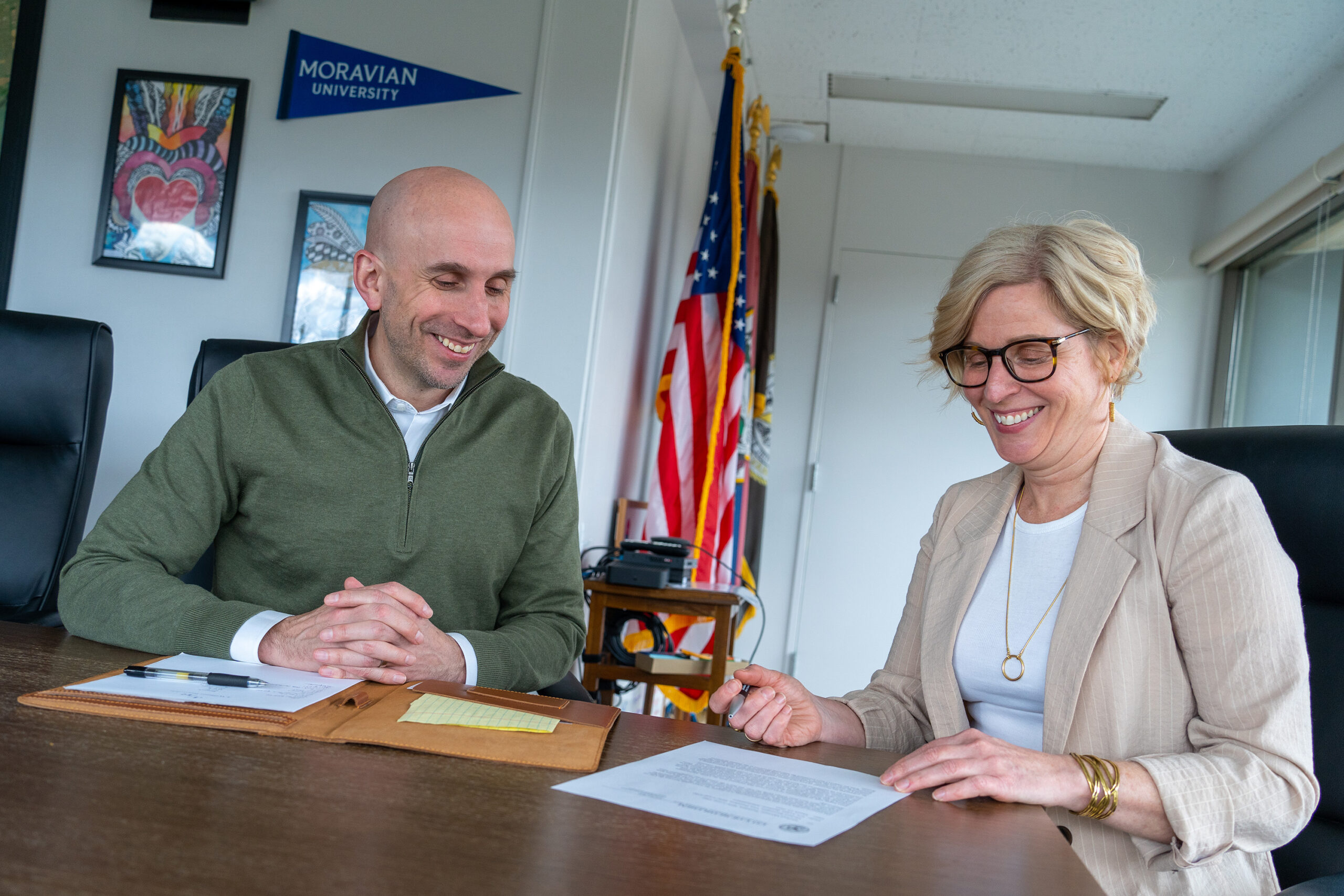 By Meghan Decker Szvetecz '08
Like cities across the country, Bethlehem is facing a growing homeless population and serious lack of affordable housing. Mayor William J. Reynolds '03 is on a mission to make long-lasting solutions a priority for his city's 76,000 residents and their neighbors across the Lehigh Valley.
"We have a housing crisis in the Lehigh Valley and the city of Bethlehem," says Reynolds. "We've been falling short in meeting the needs of the unsheltered population for years, he adds, and as homelessness has increased substantially in recent years so too have housing prices and rent, while housing inventory can't keep up with the demand."
Bethlehem City Council approved $2 million in the 2023 budget for homelessness services, and the Council is also being asked to support $1.4 million in HOME-ARP funding administered via U.S. Housing and Urban Development. The city hired a consultant to develop a plan and conduct a study for the potential to build the Lehigh Valley's first year-round permanent homeless shelter in Bethlehem. Interviews with more than 100 people at area homeless-service providers were conducted last summer, and while the study is still ongoing, the results so far have shone a light on the severity of the problem.
Bethlehem Councilwoman Kiera Wilhelm '93 says that the study presented the data in a way that "brought the issue to a human level–beyond charts and graphs."
"It was alarming to see, on a map, the percentage of the city that is unaffordable to residents living at 80%, 100%, 120%, even 150% of Bethlehem's city median income," says Wilhelm, who is involved with the project as a Community Development Committee member. "The breakdown of affordability by occupation showed starkly that folks in professions from mail carriers to cashiers, bus drivers, librarians, cooks, and more struggle to afford housing here. If this issue isn't impacting you, it is impacting someone you know."
Stereotypes persist, but Reynolds explains that there are many people who have good-paying jobs and do not have a place to live. They are riding the bus to and from work and sleeping at a shelter at night.
"Our vacancy rate [the percentage of all rental units that are unoccupied] in the city of Bethlehem is less than two percent, which is way, way below what is considered a healthy vacancy rate of five to six percent. When you have a healthy vacancy rate, simple supply and demand is going to drive down the costs. But when your vacancy rate is so low and you have such a small inventory of properties that are available, there's no place for people to go."
Moving to another city is not an attractive option because you're likely to be faced with the same housing affordability issues.
"Most people I've spoken to strongly support the idea of a shelter," says Wilhelm. Plans include 50 to 70 beds, four family units, and 10 congregant-setting emergency beds. Combined with a transitional housing program and ultimately affordable housing options, Reynolds is hopeful that this will finally be the multi-faceted approach that will best serve the community.
Continuing to rely solely on the passion of volunteers dedicated to this vulnerable population isn't enough, and doing nothing is not an option, he notes. "Bethlehem is better than looking the other way. That's not who we are and that's not what we're going to be about."
The study has yet to identify a location for the shelter, but educating residents throughout the process is key, says Wilhelm, and maintaining an ongoing dialogue will hopefully highlight the benefits and need for the shelter to those residents who worry about the potential impact on their neighborhood. "Keeping our residents involved and informed is critical to addressing individual misperceptions or concerns that may arise."
A driving force behind conducting a study, Reynolds says, arose from Bethlehem Emergency Sheltering's appeal for more stability and a long-term plan and support from the community at large. The overarching questions became, "how does this fit in across the Lehigh Valley and how do we make it a systemic priority because the issue is only increasing throughout the Lehigh Valley."
This approach aligned perfectly with the recently formed three-city coalition of the mayors of Allentown, Bethlehem, and Easton. "The idea is that we are going to work on these regional issues together, make them a priority, and come up with regional solutions," says Reynolds.
The work has only just begun, as Bethlehem looks to partner with private and philanthropic institutions to increase financial and professional support–and community-building. After all, Reynolds notes, it's the Moravian way.
"Being a Moravian–either as part of the university or as part of the faith–comes down to the idea of community. And truly being a member of a community is understanding that there is a public interest that affects everybody and that everybody matters. If we're going to say that we care about a community, it's not just checking a box, it's fighting for people's dignity and fighting for people to have a place to live."
---
Staggering Stats
The number of individuals and households experiencing homelessness in the Lehigh Valley has increased since 2020, according to data from the 2022 Point-in-Time (PIT) Count, Lehigh Valley Regional Homeless Advisory Board (LVRHAB), and 2022 Gap Analysis of the Eastern PA Continuum of Care.
The 2022 PIT Count in the Lehigh Valley identified 547 households made up of 921 people experiencing homelessness, which is a 26% increase in the number of households over the 2020 count and a 36% increase in the number of people (Note: there was no unsheltered count in 2021 due to COVID-19).
The LVRHAB noted an alarming increase between 2020 and 2022 for families with children (a 51% increase), veterans (a 93% increase), individuals experiencing chronic homelessness (a 46% increase), and households experiencing domestic violence (a 46% increase), according to the 2022 PIT Count.
There has been 52% rise in average home sale prices and 57% increase in rent for a one-bedroom apartment
There is a shortage of 14,480 homes across Lehigh and Northampton counties for households making less than $25,000 a year.
Three in 10 households are now cost-burdened (this means spending more than 30% of income on housing costs, inclusive of utilities).
Cost estimates to open a homeless shelter: $5.4 million to rehab a commercial/retail shell space; just under $6 million for new construction; $7.4 million to rehab an existing community building
Annual operating costs for the shelter are projected to be at around $10,000 per bed, or between about $500,000 to a little over $700,000