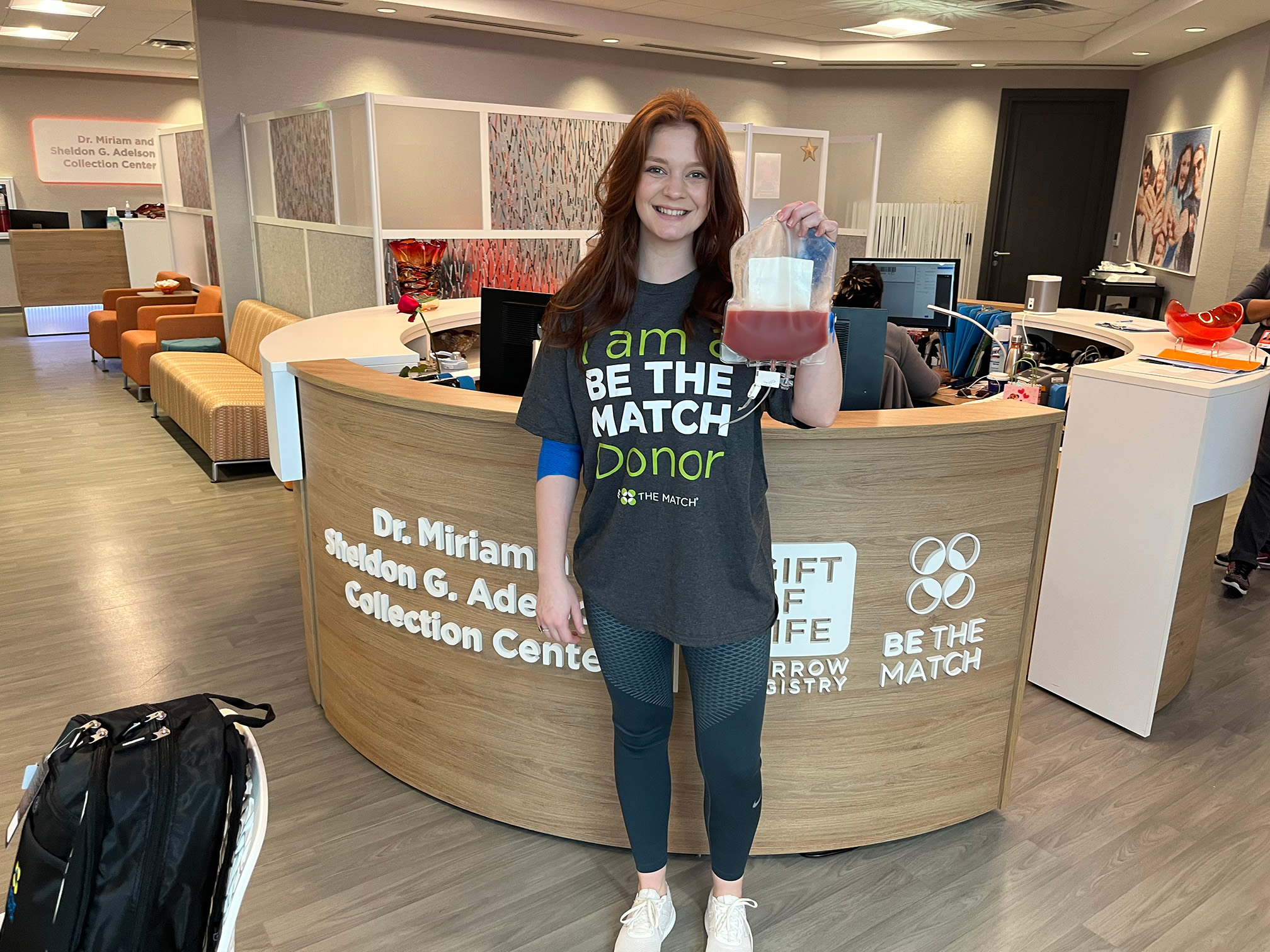 By Elizabeth Shimer Bowers
When Audrey Dunstan swabbed her cheek at the Be the Match event hosted by the Moravian University football team four years ago, she didn't think much about it. At the event, DNA is collected from individuals willing to donate blood stem cells or bone marrow for cancer patients in need of a bone marrow transplant.
"I signed up for Be the Match after a friend on the football team asked me and my roommate to support one of their events," Dunstan says. "We all did a cheek swab that day, and our DNA was put into a national database. To be honest, I had forgotten about the entire thing."
That is until a few months ago, when she received an urgent email announcing she had matched with a woman in Florida diagnosed with a blood cancer.
Dunstan, who received her undergraduate degree from Moravian in neuroscience in 2021 and accelerated nursing in December 2022, is the 11th student from Moravian University to donate through Be the Match.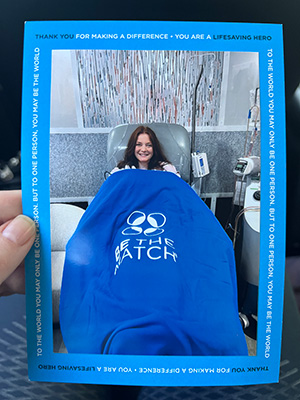 Dunstan's Donation
After receiving the email announcing she was a match, Dunstan was required to complete several health surveys and undergo blood testing to confirm she was a match. "I had to get blood work a few different times and undergo health screenings to make sure I was in the best possible shape for donation," she says. "For the five days leading up to the actual donation procedure, I had to self-inject a drug called filgrastim twice a day to stimulate production of neutrophils [a type of white blood cell]." Then she hopped on a plane to Florida for the donation. Be the Match paid for all her travel expenses.
Dunstan says the procedure was simple. It took place in a donation center, where healthcare professionals took her vitals, drew blood for a complete blood count, and gave her the last two doses of filgrastim. Next, a nurse inserted a 17-gauge needle in Dunstan's right arm and a catheter in the left.
To donate stem cells, blood is removed from the donor and is then cycled through a machine that separates stem cells from other blood cells. The machine keeps the stem cells, and the rest of the blood is returned to the donor. The process, called apheresis, takes two to four hours.
"I watched Disney movies during the donation and was so relaxed, I fell asleep," Dunstan says.
The Big Picture
As part of the protocol of Be the Match, Dunstan's stem cell recipient's name and contact information are kept confidential. "I do not know anything about the recipient, but I have the option to write an anonymous letter, which I plan to do to wish her best of luck. A year after the donation, if my recipient wants to reach out to meet me, she can."
Dunstan says the experience of donating stem cells has given her a new perspective. "I am so appreciative of my own health and have so much respect for individuals and families who have to go through any form of cancer or chronic illness."
To anyone who is thinking of making a stem cell or bone marrow donation but is hesitant because of the process, Dunstan says, "Look at the bigger picture. It's really such a small sacrifice to make to help save someone's life. I hope someday I can donate again. I am also so grateful to Moravian University for participating in community outreach and programs like Be the Match."
Dunstan continues to help save lives by a different means—through her passion as a nurse in the Emergency Department at Clara Maass Medical Center in Bellville, New Jersey.
Minority Donors Needed! Black patients have only a 29% chance of finding a match according to the Be the Match website. "Patients are most likely to match a donor of their own ethnic background. More people from every ethnic background need to join the registry so patients have a greater chance of finding a match."