Camille Murphy, Associate Professor of Art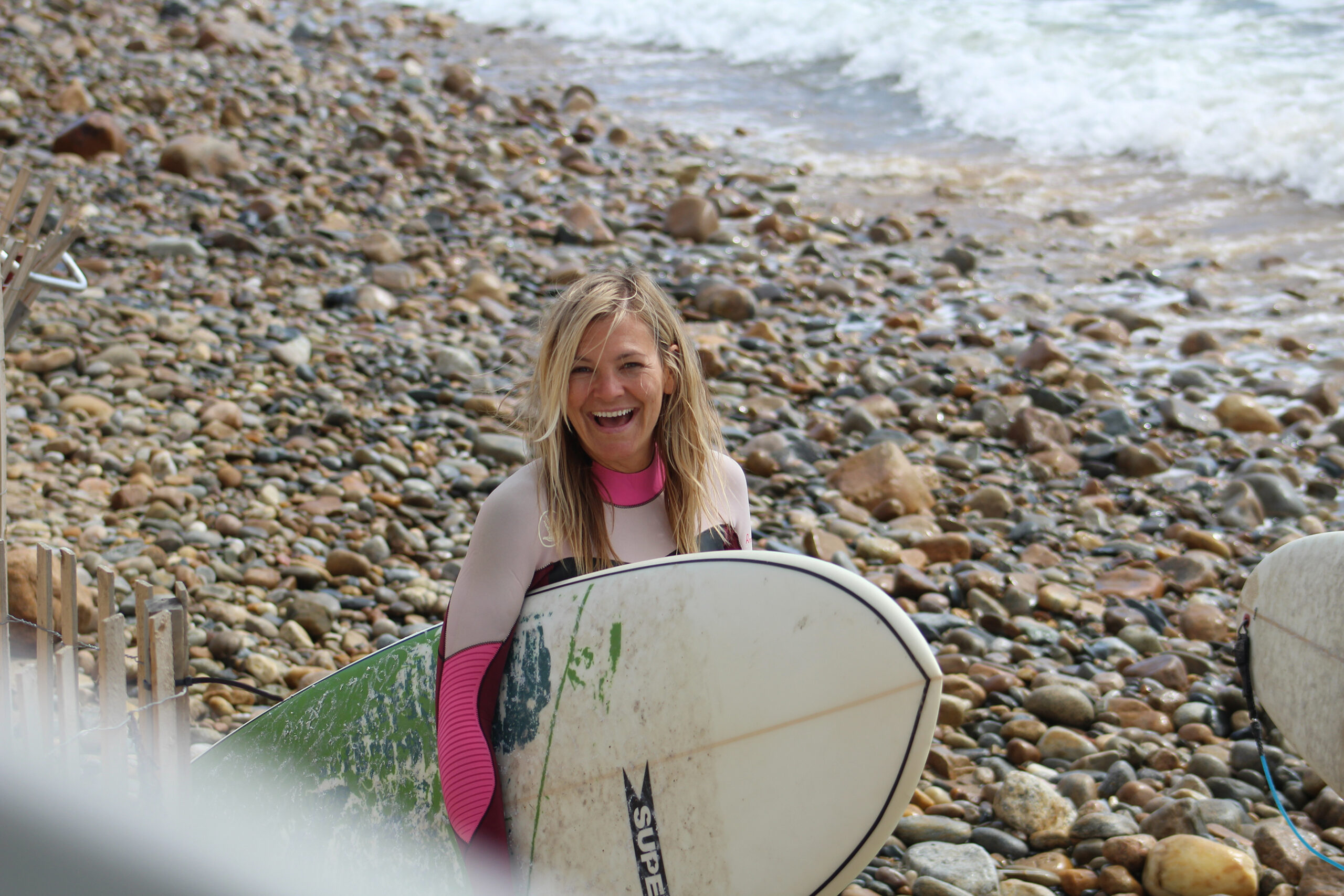 From surfing the waves to surfing design websites, Associate Professor Camille Murphy, who chairs the art department and leads the graphic & interactive design track, is adventurous, curious, thoroughly engaged in design work, and she brings bundles of energy and a broad range of experience into the classroom.
What drew you to graphic design?
It took me some time to arrive at a focus on graphic and interactive design. I did not major in design as an undergrad. I majored in a BFA program called related arts. This was an interdisciplinary program that combined fine art, literature, theater, music, and dance. As a young person, I was interested in each of these things, but I did not have a lot of direction. I loved exploring each discipline, and through that experience, ended up focusing most on fine art, specifically illustration and photography.
Then, around the time that I graduated from college, I learned more about this amazing thing called the internet, and I was fascinated. I wanted to know more. I wanted to make things for it. So, I decided to continue my education, and I applied to graduate school at Pratt to study communication design with a concentration in digital media. I think that the early internet attracted a lot of people like me who didn't really know what they wanted to be when they grew up. When I was little, the internet didn't exist. I ended up in a "future" career.
Faculty are expected to do research in their field; how does this apply to you as a designer?
College Art Association of America (CAA) defines scholarship in the arts with this statement: "Art and design scholarship and/or creative activity should be evaluated by appropriate means and valued in a manner consistent with academic activity in other disciplines: Exhibitions, art commissions, design commissions including commercial and/or client-based work, and/or peer-reviewed creative activities are to be regarded as analogous to publications in other fields." Moravian's art department scholarship statement adheres to these national guidelines.
In alignment with this, my scholarship is primarily accomplished with commercial and/or client-based work and peer-reviewed creative activities. I maintain a design studio called SkyBluePink.co and serve as a freelance designer and art director for Pushpin Inc., led by the legendary designer Seymour Chwast, and several other studios including Decker Design, Langton Creative Group, and Hammer and Nail.
In the years since I have joined Moravian, I have worked on social media video campaigns for Spotify and designed more than 10 books with Seymour Chwast, including his recent edition of the design textbook Graphic Style and the highly acclaimed At War with War. I art directed the Field Guide to Data Science for Booz Allen. I've also designed branding and made websites for a large Washington D.C. law firm, a cannabis company in California, a private school in New York City, an oral surgeon, a real estate company, and others. I also make presentations on design when invited to speak, most recently presenting at this year's American Advertising Federation – Greater Lehigh Valley conference held in Bethlehem.
How do you stay current with design trends?
I check out art shows, visit museums, and attend lectures and conferences on design. My favorite annual conference to attend is the Typographics Conference, which focuses on typography. I also spend an inordinate amount of time looking at design on sites like It's Nice that or Awwwards and others. I'm also just a curious person. I am always looking things up, wandering around, taking notes and snapshots with my phone to remember for later.
Share something about yourself that people may not know.
I spent part of my childhood living at a Hindu Ashram in the Poconos with my mother and brother. We did not have any television or media, we didn't have a lot of toys or material possessions, we were vegan, we did yoga and meditation, and we shared one room. It was a very unusual environment, and I had a lot of freedom there as a child.
Also, I have two different colored eyes—one hazel and one brown.
What is your favorite Moravian University tradition?
Intercultural graduation. I have been invited by students to participate a few times, and I absolutely love this event!
What do you like to do with your free time?
Although I work at Moravian, I live in Brooklyn with my partner and his son. So, I try to soak up all that New York has to offer. I ride my bike all around New York City, and we go to music and art shows and museums, dinners with friends, the theater, and more. My partner is a real estate agent and developer, so we do a lot of real estate events in the city. I also surf, and I snowboard as much as I can. I keep a beach house share with friends that makes getting to the beach year-round—even in winter—more possible for me.
I can never resist a good _____.
Podcast.
What is the best advice you have ever received or a quote that stays with you?
Steven Morris, the owner of a design studio I worked at in California, once told me when you are taking on design work you need three things. You need a good project, good people, and good money. And you must have at least two of the three. To work on a bad project, you need good people and good money. To be able to work with difficult people, it needs to be good project for good money. And you can accept less money to work with good people on a good project. When assessing potential design projects to work on I always think about this.