Moravian University and St. Luke's University Health Network (SLUHN) announce tuition discounts for graduate and certificate programs plus scholarships for SLUHN employee family members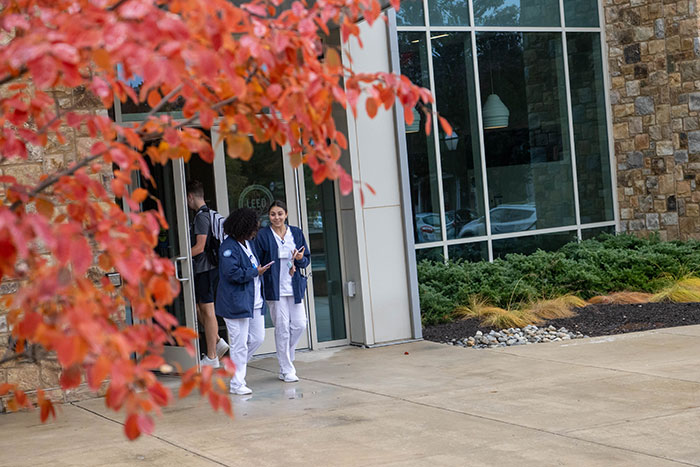 BETHLEHEM, PA, January 12, 2023: Today, Moravian University and St. Luke's University Health Network (SLUHN) announced an agreement to expand tuition discounts on graduate and certificate programs for SLUHN employees and their family members. In addition, scholarships for full-time undergraduate students are now available for the family members of SLUHN employees. Moravian University and St. Luke's have partnered on many initiatives together, including an automatic pathway from RN to BSN for all students of St. Luke's School of Nursing and the recently opened St. Luke's Psychiatric Associates office on Moravian's Main Street campus.
"Everyone at Moravian is excited to announce the discounts and scholarships that are now available for St. Luke's employees and their families," commented Bryon L. Grigsby, president of Moravian University. "As longtime partners of Moravian, St. Luke's provides outstanding healthcare for the Lehigh Valley community and beyond. We're confident these initiatives will provide excellent opportunities for St. Luke's staff and their families, which in turn will benefit the entire community."
Each SLUHN employee family member that is accepted to Moravian University as a full-time undergraduate student can receive up to $26,000 per year in scholarships or $104,000 over four years. Student aid packages could exceed $26,000 per year based on individual criteria.
"We are grateful to Moravian for extending this wonderful benefit to St. Luke's employees," said Evan Ochs, senior vice president of human resources at St. Luke's. "St. Luke's takes great pride in working with local partners such as Moravian University to cultivate home-grown medical talent that will meet our region's health care needs well into the future. In addition, this arrangement is another example of the generous benefits St. Luke's offers our employees when they join our team."
SLUHN employees and family members will receive discounted tuition on continuing education programs including the Adult Degree Completion program or RN to BSN, as well as graduate degree programs such as MSN Clinical Nurse Leader, MBA, MHA, and Master of Arts in Clinical Counseling. Graduate certificate programs include Health Management, Data Analytics, Supply Chain Management and more.
For a complete list of eligible programs, please visit moravian.edu/SLUHN.

Media contact(s):
Moravian University
Michael Corr
Assistant Vice President of Marketing and Communications
corrm@moravian.edu
610.861.1365

St. Luke's University Health Network
Sam Kennedy
Corporate Communications Director
samuel.kennedy@sluhn.org
484.526.4134
About Moravian University
Moravian University is the nation's sixth-oldest university, located in Bethlehem, Pennsylvania, and offers undergraduate and graduate degrees that blend liberal arts with professional programs. For more than 275 years, the Moravian University degree has been preparing students for reflective lives, fulfilling careers, and transformative leadership in a world of change. Moravian University is a member of The New American Colleges and Universities (NAC&U), a national consortium of selective, small to mid-size independent colleges and universities dedicated to the purposeful integration of liberal education, professional studies, and civic engagement. Visit moravian.edu to learn more about how the Moravian University focus on education for all prepares its students for life-long success.
About St. Luke's University Health Network
Founded in 1872, St. Luke's University Health Network (SLUHN) is a fully integrated,regional, non-profit network of more than 18,000 employees providing services at 14 campuses and 300+ outpatient sites. With annual net revenue of $3.2 billion, the Network's service area includes 11 counties in two states: Lehigh, Northampton, Berks, Bucks, Carbon, Montgomery, Monroe, Schuylkill and Luzerne counties in Pennsylvania and Warren and Hunterdon counties in New Jersey. St. Luke's hospitals operate the biggest network of trauma centers in Pennsylvania.

Dedicated to advancing medical education, St. Luke's is the preeminent teaching hospital in central-eastern Pennsylvania. In partnership with Temple University, the Network established the Lehigh Valley's first and only four-year medical school campus. It also operates the nation's longest continuously operating School of Nursing, established in 1884, and 40 fully accredited graduate medical educational programs with 419 residents and fellows. In 2022, St. Luke's, a member of the Children's Hospital Association, opened the Lehigh Valley's first and only free- standing facility dedicated entirely to kids.

SLUHN is the only Lehigh Valley-based health care system to earn Medicare's five-star ratings (the highest) for quality, efficiency and patient satisfaction. It is both a Leapfrog Group and Healthgrades Top Hospital and a Newsweek World's Best Hospital. The Network's flagship University Hospital has earned the 100 Top Major Teaching Hospital designation from Fortune/Merative 10 times total and eight years in a row, including in 2022 when it was identified as THE #2 TEACHING HOSPITAL IN THE COUNTRY. In 2021, St. Luke's was identified as one of the 15 Top Health Systems nationally. Utilizing the Epic electronic medical record (EMR) system for both inpatient and outpatient services, the Network is a multi-year recipient of the Most Wired award recognizing the breadth of the SLUHN's information technology applications such as telehealth, online scheduling and online pricing information. The Network is also recognized as one of the state's lowest cost providers.
###